Why Prince Harry Made Kate Middleton Cry At Her Wedding To Prince William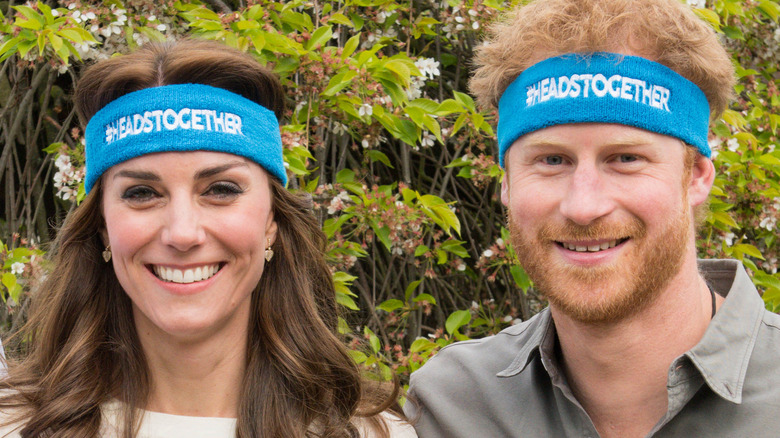 Nicky J Sims/Getty Images
Remember the year 2011? It feels like such a different time in retrospect. Skinny jeans were still en vogue, the legal drama "Suits," starring an unknown actor named Meghan Markle, premiered on USA Network, and Prince William and Kate Middleton got married. Back then, Prince Harry was still dating Chelsy Davy, and the idea of a royal rift between the two brothers would have been treated by the British press as an unseemly joke. So, what's all this about Harry apparently making William's bride cry?
The royal wedding ceremony of William and Kate, now the Prince and Princess of Wales, was viewed by an estimated three billion people worldwide, according to the New York Times — that's billion with a "B." The lavish ceremony was followed by a private reception, at which Harry, as the best man, was tasked with giving the traditional best man speech. The Duke of Sussex still had a reputation as the family "bad boy" in those days, but his remarks were reportedly so heartwarming that they brought a tear to Kate's eye.
Prince Harry called Prince William and Kate Middleton inspirational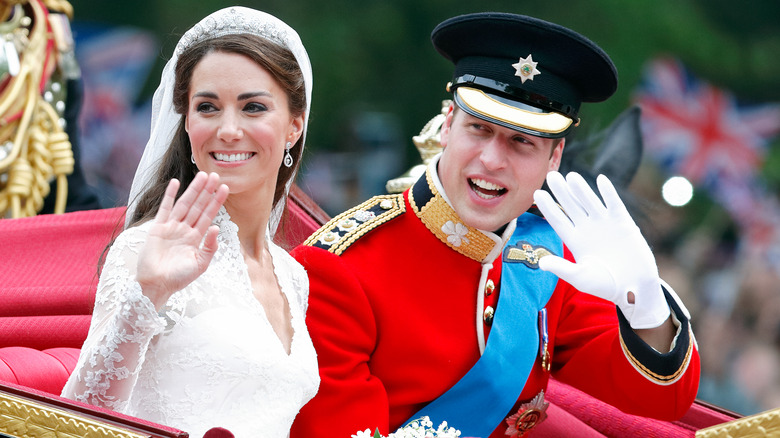 Max Mumby/indigo/Getty Images
By all accounts, Prince Harry's best man speech at his brother Prince William, Prince of Wales, and Kate Middleton, Princess of Wales's wedding was equal parts hilarity and heartfelt tribute. Royal biographer Ingrid Seward wrote in News.com.au that Harry's then-girlfriend Chelsy Davy convinced the prince to cut a joke about his new sister-in-law's "great pair of pins" from the speech. However, the Duke of Sussex/best man did tease the couple with an imitation of Kate calling William "Big Willy" and William calling her "Babykins" in return. Don't worry, this isn't the bit that made Kate cry. 
Biographer Katie Nicholl wrote in her book "Harry: Life, Loss, and Love" (via Marie Claire), "[Harry's speech] was affectionate, warm and funny and touched William deeply." The author added, "When he said the couple's decade-long romance was his inspiration, there was a shy smile from Chelsy, while Kate shed a tear." According to Seward, Harry said in his speech, "William didn't have a romantic bone in his body before he met Kate, so I knew it was serious when he started cooing down the phone."
Prince William also gave a best man speech at Prince Harry's wedding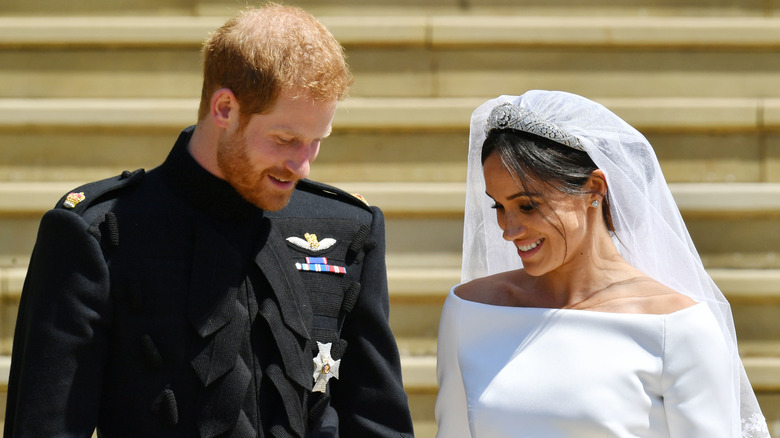 Wpa Pool/Getty Images
When it came time for Prince William to give his own best man speech at Prince Harry and Meghan Markle's wedding, the Prince of Wales seems to have taken some cues from his baby bro. "Revenge is sweet," William reportedly teased of his reception toast, per The Sun. Apparently, in retribution for Prince Harry's "Big Willy" reference at his own wedding, William's best man speech included a "filthy" joke about "wet knickers." And the less spoken about that, the better! Obviously, the Prince of Wales also included some tender moments in his speech as well, saying that the brothers' mother would be proud of Harry, and calling Meghan, "the best thing that had ever happened to Haz," according to Express.
We probably don't need to tell you how much times have changed since the brothers were toasting one another's nuptials. In their Netflix docuseries about the decision to step down from their official royal duties, four years after their wedding, Prince Harry had some choice words about The Firm. He said, "They were happy to lie to protect my brother. They were never willing to tell the truth to protect us." That's gotta make Christmas dinner awkward.