Why Michelle Rodriguez Had A Hard Time In School Growing Up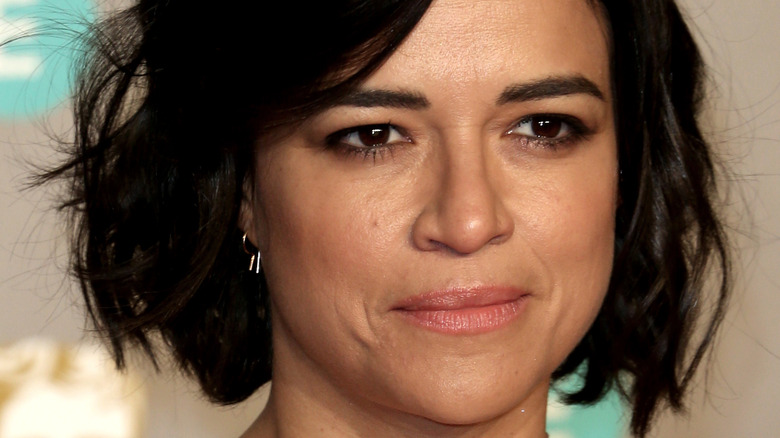 Fred Duval/Shutterstock
Michelle Rodriguez is a certified badass, but you already knew that.
The actor, who rose to fame thanks to her role as Letty in the "Fast and Furious" series, has always been known as the tough chick who does not have a fearful bone in her body. Her roles almost always involved her fighting bad guys (or being the villain herself), but per Rodriguez, she doesn't mind playing the same type of characters over and over again. "My entire career is made up of those girl-power moments. I don't mind typecasting because I know what the alternative is," she told Total Film in 2010 (via Female First). "I'm trying to create roles that are the perfect balance between man and woman."
Rodriguez doesn't care what other people say, either. Even if she's often pigeonholed as the "cool girl" or "tomboy," she never sees it as an insult. She said she was just being her authentic self onscreen. "I do what I want, when I want, how I want," she told Interview Magazine.
It's pretty clear that Rodriguez has reached the point where she's secure in herself and in her career, but she sure didn't start that way.
Michelle Rodriguez was kicked out of five schools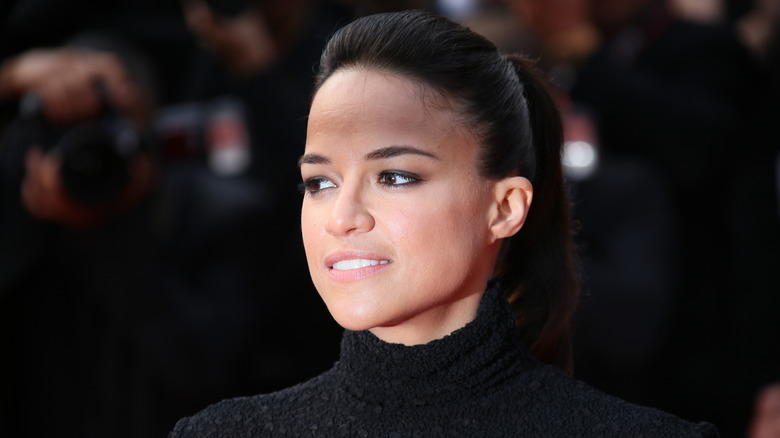 Denis Makarenko/Shutterstock
She told Interview Magazine that she had a strict upbringing– her father was in the US Army, and she was raised as a Jehovah's Witness. Her family moved around. She lived in Texas until her parents split, then to the Dominican Republic where, as she told Interview magazine, she "forgot every word of English [she] knew" and the family finally put down roots in Jersey City.
"I'd stare up at the sky and just dream a lot," she said. when asked if she ever thought about her future when she was growing up. "Still do. I dreamed that I didn't belong here, that I was going to travel a lot. I just never felt like I belonged anywhere. I always had a stick with a little knapsack attached."
Between 2003 and 2008, the actor spent time in jail for various DUI offenses. "Boy, were they wild," she said of those years in a 2009 interview with The Guardian. "I was blinded by the light... Wooo hooo! In my 20s, I used the excuse of adolescence to have enormous amounts of spontaneous fun. I've avoided responsibility for the last 10 years, now it's time to get on it."
Michelle Rodriguez was bullied when she was younger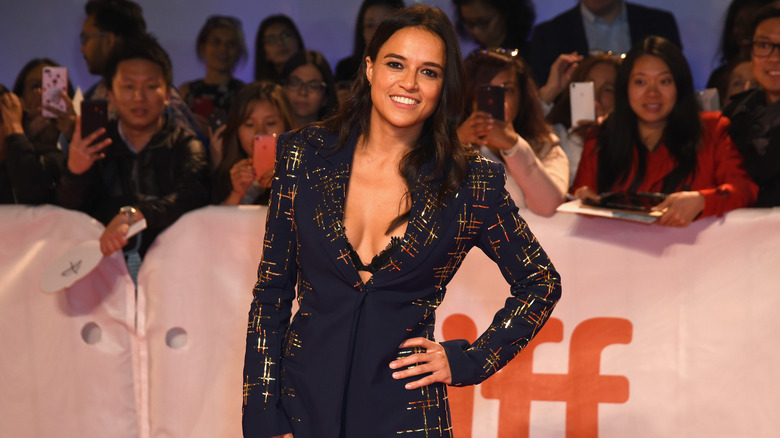 Presley Ann/Getty Images
Michelle Rodriguez embraced her tough persona both on and off screen, perhaps due to being bullied as a child. She told The Hollywood Reporter that was forced to toughen up quickly. "I was bullied as a kid, but I dealt with it a lot differently because I was at a different level growing up in Jersey City," she recalled. "If you didn't adapt, you die, or parts of your soul would be crushed ... I had to learn to fight really early."
Early on, though, she was already aware of the reason why bullies picked on her. "There was a lot of drama in school because, well, people have problems at home and they take it out on their friends in school," she shared with Interview. "Trying to impress people, they became bullies. I hated it because I know what it's like to be picked on, and I never liked not fitting in."
And now, even though she tends to play the same roles, she said it's because she wants to represent women like her. "I stand up for women's rights. I want something other than the usual female aspects of Cleopatra, the slut and the mother to be exploited on screen," she told The Guardian. "I just want to give a voice to those women who want to kick ass around the world, who do boy things and have fun doing them and are accepted for it."