A Look At Al Roker And Hoda Kotb's Relationship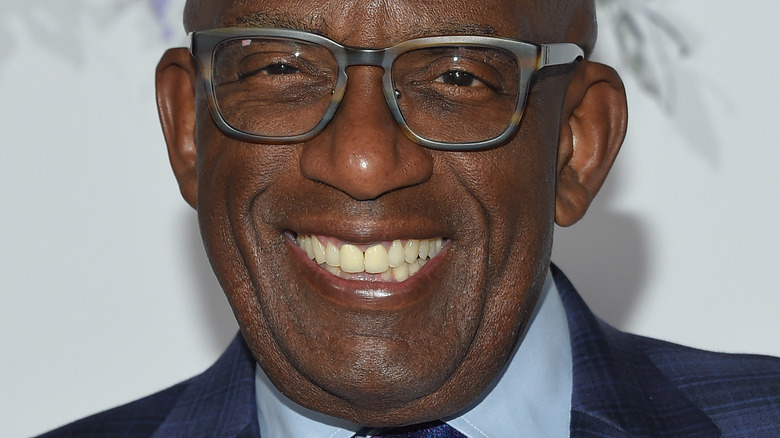 DFree/Shutterstock
The "Today" team can't get enough of each other. The closeness of the NBC program co-stars helps set it apart from other daily broadcasts. With 70 millions viewers tuning in each month, "Today" has proved to know the secret to combining traditional news show elements with digital content, Variety reported in 2021. One of the main reasons Americans keep turning on their TVs every morning, though, is the crew's charismatic members and their joyous onscreen interactions. From their fun Halloween celebrations to the concerts on the "Today" Plaza, the co-stars give off family vibes.
Perhaps the most visible is co-anchors Hoda Kotb and Savannah Guthrie's friendship, whose onscreen chemistry has become a big part of the show's appeal. Kotb and Guthrie have shared the same workplace for more than a decade, since the latter joined the show in 2011, the Los Angeles Times noted. Their deep bond is common knowledge, which is why fans were shocked in light of rumors Kotb and Guthrie were feuding.
The pair laughed them off, though. "It's the silliest, but, you know, what can you do?" Guthrie told Entertainment Tonight in October. Kotb felt the same way. "You know, you get a kick out of it," she quipped. "I feel like sometimes some things just sell magazines." While the co-anchors' relationship is front and center every day, it isn't the only friendship that's developed on-set. Kotb's also pretty fond of Al Roker, who has stood up for her over the years. 
Al Roker got in a Twitter fight for Hoda Kotb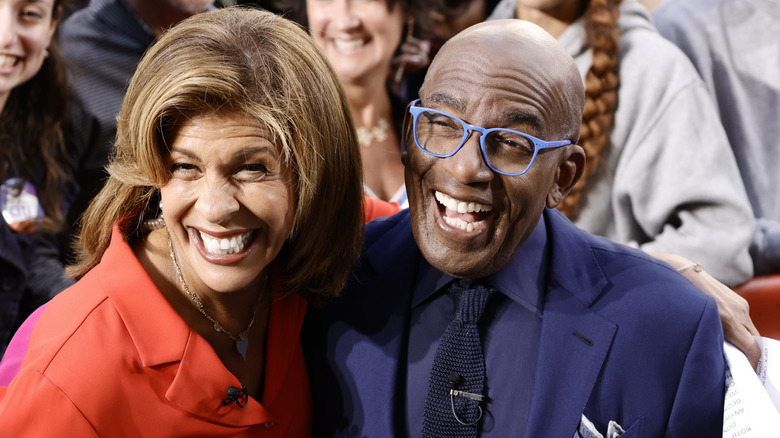 Jamie Mccarthy/Getty Images
When Hoda Kotb became the "Today" co-anchor in 2018 following Matt Lauer's sexual misconduct scandal, she made history alongside Savannah Guthrie for becoming the first female duo to lead the program, CNBC highlighted. Al Roker was quick to congratulate his co-worker's achievement. "A hearty #congratulations to @hodakotb officially our new @TODAYshow #cohost with @SavannahGuthrie," he tweeted. 
But not everyone agreed. "Sorry Hoda ur great with Kathylee but not as anchor. Was looking for a seasoned man — guess NBC doesn't have one," one Twitter user wrote in response to Roker's cheerful tweet. The weather anchor used the thread to point out the user's sexist remark. "Sounds like you want a steak, not an anchor," he retorted. The critic stood her ground, noting her issue was only with Kotb's personality. Roker wasn't buying it. "I guess 'seasoned man' has nothing to do with gender. I misunderstood. Have a great day," he replied.
Shortly after, Roker praised how easily Kotb adapted to the new position amid the grave atmosphere in the wake of Lauer's firing. "It's one of those things where it's just completely natural," he told Entertainment Tonight. "Hoda's been there and everybody loves Hoda so it's been seamless." Roker is also a fan of how Kotb juggles work and family. In March, he shared a clip of his co-star delivering news while holding her two kids. "Be #everyparent who brings their kids on a #worktrip," he captioned the Instagram post. 
Hoda Kotb has been supportive of Al Roker's health journey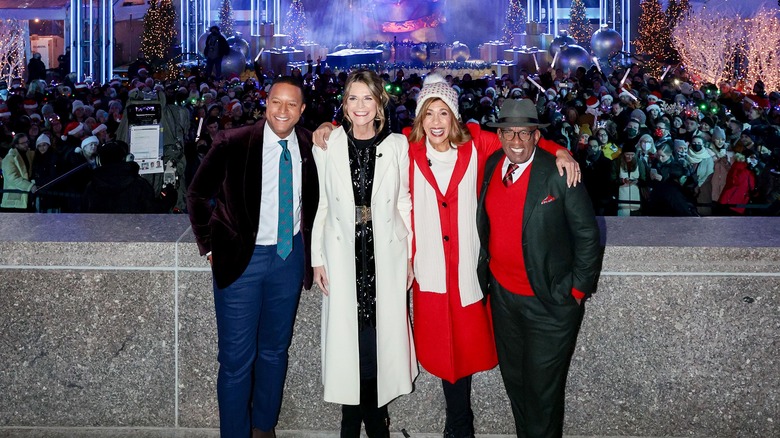 Dimitrios Kambouris/Getty Images
Al Roker has faced myriad health setbacks since the early 2000s. And he has shared every step of his journey with fans, People pointed out. Roker has undergone gastric bypass surgery, a back operation, knee replacement surgery, an intervention to fix his carpal tunnel and hip replacement surgery. In 2020, Roker was diagnosed with prostate cancer, news he revealed on "Today" in an effort to raise awareness for the issue.
In November, Roker shared on "Today" he had developed blood clots in his lungs. In early December, Hoda Kotb announced her co-worker missed the Rockefeller Center tree lighting ceremony because he had to be hospitalized again. "We all wished that Al could've been with us... Al and his family want everyone to know how grateful they are for all the love, the support and the well wishes," she shared.
But Kotb and Craig Melvin made sure to videocall their buddy during the ceremony to ensure he participated somehow. "We told him it was really boring without him," Kotb said on "Today with Hoda & Jenna" on December 1. "Al makes everything better. That's just his magic." When Roker returned home from the hospital, the "Today" crew paid him a rather festive visit. "Words cannot express how much I love my @todayshow family for coming over to do a little caroling including a special rendition of 'I'll Be Home For #Christmas,'" he shared on Instagram.