Brittney Griner Clears Up Career Speculation In First Statement Since Russian Prison Release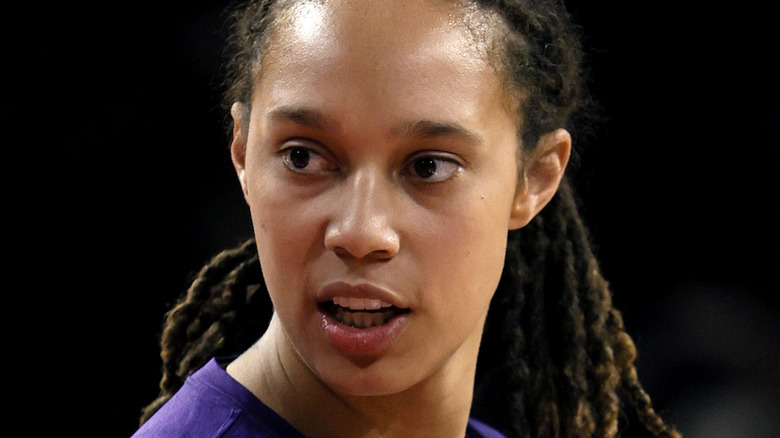 Ethan Miller/Getty Images
Phoenix Mercury player Brittney Griner was detained in Russia for 294 days after being arrested for smuggling cannabis into the country. "I'm terrified I might be here forever," the basketball player said in a letter to President Joe Biden obtained by The Guardian. She explained that she misses her family and her home during the Fourth of July. "Please don't forget about me and the other American Detainees," she added. "Please do all you can to bring us home."
On August 4, it was reported that a Russian court sentenced the WNBA player to nine years in prison. "[Griner is] very upset, very stressed," her defense attorney, Maria Blagovolina, told ESPN following the sentencing. "She can hardly talk. It's a difficult time for her." The defense team also stated that they planned to appeal.
And on November 9, it was reported that Griner was being transferred to a penal colony. This announcement sparked more concern, as Russian penal colonies are known for their poor living conditions and for operating like a labor camp, per CNN. On December 8, Griner was freed in a prison swap, and there has been one thing on her mind since her release — basketball.
Brittney Griner announces she's returning to the basketball court
On December 8, President Joe Biden announced Brittney Griner's release from Russia. "She's safe, she's on a plane, she's on her way home," he told CNN in a press conference. "This is a day we've worked toward for a long time. We never stopped pushing for her release."
Despite being pictured on a court following her release, Griner initially kept it hush-hush on whether or not she planned to play professionally again. "If she wants to play, it will be for her to share," the basketball player's agent, Lindsay Kagawa Colas, told ESPN. She mentioned that the basketball player was going to spend the holidays with her family before making any decisions. "She's doing really, really well," Colas added. "She seems to have endured this in pretty incredible ways."
But it looks like Griner has already made up her mind on what she plans to do in regards to her career. "I also want to make one thing very clear," she said near the end of a lengthy statement posted to her Instagram account. "I intend to play basketball for the WNBA's Phoenix Mercury this season." Her statement started out by saying, "It feels so good to be home!" She then thanked her fans, President Biden, her family, her agent, her legal team in Russia, and the WNBA for the constant support before making the big announcement.