Inside Al Roker's Close Bond With Today Co-Host Craig Melvin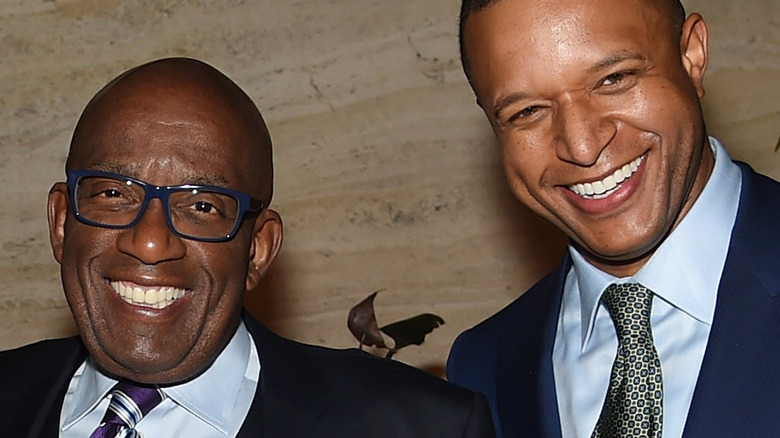 Jamie Mccarthy/Getty Images
Al Roker and Craig Melvin have a sweet friendship on and off "Today." Roker began his career at an NBC affiliate in Cleveland as a meteorologist in 1978, per Today. He then joined "Today" in 1996 as meteorologist Willard Scott stepped down from the show. In 2018, Roker celebrated 40 years of working at NBC. "From the moment I stepped foot in WKYC in Cleveland to getting a job at WNBC, I thought I'd died and gone to heaven because my parents could actually turn on the TV and see me, to being here with all of you, it's been an amazing ride," Roker shared on his momentous occasion.
Melvin joined "Today" in 2018 with Hoda Kotb and Samantha Guthrie after previously having been co-anchor on the Saturday installment of "Today," per Deadline. "Dreams come true. So excited to join the @TODAYshow family," he tweeted. He also became co-host of the "Today" show's third hour, along with Sheinelle Jones, Dylan Dreyer, and Roker. Since working together, Melvin and Roker have developed a close relationship. "We bust each other. We love each other, we support each other but most importantly, these three people I literally trust my professional and my personal life to every day," Roker said of his "Today" family, per People. Melvin echoed Roker's sentiment, and called him his "wacky uncle," which is apparent in the way they joke around together.
Al Roker and Craig Melvin tease each other on-air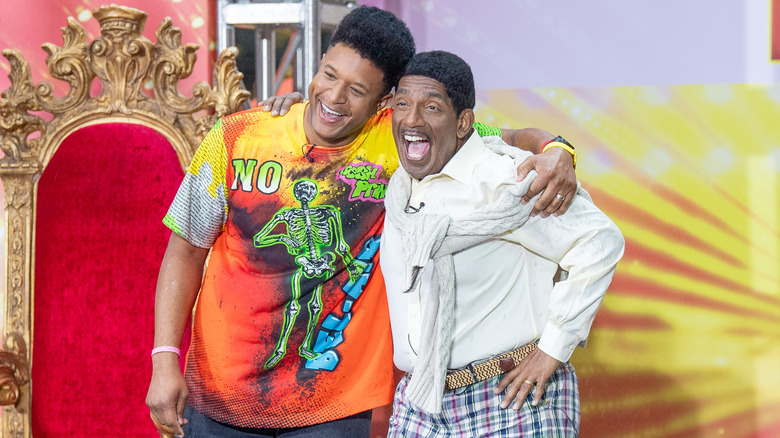 Roy Rochlin/Getty Images
Al Roker and Craig Melvin's close friendship is apparent to viewers, as they often rib each other on-air. In October 2019, the two argued about the World Series, which led to Melvin teasing Roker about his "inaccurate forecasts" (via Us Weekly). Although the exchange appeared heated, a source told the publication, "Craig and Al play around like this all of the time on camera and are friends [and] hang out off camera."
Earlier that month, Melvin was among the 50 to make Variety's "New Power of New York" list. Roker wrote a touching tribute to his colleague and admitted he had a "man crush" on Melvin. "How can you not love this guy? He's a young Southerner who was raised by a mom who was a teacher and a dad who worked shifts at the post office in South Carolina. I love that even though he is so young, he has made his success the old-fashioned way: through hard work, coming up through local news in South Carolina, winning Emmy Awards, becoming an honored anchorman," Roker penned (via Variety). The esteemed weatherman went on to say that he witnessed Melvin juggle his career, while being a great father to his kids.
In 2021, Melvin attended Roker's eldest daughter's wedding. "What a special night. Enjoyed celebrating love. My friend and mentor @alroker walked his oldest down the aisle," he shared on Instagram. A year later, Melvin supported his dear friend through a health crisis.
Craig Melvin supports Al Roker amid health scares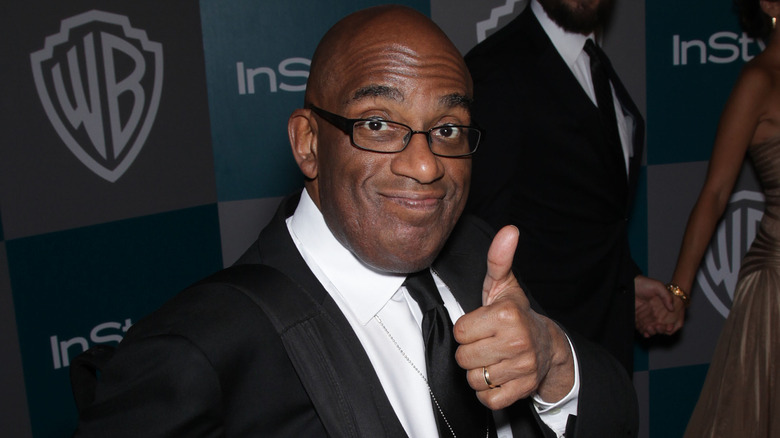 DFree/Shutterstock
In 2020, Al Roker announced on "Today" that he'd been diagnosed with prostate cancer and would be undergoing surgery. "It's a good news-bad news kind of thing. Good news is we caught it early. Not great news is that it's a little aggressive, so I'm going to be taking some time off to take care of this," he told viewers. "If anyone can get through this, Al Roker's the guy. He's loved by so many, we've seen this huge outpouring of support on social media," Melvin shared (via TV Insider).
A week before the surgery, Melvin wrote on Instagram, "This morning, dear friend, mentor, road dog, and brother from another mother announced he's having prostate cancer surgery next week. Have been thinking about @alroker all day. For those who know its power, offer a prayer for our guy. As I said this am, that cancer picked the wrong prostate. You got this, Al." Following the surgery, Roker shared that it was successful and the doctors found no evidence of cancer, per Today.
Early in December, Roker faced another health scare when a blood clot in his legs moved up to his lungs, and had to be hospitalized. "Mr. Roker is still recovering. He is watching this morning, providing real-time feedback." As of this writing, Roker is recovering at home, but his "Today" family, including Melvin, surprised him with some holiday cheer, moving the beloved meteorologist to tears.