What Really Happened Between Michael C. Hall And Julia Stiles?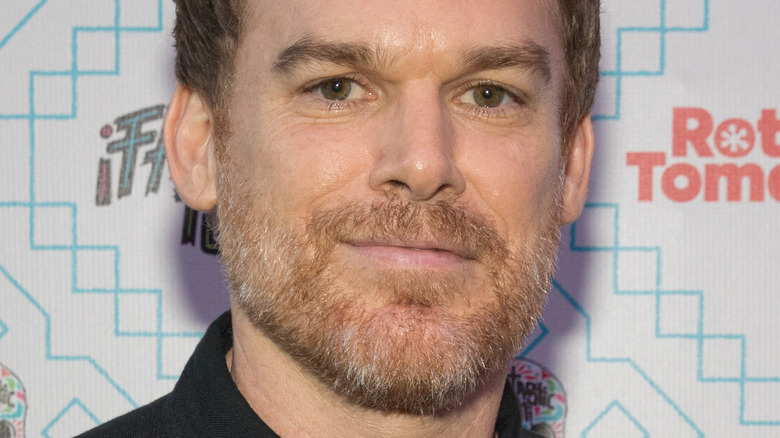 Rick Kern/Getty Images
Michael C. Hall and Jennifer Carpenter are one of TV's most famous examples of co-stars falling in love — and breaking up — while sharing the screen. Playing siblings Dexter and Deb Morgan on the Showtime hit, "Dexter," the ex-couple dated in secret in the late-aughts, only going public with their romance a few seasons in. Eloping on New Year's Eve 2008, per E! News, Carpenter and Hall shared two wedded years before separating. While real-life breakups cause many cast members to prematurely exit, this pair didn't get much time apart. Working together for three more seasons, the exes even reunited for the rebooted 2022 mini-series, "Dexter: New Blood."
Their divorce was first reported in December 2010 by Entertainment Weekly (via CBS News), with the two described as "having been separated for some time." Although their reps called it an "amicable" breakup, it didn't take long for rumors of a third party's involvement to swirl. In the days following the announcement, one particular narrative circulated among gossipmongers. Some believed their other "Dexter" co-star, Julia Stiles, caused the rift between Carpenter and Hall. As it so happened, Stiles was also portraying Hall's onscreen love interest at the time. 
So, did anything romantic happen offscreen between Hall and Stiles, as well?
Julia Stiles and Michael C. Hall were just friends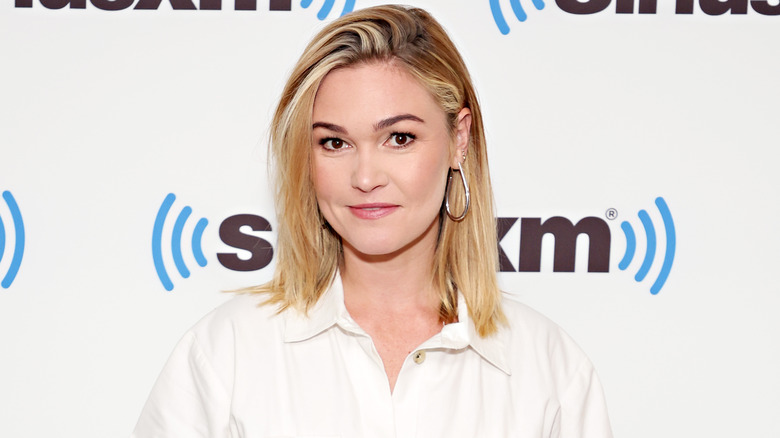 Cindy Ord/Getty Images
Sometimes, you just gotta nip rumors in the bud... especially when the rumor is that you're a home-wrecker. As talk intensified that she was secretly dating Michael C. Hall shortly after his divorce from Jennifer Carpenter was announced Julia Stiles tackled the gossip head-on. "I have absolutely nothing to do with the split between Michael and Jennifer," she said firmly in a statement to Us Weekly. "We are good friends and enjoyed working together. This is a personal matter between them, and we should respect their privacy." Stiles, who secretly eloped with husband Preston Cook in 2017, according to The Cut, added, "Although I too prefer to keep my private life private, I felt compelled to dispel the rumors I was somehow the cause for this matter."
As so often happens with salacious celeb gossip, the Stiles rumors originated from less-than-trustworthy sources. According to the Daily Mail, gossip website Hollyscoop claimed Stiles and Hall aroused suspicion due to their on-camera rapport. Reportedly, sources on-set told the outlet that the two actors' chemistry "was so crazy and so evident to everyone" that their sex scenes were "actually cranked up" by producers. Additionally, insiders claimed that there had been tension between Hall and Carpenter on the "Dexter" set for months by that time.
Michael C. Hall and Jennifer Carpenter collaborated long after getting divorced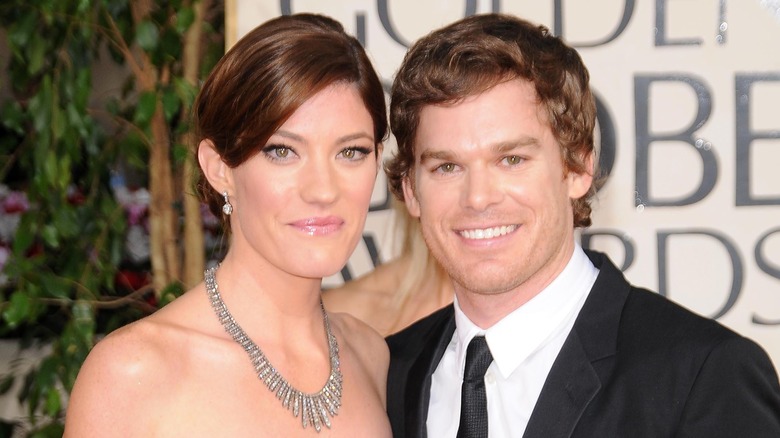 s_bukley/Shutterstock
So, what really came between Michael C. Hall and Jennifer Carpenter? Reportedly, their marital problems were connected to their increasing difficulty working with one another, per the Daily Mail. A day before their December 10 divorce announcement, Carpenter was spotted attending the "Dexter" Season 5 finale party alone. Nonetheless, the ex-couple continued collaborating for several more seasons. Hall reassured Us Weekly (via the Daily Mail) in 2010 that their personal trials had not affected their workplace cooperation. "We certainly pride ourselves in being professionals," Hall said. "We work on the same show but we're not in every scene together. We don't see each other on set as often as you'd think."
Whatever initial bumps Carpenter and Hall might have encountered right after their divorce, the two seemed to have worked through it — both personally and professionally. Speaking at a PaleyFest panel in 2013, Carpenter said (Us Weekly), "Our marriage didn't look like anyone else's, and our divorce didn't either," adding through tears, "Just because the marriage ended doesn't mean the love did... there's nothing but love and respect [between us]."
Although outlets like Page Six reported cozy sightings of Carpenter and Hall hanging post-divorce, they both went on to marry other people — Carpenter, musician Seth Avett, and Hall, novelist Morgan Macgregor. As the "Limitless" star told Today in 2011, her ex-husband "is and always will be one of my best friends in the world... I'm just really lucky."