The One Topic That Caused A Rift Between Candace Cameron Bure And Raven-Symoné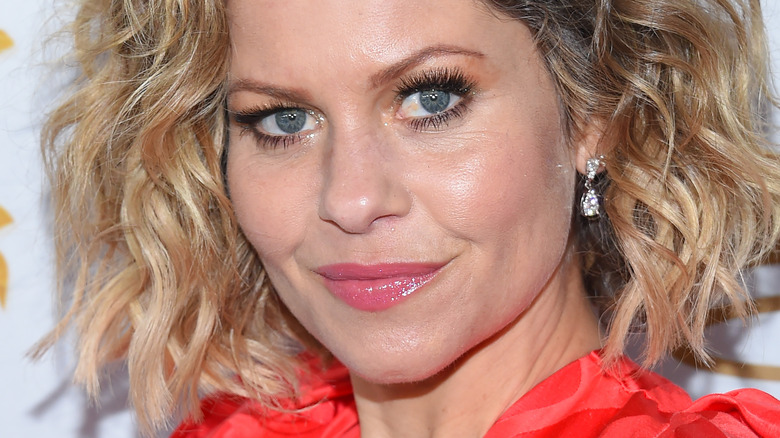 DFree/Shutterstock
"The View" is known for bringing up controversial topics and stirring gossip with their fiery co-hosts. Even during its early days on the air, it had some interesting moments, but things got more heated thanks to the political climate and social media. It seems like once a month there's a new viral moment from "The View." And that's thanks to the differing views of the co-hosts they have on air. There are some centrist hosts like Ana Navarro and even Whoopi Goldberg at times. But the more conservative co-hosts such as Meghan McCain, who ultimately departed, are the ones that butt heads with more liberal-leaning co-hosts like Sunny Hostin and Raven-Symoné. And don't even bring up the Kelly Osborne "Latinos clean your toilets" fiasco.
Sometimes in these controversial or heated moments, the true colors of the co-hosts come out. Some of these people have been actors or singers, and we know their faces. But once they come out with a bad take, opinions could change about them. For Candace Cameron Bure, her opinion on discrimination against queer people was enough for Raven-Symoné.
Candace Cameron Bure and Raven-Symoné disagreed on the anti-gay bakery lawsuit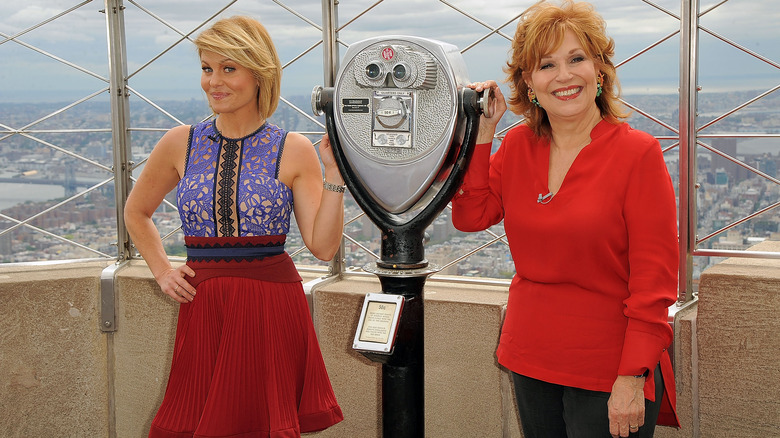 Chance Yeh/Getty Images
The outcome of the 2013 lawsuit against the owners of Sweet Cakes by Melissa, an Oregon bakery, came out in 2015. The owners refused to bake a wedding cake for a lesbian couple, causing them to sue for discrimination. The verdict was that the bakery owners had to pay a fine of $135,000 for the discrimination. Once the verdict was announced, "The View" made it a topic of discussion, with co-host Raven-Symoné on the side of the couple (via HuffPost). "The Oregon law bars businesses from discriminating against sexual orientation, race, disability, age or religion," Symoné said. "And to me, it's the same exact thing that they did back in the day saying that Black people couldn't do certain things because it's my 'religious belief.'"
Candace Cameron Bure, also a host on the show from 2015 to 2016, didn't agree. "I think you're comparing apples to oranges here. I don't think this is discrimination at all," the "Full House" actor said. "This is about freedom of association. It's about constitutional rights. It's about First Amendment rights. We do have the right to still choose who we associate with." Her main point was that the bakery didn't refuse to bake the cake because they were gay. They refused because their wedding ceremony "conflicted with their religious beliefs." While she was going on, Symoné said, "I refuse to associate with you right now" in regards to her "association" comment.
Raven-Symoné and Candace Cameron Bure have no bad blood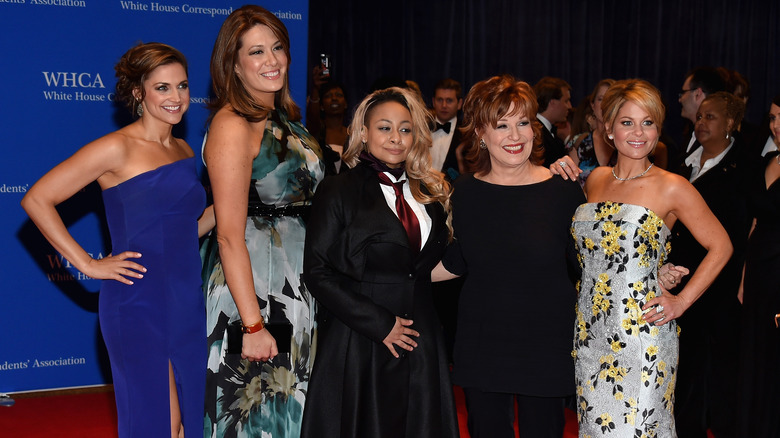 Larry Busacca/Getty Images
While that did get heated, and Raven-Symoné and Whoopi Goldberg made points on the side of justice, there doesn't seem to be long-lasting bad blood Symoné and Candace Cameron Bure. The two appeared on Sara Haines' podcast, "Behind The Table," in 2021 and the two actors related on the fact that they were both child stars (via ABC). In fact, Symoné said that the reason she wanted to join "The View" was to "show the growth of myself outside of a child star stigma."
For Bure, the show was not what she expected at all. "I was pitched a completely different direction, because that was my hesitation," she said (via Yahoo!). "I said, 'Politics is not, it's not my bag. I've never spoken publicly about politics. I don't even come from a political family, meaning I didn't grow up speaking about politics.'" Bure said that they told her they were going to keep it light, but that "all changed when Trump entered the race" in 2015. And Symoné felt the same way too. "Sara, I got catfished. I feel like I just got catfished," the "That's So Raven" actor told Haines. "I thought I was going on a show, like Candace, where it was pop culture and fun and exciting and I got catfished, and I learned a good lesson."