Amber Heard Once Changed Her Name Because Of One Of Her Exes
Tinseltown/Shutterstock
Johnny Depp v. The Amber Heard trial finally came to a close in May 2022 after years of back and forth between Heard and Depp. The trouble began in 2018 when Heard penned an op-ed in the Washington Post claiming she was a survivor of long-term domestic abuse, per The New York Times. Heard notably never named Depp in the article, but given the length of their relationship and its highly publicized problems, it was clear she was talking about the "Pirates of the Caribbean" star. Depp alleged that the fallout from Heard's piece had cost him millions of dollars in lost job opportunities, and he sued her for $50 million. Heard countersued for $100 million, claiming he was defaming her by pretending the relationship had not been abusive.
The case was tried in Virginia and aired around the country, and numerous celebrities, including Kate Moss and Ellen Barkin, testified. Eventually, the jury eventually ruled in Depp's favor. Depp was awarded $15 million in damages, while Heard was ordered a mere $2 million, per CNN.
While Heard's name is now inextricably linked to Depp's (and not in a good way), she was once previously tied to another romantic partner. Before Depp, Heard was in a long-term partnership with Tasya van Ree, which got pretty serious at one point.
If you or someone you know is dealing with domestic abuse, you can call the National Domestic Violence Hotline at 1−800−799−7233. You can also find more information, resources, and support at their website.
Amber Heard changed her name amidst her domestic partnership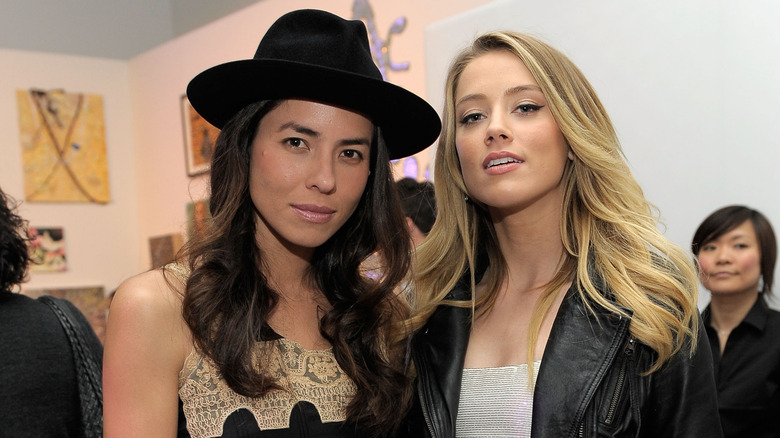 Charley Gallay/Getty Images
During her marriage to Johnny Depp, Amber Heard never took his name. However, during her five-year relationship with Tasya van Ree, Heard reportedly took a different approach. Though Heard and van Ree were never married in 2008, Heard petitioned the court to legally change her name from "Heard" to "van Ree" amidst their "domestic partnership," according to documents obtained by Radar Online.
Heard, who dated van Ree for five years, likely opted to change her name because, at the time, same-sex marriage was not legal, so taking van Ree's name was about as big a commitment as Heard could make. Sources told The Mirror that as soon as gay marriage became legal, Heard and van Ree held an small celebration in New York. "It was a private, intimate setting only with very close friends, and everyone was told it was completely secret," the insider said.
In 2014, a year after ending the relationship, the actor legally changed her name back to Heard, per Radar. But despite their five-year run together, there was one black eye that forever stained their relationship.
Heard and van Ree had a tumultuous relationship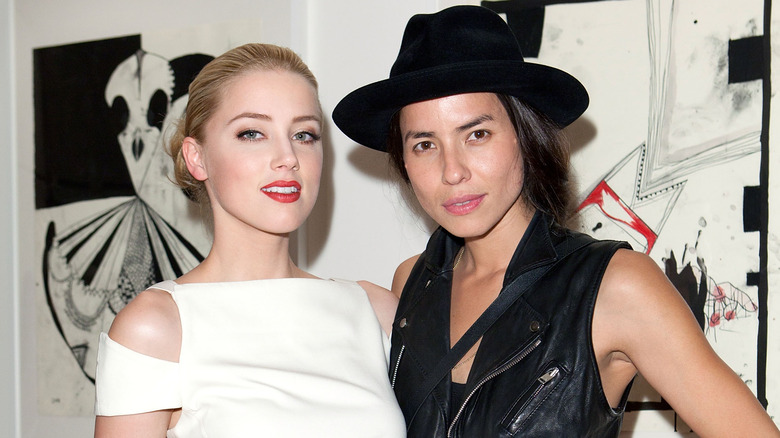 Dario Cantatore/Getty Images
The turmoil never reached the crescendo it did during her relationship with Johnny Depp, but Amber Heard's relationship with Tasya van Ree was not without its issues. In 2009, Heard allegedly got into an altercation with van Ree at the Seattle airport, which ended in the actor's arrest. Ultimately the local prosecutor opted not to pursue charges, but the altercation came back to haunt Heard during her defamation trial against Depp.
In 2022, Depp's lawyers called a witness from Heard's alleged altercation with van Ree to testify against her. "I was in the baggage claim area and I observed [Heard] with a traveling companion," Beverly Leonard explained (via Newsweek). "They got into an altercation where Ms. Heard had grabbed her traveling companion and pulled something from her neck." With a colleague's help, Leonard could separate the women. Leonard described Heard as overly aggressive and possibly drunk. "She seemed to be not very steady on her feet, her eyes were blurry and watery, and I could smell alcohol."
van Ree downplayed the incident. She issued a statement criticizing Depp's team for using the alleged incident against Heard. "Amber is a brilliant, honest, and beautiful woman, and I have the utmost respect for her," she said. "We shared five wonderful years together and remain close to this day." In fact, Heard still dotes on the Yorkshire terrier, Pistol, which van Ree gave her as a gift while they were together.