What We Know About Brock Purdy's Girlfriend, Jenna Brandt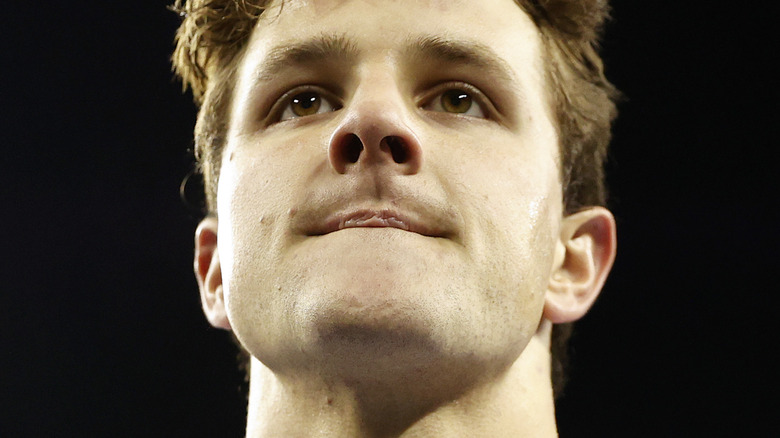 Steph Chambers/Getty Images
After being the last pick of the 2022 NFL draft, 49ers Brock Purdy was saddled with a dubious NFL nickname:: "Mr. Irrelevant." But despite being the final draft pick, the young quarterback's career appears to be thriving. 
In a December 11, 2022 match against Tampa Bay's Buccaneers, Purdy completed 6 of the 49ers' 21 attempts for 185 yards, according to the New York Post. In addition to this, Purdy also landed two touchdowns, a feat he managed to land without giving the ball away to Buccaneer's defense team, as reported by Marca. With the 49ers recording a 35-7 victory against the Bucs, Purdy made history as the first quarterback to defeat Brady in his first start. At the end of the game, Purdy and Brady had a brief exchange — something the rookie quarterback couldn't be more excited about.
"It was surreal just standing there like, man, that's Tom Brady talking to guys and dapping guys up. For him to have respect for what I did, it was pretty cool. I'm not going to lie," Purdy said, per the New York Post. "Being a little kid, watching that guy kill it throughout all these years in Super Bowls, to be able to give him a high five at the end was pretty cool."
Still, the best part of Purdy's game might not have been defeating Brady — it very well could have been the supportive smiling face of his girlfriend Jenna Brandt.
Jenna Brand is an athlete
Like her boyfriend, Jenna Brandt has an interest in sports. Born in October 1999, per her Iowa State University profile, Brandt played on her high school Sumner-Fredericksburg High School volleyball team. While on the team, Brandt served as a two-time captain, racking up numerous achievements including All-Tournament Team honors. Moving on to college, Brandt joined Iowa State University's Cyclones in 2018, playing on the team for three seasons per the New York Post. With the Cyclones, Brandt garnered a few more accolades, appearing in over 40 matches between 2018 and 2020. At that time, Brandt reportedly made the Big 12 Commissioner's Honor Roll for three consecutive years.
After her time with the Cyclones, Brandt transferred to the University of Nothern Iowa, where she plays with the Panthers to date. Taking to Instagram in January 2022, Brandt paid tribute to her team, citing that it is "a dream come true to wear this jersey." The 23-year-old also gave a shoutout to her teammates writing: "It's the people that make the game. my teammates make it worthwhile, make me work hard, and make me laugh in any (serious or not) situation. thank you to every single person who has crossed my path through this journey that took turns, but each step was for a reason."
According to Showbiz Cheatsheet, Brandt's sisters also have a history with volleyball and have either played or are still playing the sport.
Jenna Brandt and Brock Purdy seem to be going strong
Though it is uncertain when Jenna Brandt and Brock Purdy met, the New York Post reports that the pair first crossed paths at Iowa State University where they both studied before the volleyball player transferred. It was, however, not until November 2022 that the pair went public with their relationship. "My roots and my boy," Brandt captioned an Instagram photo of herself posing with Purdy in a field. The football star, in turn, commented "My girl!." In December 2022, Brant shared a carousel of photos that captured her cozying up with Purdy before a game. Also included in the carousel were photos of Brandt and Purdy's family at the stands where they cheered him on. "Love cheering ya on, BP," she sweetly captioned.
When the volleyball player is not showing off her cute relationship with Purdy, however, she enjoys giving fans a view of her life. Going by her Instagram feed, Brandt leads an adventurous life, traveling from place to place. "Restored after a trip full of hikes & thomas rhett's new album," Brandt captioned a picture of herself posing with friends during a hiking trip in Colorado.