Here's What Olivia Wilde Really Looks Like Without Makeup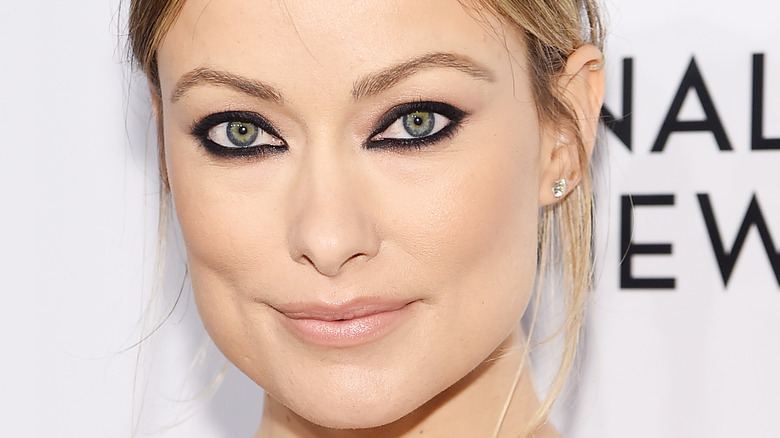 Jamie Mccarthy/Getty Images
Olivia Wilde is a woman of many talents, and she's also a prominent figure in Hollywood with a career that spans over two decades. The movie and television star rose to fame during her recurring role on the fan-favorite series "The O.C." According to IMDb, she also had roles in "Her," "The Lazarus Effect," as well as many other beloved shows and films.
Primarily known for her work in front of the camera, Wilde decided to go behind the scenes and made her directorial debut with the beloved quirky comedy, "Booksmart." The coming-of-age film went on to be nominated for several awards and took home the "Best First Feature" Independent Film Spirit Award. "First features mean somebody believed in your crazy idea, somebody supported your crazy ambition," she said of her big win (via The Hollywood Reporter). "I always wanted to make movies and be a part of the moviemaking process," Wilde told Variety in 2020. She added, "I always assumed acting was the way in, because for many young women ... they're told, 'You love movies — you should be a movie star.' No one tells a little girl, 'Why don't you become a director?' It's just not a part of the conversation." 
Now, she's officially gotten her second directorial project under her belt with the 2022 release of "Don't Worry Darling." With such a pronounced role in Hollywood, the star is always in the spotlight and has committed to highlighting her most authentic self, which often includes ditching makeup to celebrate her natural glow.
Olivia Wilde prefers a natural approach
Olivia Wilde has had quite a transformation over the years. Undoubtedly she is a force to be reckoned with in Hollywood, as her ability to transform into any role, spanning various genres, is unmatched. The "House" alum pushes gender equality and the importance of speaking up for what you want in life and your career, and she's redefining societal norms along with beauty expectations that are often expected from women within the limelight.
The 38-year-old celebrates her natural beauty in many ways. She frequently posts selfies sans makeup with her children Daisy and Otis, whom she shares with ex-fiancé Jason Sudeikis. She even went completely makeup free for her role in "Motherland." The "Drinking Buddies" alum admitted to HuffPost in 2015 that going makeup free shouldn't be considered "brave" or celebrated, rather it should be a well-accepted choice. "It's so silly. I don't hear people calling men brave for not wearing foundation." She later added that Hollywood promotes a "flawless nature" that is not realistic and can hinder self-acceptance.
Over the years, we've watched the beloved actor redefine beauty standards and evolve her makeup routine. She's admitted to taking a natural approach and even shared that the main ingredient in the upkeep is "saliva," as she uses slightly dampened cotton balls to apply her makeup in lieu of fancy brushes. In an interview with Vogue, she gave fans a front-row seat to her down-to-earth routine, which included the basics — highlighter and eyeliner for her signature look.
She also promotes healthy skincare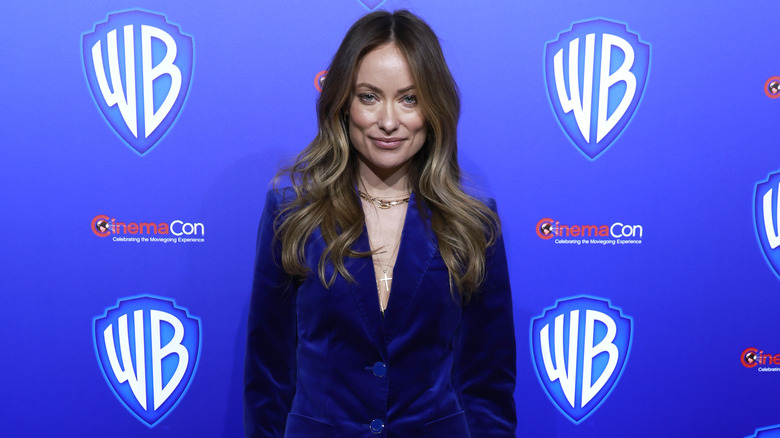 Frazer Harrison/Getty Images
Olivia Wilde feels comfortable and confident in the skin she's in. A small feat that should be celebrated due to the beauty standards of Hollywood that often seem unrealistic and unattainable. Her approach to celebrating an au-natural look is partly to set an example for her children. The True Botanicals chief brand activist revealed that becoming a mother influenced her skincare technique, noting that "it really just cleaned it up and simplified it." Her involvement is largely due to the brand delivering on its mission to provide consumers with high-quality products that are not only good for them but better for the environment as well, because "sustainability is sexy," (via PR Newswire). 
"We want to celebrate the idea of loving one's own body and feeling confident because you feel beautiful and the idea that the rituals we practice for ourselves are opportunities to celebrate ourselves," she revealed to Vogue in 2021. "Beauty isn't an obligation in order to interact with the rest of the world. This is about interacting with ourselves and celebrating ourselves." Promoting healthy skincare and opting for a fresh face comes as no surprise for the brunette beauty who prefers to lead by example. The "Cowboys & Aliens" actor later said she opts for a natural yet sustainable approach to beauty to "be kinder to the environment" and to " be around longer for my kids."