​​Inside Offset And Quavo's Relationship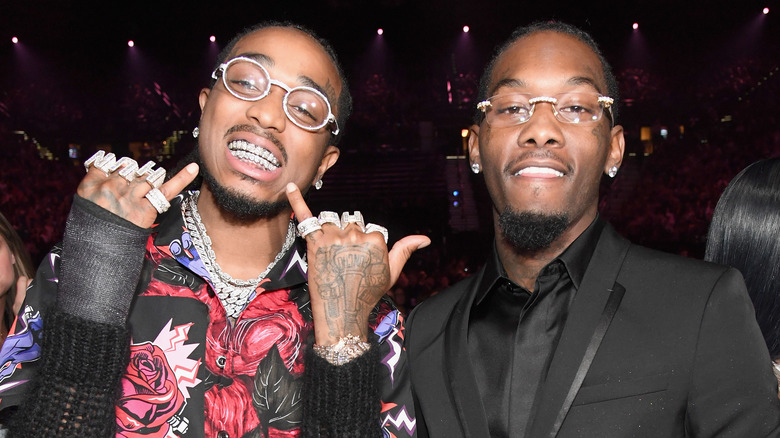 Kevin Mazur/Getty Images
When you're family, there's an untouchable bond, and rappers (and cousins) Offset and Quavo are proof of that. The two were two-thirds of the rap group Migos, along with their late relative, Takeoff. 
Over the years, Migos became multi-platinum hitmakers. Their first major hit, "Versace," dropped in 2013, and they hit No. 1 on the Billboard charts with the single "Bad and Boujee" in 2017. While they appeared to be at the peak of their success, the group's album "Culture III," which was released in 2021, would be their last as a trio. Rumors of their breakup made headlines in May 2022 after Offset unfollowed Quavo and Takeoff on Instagram, per Newsweek. Shortly after, Quavo and Takeoff opted to make music together by the name, "Unc & Phew."
Despite any disagreements over the years, nothing shook the group more than Takeoff's untimely death. TMZ confirmed that the rapper was shot at a bowling alley in Houston after an altercation. While Offset and Quavo both have paid tribute to Takeoff, they still have not publicly addressed their own issues. However, there was once a time the two cousins were incredibly tight. 
Offset and Quavo grew close as kids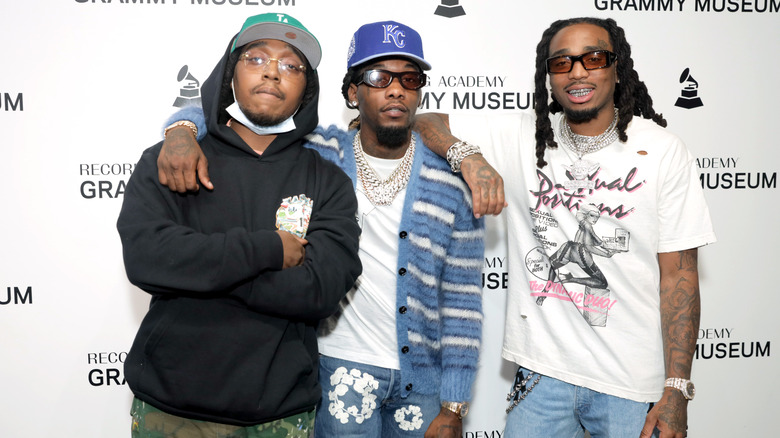 Rebecca Sapp/Getty Images
Offset and Quavo are not only related. They practically grew up together with Takeoff under the roof of Quavo's mother, Edna Marshall, in Georgia, per NBC New York. In a previous interview with Rolling Stone, Migos gave a glimpse into their upbringing with Marshall. "She knew how to raise you as a man," Offset said of Marshall, while Quavo added: "She had a house full of [boys] playing games, shoes off, eating all the food, and it's hard times – but she never complained." They all lovingly called her "Mama."
The trio began rapping together in their high school years under the moniker, "The Polo Club," before later rebranding as Migos. "We got [Offset] to rap in high school. He did one song and his voice sounded good," Quavo shared of his cousin to The Fader. Once the group formed, the rest was history. 
With the group's international acclaim, fans were surprised when the trio appeared to part ways in 2022. While not directly addressing what caused the split, Quavo revealed that it came down to loyalty. "We stand on [the] real deal, real deal loyalty, and sometimes that s*** ain't displayed. This ain't got nothing to do with no label," Quavo revealed in an interview with Big Facts alluding to a fallout with Offset. "This got something to do with the three brothers ... it is what it is. Right now, we gon' be the duo 'til time tell." 
Quavo and Offset reunited to honor Takeoff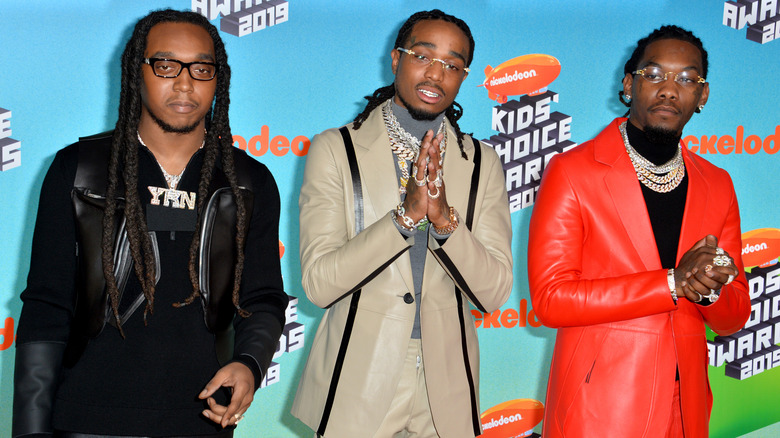 Featureflash Photo Agency/Shutterstock
Although Quavo and Offset were clearly at odds, the two were able to put the beef to the side to reunite at a memorial for Takeoff, according to Page Six. During the service, friends and family of the late rapper gathered to pay their respects.
According to TMZ, both Offset and Quavo took to the stage to share tear-jerking memories as they spoke out on having Takeoff as their groupmate and their bond as a family. The two did their best to honor Takeoff with Quavo praising the late rapper's skills and even donning oversized gear to pay tribute to their upbringing, according to Rolling Stone. 
Despite their rocky relationship, Offset and Quavo will always be family. Offset admitted to The Fader in January 2017, "I don't think I'm in a group with two other guys, where I don't know their moms and their grandmas, their aunties, and I don't know where they came from. This is my immediate family. These are the only people I know. That's why we be around each other so much. I don't know nobody else." Hopefully, these two will be able to reconnect in the future.