Which Songs Did The Weeknd Write About Bella Hadid?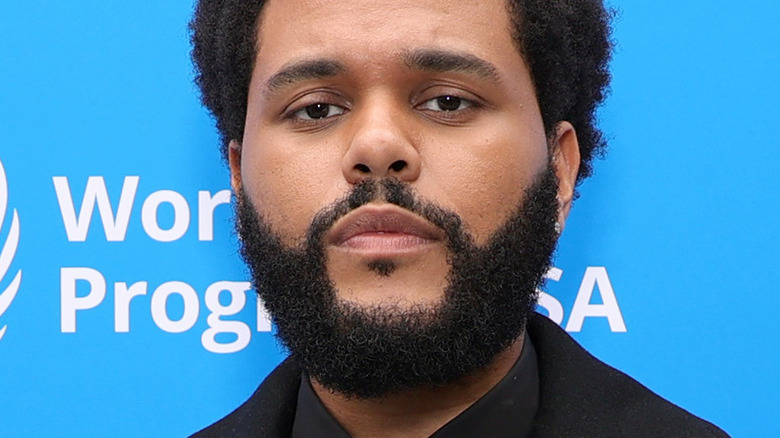 Rich Fury/Getty Images
As of this writing, The Weeknd is currently dating TikTok "It" girl, Simi Khadra. Scroll through her Instagram, and you'll see that she's a DJ, an identical twin, and an ultra-cool Gen Z'er. She's also a proud Palestinian, just like The Weeknd's famous ex, Bella Hadid. According to Elle, the pair dated off and on beginning in 2015, before splitting up for good in 2019. Their relationship brought fans several pop culture milestones, including Hadid's catwalk strut during The Weeknd's performance at the 2016 Victoria's Secret fashion show, and a red carpet Met Gala debut.
Like many other A-listers however, the pressure of maintaining a romance in the spotlight took its toll on Hadid and The Weeknd. "When they were more public, it deteriorated their relationship," a source dished to Us Weekly. E! News explained that "distance" and conflicting schedules also played a role in the split. But in the end perhaps, everything worked out for the best. Following the breakup, The Weeknd took to Twitter to let fans know that he was in "album mode." Four years later in 2020, the "Blinding Lights" singer said that the music from his "Dear Melancholy" album — much of which dealt with his break ups from Selena Gomez and Hadid — was "like this cathartic piece of art." He added, "And yeah, it was short because that's all I had to say on this situation." But which of those songs (and lyrics) specifically had to do with Hadid?
Twitter thinks Wasted Times is all about Bella Hadid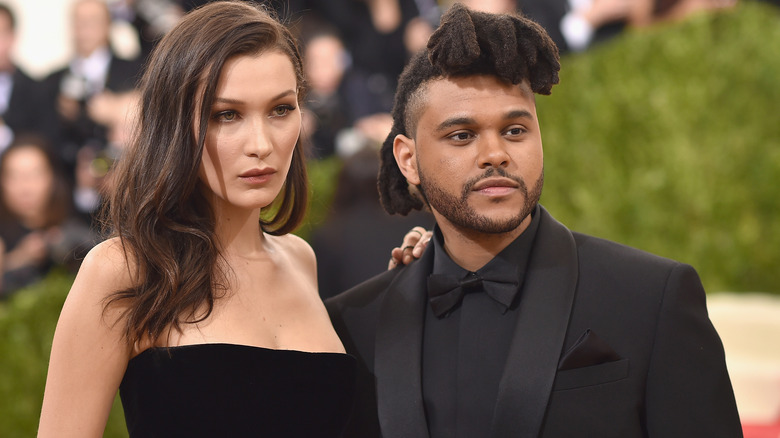 Dimitrios Kambouris/Getty Images
The Weeknd's 2018 album, "Dear Melancholy" featured lyrics about both Selena Gomez and Bella Hadid, but Hadid was painted in a much more favorable light. In the track, "Wasted Times," The Weeknd sings, "Wasted times I spent with someone else / She wasn't even half of you." According to Just Jared, this "wasted time" may refer to the 10-month relationship that The Weeknd had with Selena Gomez, while he and Hadid were on a break in 2017. Later on in the song, The Weeknd also refers to "an equestrian," who "ride[s] it like a champion." Per HelloGiggles, Hadid is a well-known rider, who harbored dreams of making it to the Olympics in 2016.
Genius explicitly states that "Wasted Times" compares Hadid and Gomez, but neither The Weeknd nor the supermodel have spoken about the tune with regard to their past relationship. Twitter has plenty of thoughts about the lyrics though, with one user noting, "The weeknd is really out here singing directly to bella hadid wow." And while the hit made it seem like The Weeknd wanted to get back together with Hadid, that hasn't happened (yet!). In 2020, the Daily Mail noted that Hadid bumped into her ex at the 2020 MTV Music Awards, but that the run-in wasn't too awkward. "They played it cool and crossed paths with each other, same place, same time. [They're] on good terms," a source told the outlet.
After Hours is packed with references to Bella Hadid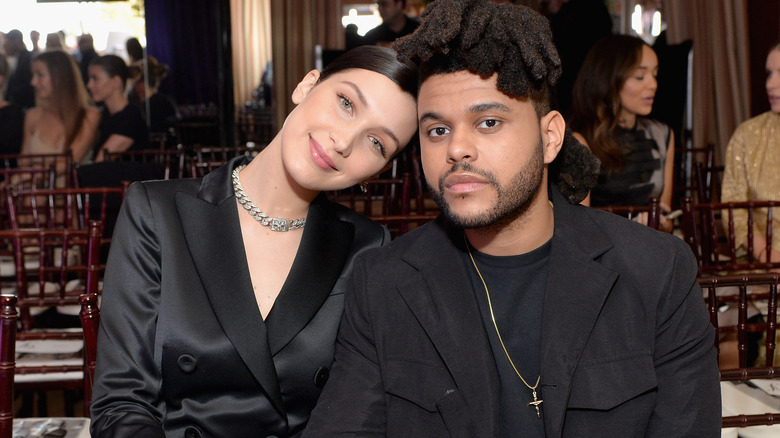 Stefanie Keenan/Getty Images
Bella Hadid features in "Wasted Times," but it's The Weeknd's 2020 album, "After Hours," that really stars his ex, per Bustle. In "Too Late," the lyrics, "Sources say that we're done, how would they know?" reference the on-again, off-again nature of the pair's romance. Furthermore, The Weeknd rarely gives interviews, which explains why "sources" wouldn't know what was happening behind closed doors. In "Hardest to Love," The Weeknd again speaks to his tumultuous time with Hadid, crooning, "You try with me so many times, yeah." He then adds, "But I've been the hardest to love / You're tryna let me go, yeah / And I can see it." According to J-14, Hadid attempted to move on from her former boyfriend, allegedly by dating Drake and Odell Beckham Jr.
As for "Snowchild," it discusses The Weeknd's meet-cute with Hadid at Coachella. He sings, "We was at Coachella going brazy ... "Now I'm in Tribeca like I'm JAY-Z." After three years of dating, the model moved into the Weeknd's apartment in Tribeca. "Escape from LA" mentions the "Chrome Hearts" that Hadid, a rep for the brand, figuratively has "hangin' from her neck." In "Save Your Tears," The Weeknd remembers a girl he saw "dancing in a crowded room" which could be the time he ran into Hadid at a nightclub, per TMZ. Lastly, "After Hours" talks about breakup regret. There are no specific clues that point to Hadid, but then again, she is The Weeknd's most significant relationship to date.