Inside General Hospital Stars James Patrick Stuart And Michael E. Knight's Decades-Long Friendship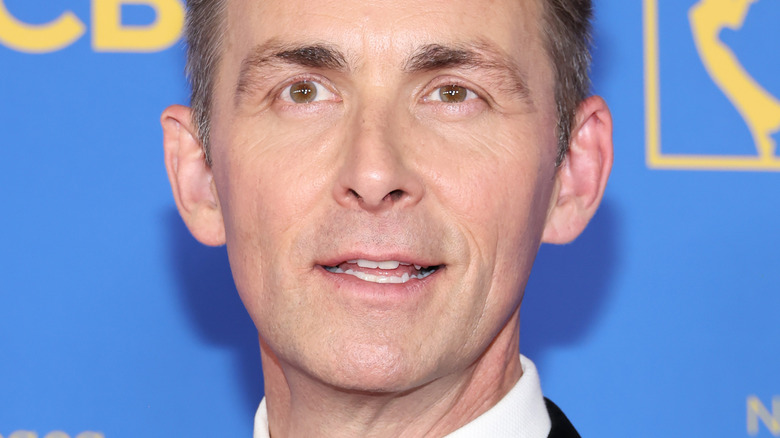 Amy Sussman/Getty Images
Considering soap operas air new episodes five days a week all year, it's not surprising that the actors who work long hours together become friends. Carson Boatman and Tanner Stine, who play Johnny DiMera and Joey Johnson on "Days of Our Lives," have been longtime friends in real life, while "General Hospital" actors Maurice Benard and Marcus Coloma are good friends who constantly make hilarious videos on Instagram. Soaps She Knows reported on several soap stars who are friends outside the studios, and one pairing is that of Michael E. Knight and James Patrick Stuart. 
Knight became a fan favorite when he played Tad "The Cad" Martin on "All My Children" from 1982 to 2011, per Entertainment Weekly. Stuart, however, not only inherited the musical talent of his father — legendary musician Chad Stuart — but has also become an amazing actor. Stuart told Soap Central that when he was up for a role of Will Cortlandt on "AMC" in 1989, he checked out the show. "The first scene that I turned on was Cady McClain and Michael Knight laughing in bed the morning after," said Stuart, "and it was as funny and as fresh as any romantic comedy I'd ever seen. And I thought to myself, 'If that is going on, then I want to be a part of that.'"
Knight currently works on "General Hospital," playing lawyer Martin Grey — the long-lost brother of Laura Spencer (Genie Francis) — alongside his client (and real-life bestie), Stuart's Valentin Cassadine. And the two couldn't be happier.
A long-lasting friendship was born
In an interview with Soap Opera Digest, Michael E. Knight proclaimed James Patrick Stuart as "one of my oldest and dearest [friends]," continuing, "If I ever have a dark night of the soul, he's one of the people I turn to." Stuart told Soap Central about initially working with Knight on "AMC," stating, "Michael Knight took me under his wing. We became fast friends, and I watched him, and I watched him, and I watched him. I took notes, and I learned... he taught me everything." Stuart credits Knight's acting expertise for the fact that both were nominated for Emmys in 2020.
Michael Fairman TV asked Knight how he was enjoying playing Martin Grey on "General Hospital," to which he stated, "I couldn't be happier." He also explained that he knew most of the people working there, adding, "It's kind of like going home. It's wonderful." While Stuart adopted the first name 'James' so he wouldn't be confused with legendary actor Patrick Stewart, Knight simply calls him "Patrick." "I get in trouble because Patrick is one of my nearest and dearest friends. Period.... I am godfather to his second son Colin [Michael Stuart]."
Knight continued, "When they're doing the countdown before a scene" — because Knight puts on a Southern accent when playing Martin — "he'll start doing Foghorn Leghorn impersonations and stuff... We have too much fun, I think."
Michael E. Knight and James Patrick Stuart are besties for life
In May 2020, "General Hospital" actor James Patrick Stuart posted pictures of Cady McClain and Michael E. Knight on Facebook, writing, "My personal favorite soap couple of all time and two of the greatest friends of my life... Cady McClain and Michael E Knight. (Tad and Dixie)." Stuart also posted a selfie of him and Knight on Instagram, writing, "Michael Knight is my best friend in the world." He referenced a video he made for the COVID-19 charity Daytime Cares. In the video, Stuart interviews Knight, asking outrageous questions, as well as ribbing him because 'Michael Knight' was the name of David Hasselhoff's character in "Knight Rider." 
While Knight was talking to Michael Fairman TV, Stuart was there discussing his time on "All My Children," saying, "He [Knight] taught me pretty much everything I know. What I do these days, I learned from watching him back in those days." Knight continued discussing his on-set relationship with Stuart, explaining, "We... have too much fun anyway. He lives to make me laugh. We're rapidly turning into Carl Reiner and Mel Brooks." 
"I love that man so much," Stuart told Soap Central. "We have been friends for so long that there's nothing that could top the feeling of having him come back to a show that I'm having so much fun on, and then for us to get a chance to do scenes together at this stage of our lives...it's just great."