Here's What Olivia Munn Really Looks Like Without Makeup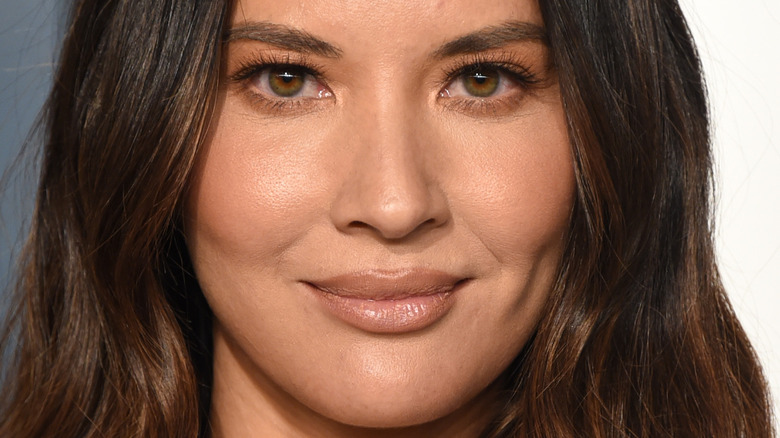 John Shearer/Getty Images
Olivia Munn is a renowned actor and funny girl who has had the world in stitches with her dry sense of humor since on-screen her debut. According to IMDb, Munn has a lengthy list of appearances under her belt. People typically know her from her roles in "Beyond the Break," "Ride Along 2," and "Magic Mike," but she's been in the entertainment industry for quite some time and has even dabbled in voice-overs for video games. Through trials and tribulations, the road to stardom wasn't well paved for the beloved actor.
"There's always competition in any business. And all it takes is one role," Munn shared with Prestige in 2015. "Not even necessarily a great role. Just one job that makes you feel like you're a working actor. One job can turn your whole life around." Though her success looks like it came easy for the star, it wasn't until her big break on "The Daily Show," that Munn became a household name. From her onscreen charisma to her adaptability, many of her fans applaud her for telling it like it is and for being relatable. Being a star of her caliber means being in the public eye and the center point of conversation. And while she's made headlines for numerous things over the years, this time, she's got everyone talking for a different reason — her natural beauty. In fact, stars everywhere, including those on TikTok, are ditching the makeup right alongside Munn.
Olivia Munn isn't afraid to go all natural
Olivia Munn has incredible features, and she's not afraid to show them off. In an industry that often celebrates over-the-top looks, the 42-year-old actually takes a much different approach. The brunette beauty often posts makeup-free photos on her social media accounts to highlight her natural features, like her high cheekbones, which she celebrates from her heritage. 
In a 2016 interview with Refinery 29, the "X-Men: Apocalypse" star revealed that her background changed the way she views beauty. "Being multicultural has affected my definition of beauty, the way I see beauty, and how I feel beautiful tremendously," Munn said. She added, "I'm Chinese and white, and I actually have more of a Chinese bone structure but more white features and little things completely transform my face." Whatever the case may be, the actor knows what works for her and prefers to highlight her features. "I've felt so much more beautiful when I have been able to work with someone like Patrick [Ta], who accentuates my features and does something unique," she later continued. "Now, I understand what works for me — the almond shape of my eye, the way to open it up, the different technique."
In addition to being vocal about her preferences, Munn often gives her fans a glimpse into her life by posting makeup-free selfies on Instagram. She's even been spotted by the paparazzi sporting an all-natural look while filming (per the Daily Mail). Either way, Munn likes to keep it simple.
Olivia Munn prioritizes skincare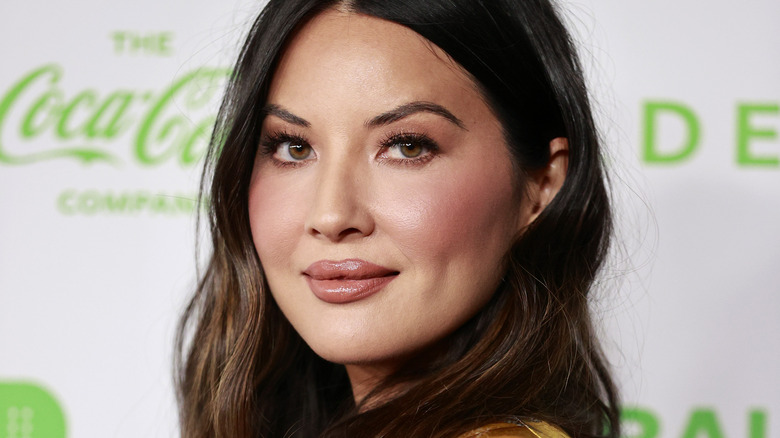 Emma Mcintyre/Getty Images
It seems like Olivia Munn is always in the spotlight! In addition to her acting capabilities, her radiant skin is equally impressive. Whether it's going for all-out glam or opting for a subtler approach, the multi-talented star clearly prioritizes skin care. "I always moisturize. In the middle of the day, I'll wipe off my makeup and put on moisturizer again," Munn shared with People in 2017. "Your skin is like dirt in a garden. If you don't water it, you get lines. You put water in it, and it fills up." She seemed to learn from the best, as the star looks up to a few Hollywood legends for skincare inspiration. 
According to Byrdie, Kerry Washington, Michelle Williams, and Lupita Nyong'o are a few of her modern beauty icons. However, Sophia Loren took the top spot for Munn. In either case, the starlet believes that beautiful skin truly starts from the inside, and no amount of makeup or skincare routine can change what's on the inside. "You can't live a positive life with negative people, and that definitely radiates through you," she previously shared with InStyle. "I think that's what makes people the most beautiful. You can't put makeup on the inside, but when you have that kind of positivity, it shows through, and you need those positive people around," she added. 
Make-up or no make-up, that's some pretty sound advice, which is most likely why the mother-of-one is always glowing inside and out.