How The Daily Show Changed Olivia Munn's Career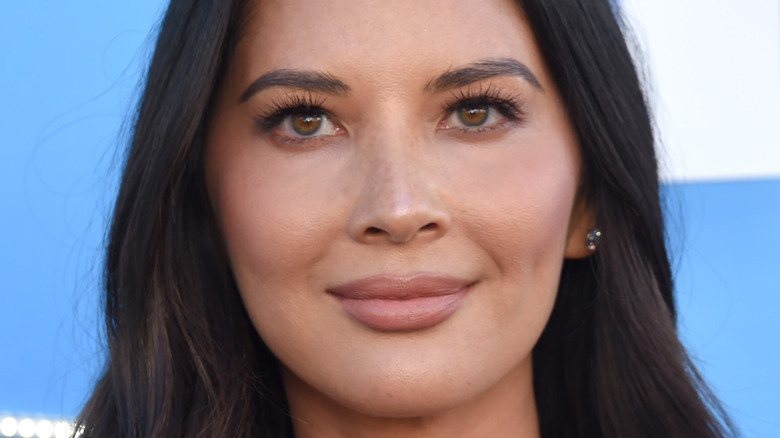 DFree/Shutterstock
Olivia Munn is a performer who always had her mind set on achieving her Hollywood dreams. Munn's acting aspirations began when she was a young girl and would watch the popular '80s sitcom, "Punky Brewster." She said to Us Weekly in 2014, "I've always wanted to be an actress since I was a little girl ... When I found out [Punky] was an actress, that's what I wanted to do."
Later, Munn would move from her home state of Oklahoma to California in order to give acting a shot. In a 2015 interview with Prestige, Munn described how she faced audition rejections early in her career but persisted with the faith that she'd eventually get a break. "There's always competition in any business. And all it takes is one role," Munn said. "Not even necessarily a great role. Just one job that makes you feel like you're a working actor. One job can turn your whole life around." For the "X-Men: Apocalypse" star, her own life-changing gig came in the form of a role on "The Daily Show." 
The Daily Show led to Olivia Munn's film and TV stardom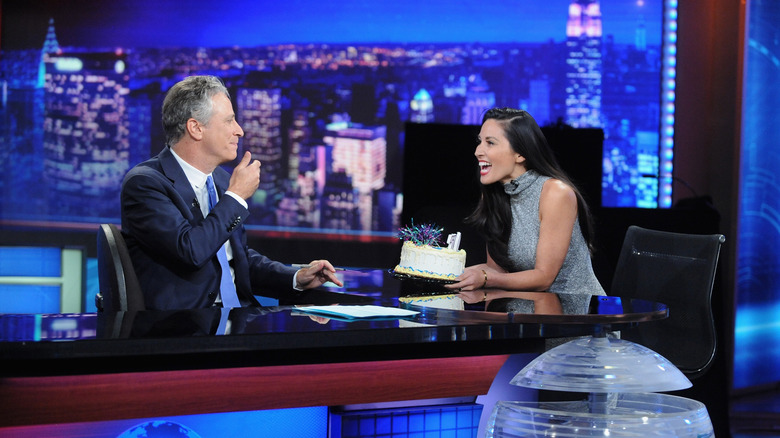 Brad Barket/Getty Images
After chasing her acting aspirations with a move to Hollywood, Olivia Munn made a smart choice that helped launch her prolific career. Per IMDb, Munn served as a co-host of the talk series "Attack of the Show" for over 450 episodes from 2006 to 2010. When she exited the series, Munn next was as a correspondent on "The Daily Show" from 2010 to 2011. Jon Stewart hosted "The Daily Show" at the time, and Munn explained to Entertainment Weekly in 2015 that Stewart was someone who was always able to share helpful words of wisdom with her. "He's somebody that I still go to and I'll ask him for advice on something, and the thing about Jon is that he always immediately has an opinion, and it's always the right opinion," Munn said.
We've since learned that the decision to go to "The Daily Show" came with a huge pay reduction for Munn. "I took an 80% pay cut because nothing's better than Jon Stewart thinking you're funny," the actor told Self in 2014 (via The Wrap). Although her income temporarily decreased, this decision worked out in Munn's favor in the long run. Following taking on her "Daily Show" role, Munn scored lead parts in major movies such as "Magic Mike," "Mortdecai" and "Ride Along 2." Since these roles, Munn's prominence as an actor has only increased.
Olivia Munn's career is still prospering over a decade after her Daily Show gig
Shortly after Olivia Munn began her "Daily Show" appearances, she also gained numerous major parts in films and TV shows. This trend has continued for Munn, as "X-Men: Apocalypse," "Office Christmas Party," and "The Newsroom" are just some of the successful projects in which she's starred in recent years. One of Munn's latest movies is "Violet," the 2021 drama about a woman who faces thoughts of self-doubt. IndieWire wrote that "Munn delivers a graceful, cutting performance, as her pain always feels grounded in real, quantifiable challenges" in this noteworthy role.
While maintaining her flourishing career, Munn has stayed loyal to her "Daily Show" colleagues. The world was able to witness this when Munn shared a photo of her son, Malcolm, meeting previous "Daily Show" host Jon Stewart on June 23, via Instagram. Munn's infant son, whom she shares with comedian John Mulaney, was seen sitting with Stewart in the photo, which Munn captioned, "A rare photo of Jon Stewart and Mark Twain. Congrats Jon on your #MarkTwainPrize." This was in reference to Stewart earning the Mark Twain Prize for American Humor, which he was presented on April 24. Munn has not only achieved her ambitious acting goals, but she's also made some meaningful friendships along the way.