Savannah Chrisley Hints At Todd And Julie's Plan To Appeal Their Prison Sentences
Noel Vasquez/Getty Images
In November, Todd and Julie Chrisley received their sentences for conspiracy of fraud on multiple counts and tax evasion. Judge Eleanor L. Ross gave Todd 12 years of prison time with three years supervised release, while Julie received seven years in prison with three years supervised release, per CNN.
Following their sentencing, Todd and Julie's son Chase Chrisley shared a story on Instagram about a time when he told his friend that his fiancé wanted him to make chili but he didn't feel like stopping by a store (via People). His friend, who had just lost his wife, told Chase, "Make the chili." The oldest Chrisley son then seemed to reference his parents. "It took me a few minutes to realize we were no longer talking about dinner. It was about going out of your way to do something for someone you love because at any moment, they could unexpectedly be taken from you," he wrote.
Prior to the sentencing, Savannah Chrisley posted a cryptic quote on her Instagram Story that read, "Noah didn't stop building the ark to explain himself to everyone who doubted and hated. Keep building your ark. The rain will do the talking." Then, on November 21, she shared on her podcast "Unlocked with Savannah Chrisley," that she was given custody of her 16-year-old brother Grayson and her 10-year-old niece Chloe, per Us Weekly. With the imminent incarceration of their parents, she and Chase opened up again about the Chrisleys' plans going forward.
Savannah Chrisley alleges things went wrong in court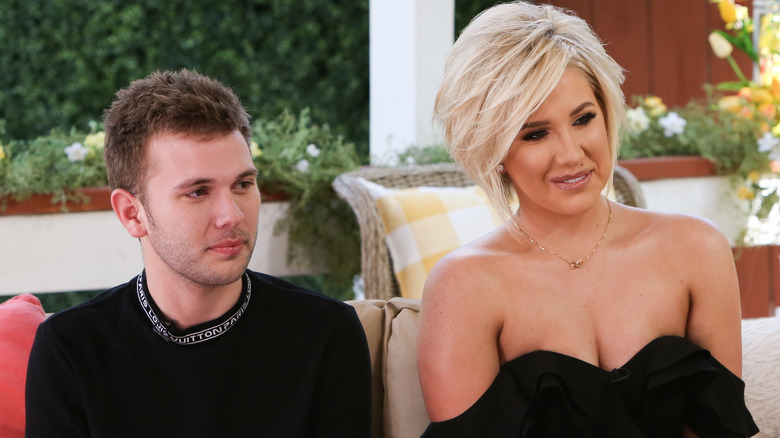 Paul Archuleta/Getty Images
On the December 20th episode of her podcast, "Unlocked with Savvanah Chrisley," the "Chrisley Knows Best" star sat down with her brother, Chase Chrisley, to talk about their parents' sentencing. "It is a terrible, terrible situation. But I have to try to find the good in the darkest time, and I feel like throughout everything we've been going through, it has made me appreciate things that I did not appreciate as much in the past," Chase shared.
However, he later got fired up. "I think throughout this whole situation, you've gotten angrier and angrier, and angrier ... I've put my faith in God and I truly believe to my core he will prevail ... and this situation is not done ... you and I both know that," he ranted. Savannah Chrisley then shed light on the possibility of turning things around. "If you would actually go and pull legal documents, you could see factual evidence and you could see all the things that went wrong. And that's where this appeals process is going to, hopefully like you said, God is going to prevail and things will be brought to light."
As for Todd and Julie Chrisley, they're leaning on their faith to get through this difficult time and shared that they are trying to be strong for their children, per ET. The Chrisley patriarch shared, "There are dark days, we all have dark days and we can choose to sit and wallow in it, or we can get up."