What Todd Chrisley's Relationship Is Like With His Son Chase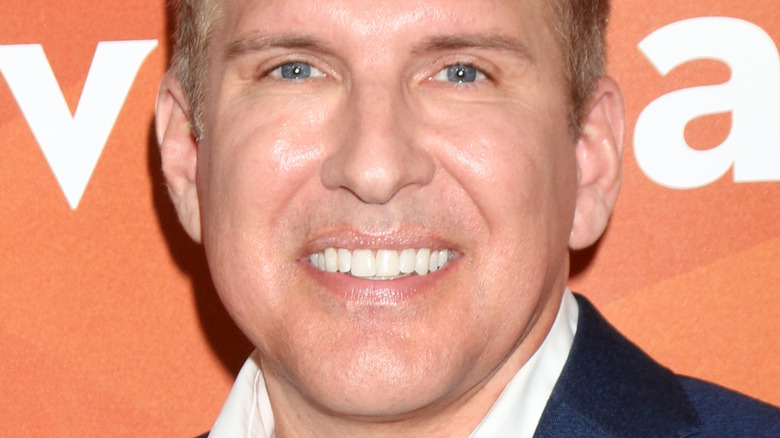 Kathy Hutchins/Shutterstock
When it comes to father-son duos on reality television, there are plenty of them. One of the first relationship dynamics that we saw play out in front of our eyes was Ozzy Osbourne and his son, Jack Osbourne. Since the pair paved the way, we have met many other duos — including the enjoyable tandem of Todd Chrisley and son Chase.
The family's hit show, "Chrisley Knows Best," debuted in March 2014, and since then, we have been watching the Chrisley squad and all of their hilarious antics. It feels like we have watched Chase and his sister, Savannah, grow up before our very own eyes — and we, too, feel like protective parents.
The family started filming the show in Atlanta but later moved to Nashville, Tennessee, where they put down their roots. Both Todd and Chase have amassed impressive followings on Instagram, with Todd at 2.3 million and Chase at 1.3 million at the time of writing. The show has helped both Chase and Todd launch other successful business endeavors. Chase even has a candle collection, which is pretty impressive (and nice smelling) if you ask us! As viewers of the show now, Todd and Chase have playful banter with one another most of the time, but it's easy to see how deeply Todd cares about his son.
Todd Chrisley and Chase Chrisley are really close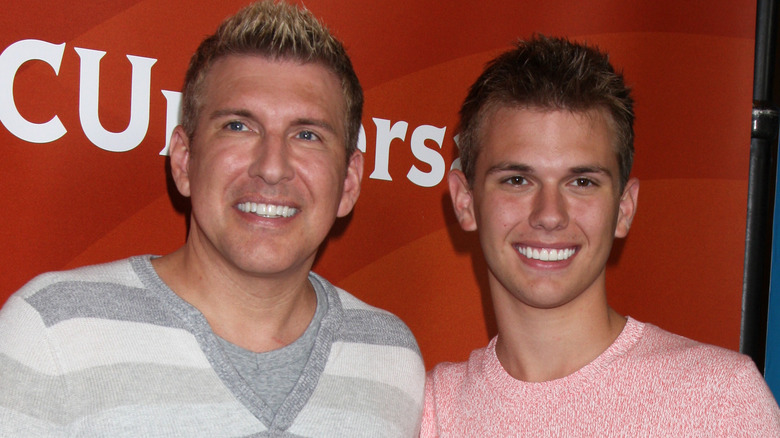 Kathy Hutchins/Shutterstock
Patriarch Todd Chrisley likes to give son Chase a hard time about different things, but he's one proud papa at the end of the day. We've seen the pair prank each other on television, but they are also incredibly loving toward one another. In June 2021, Todd wrote a beautiful tribute to his son on Instagram on his birthday. "Happy 25th @chasechrisley, I will never be able to place into words what you mean to me, to say I love you just doesn't seem sufficient ... I give all the glory to our lord and saviour for allowing me to see this with you," he wrote, adding that he loved Chase "to the moon and back." 
The father-son duo's love is seen on-screen as well. During the 5th season of "Chrisley Knows Best," the two played golf together after Todd bought Chase nice clubs and Chase gave his pops some lessons. They messed around with Todd's friends, including former Rascal Flatts member Jay DeMarcus. And while Chase admitted that he'd "rather be winning," teasing DeMarcus with his dad was "pretty fun." 
The two also bonded when they went duck hunting on an episode of "Chrisley Knows Best." Chase tricked Todd into hunting with his girlfriend's brothers as all hilarity ensued. And in true Todd fashion, he also slid into Chase's girlfriend's DMs because he wanted to meet her since everyone else in the family had. Hey, it's all out of love! 
Todd is also close with his youngest son, Grayson
As fans of "Chrisley Knows Best" know, Todd Chrisley has had a pretty rocky relationship with his eldest son, Kyle, but the pair seems to have patched things up. Todd has always had a special place in his heart for his youngest son, Grayson. When you watch the series, it's almost like Grayson can do no wrong, and Todd loves him to pieces.
Like his bond with son Chase, fans get to see all aspects of it on television and on social media, where Todd never shies away from showing love for his kiddos. "I couldn't be more proud of our baby @graysonchrisley, his first homecoming and we are so blessed and grateful that God chose us to parent this wonderful young man, Go with God always son," Todd wrote on an Instagram post in September 2021.
Of course, Grayson, Todd, and Chase all bond with one another over guy stuff. In Season 9 of "Chrisley Knows Best," Chase gave Grayson some tips on dating and how to land a girlfriend — something big brothers typically do. Todd was a little bit skeptical of Chase's advice for Grayson but hey, it ended up working. In another episode of the series, Chase expressed his jealousy over his little brothers' height in a classic case of sibling rivalry. At the end of the day, the Chrisleys are one of the most loving families on TV, and you can tell how close-knit they really are.