Where Do The Chrisleys Live And How Big Is Their House?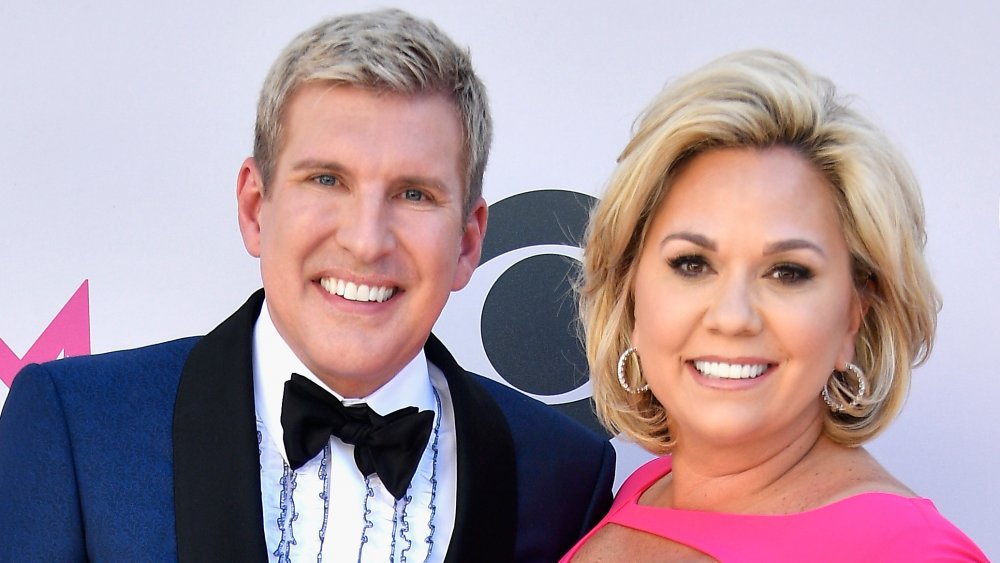 Frazer Harrison/Getty Images
The Chrisley family first burst on the scene in 2014 with the premiere of their hit reality television show, Chrisley Knows Best. At the time, the family was living large in their Atlanta mansion, located in the same neighborhood as Usher and Chipper Jones. Talk about keeping up with the Joneses, sheesh. The family later relocated to Nashville, Tenn., where they'd end up weathering many high profile storms. Yep, that's right, they've gone country... back to their roots... or however the rest of that country song goes. 
But before you call it a downsize, think again. Although the family's current Tennessee home might be a touch smaller than the Georgia mansion they grew accustomed to, it's still no shack, okay?! 
When the family first made their move to The Volunteer State in 2016, Bravo reported that the Chrisleys plunked down $1.6 million fat ones for a more modest size home. But since then, the Chrisleys have upgraded to something a little more... ahem, spacious. Let's take a look below at all of the stunning details. 
The Chrisley's home has a ton of sweet perks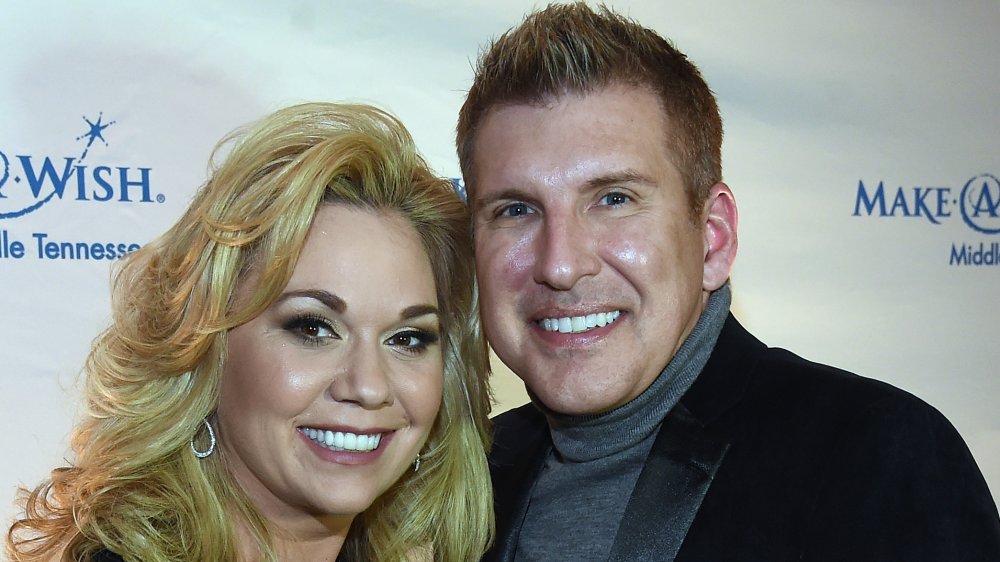 Rick Diamond/Getty Images
As reported by Bravo's Style & Living, the Chrisley's new Nashville home boasts a staggering 11,000 square feet. Yes, you read that right. The property is located in an exclusive Nashville suburb of Brentwood and features a whopping six bedrooms and nine bathrooms. No waiting in line for the shower at the Chrisleys, that's for sure.
Even better yet? The house has something for everyone. The matriarch of the family, Julie Chrisley, can flex her cooking skills in the deluxe chef's kitchen while Todd Chrisley can unwind after a hectic day of lecturing his kids in the marble master bath. And something tells us, the Chrisley's youngest son, Grayson, had no problem making himself right at home in the game room, home theater, and basketball court. But as the saying goes, you gotta pay to play, and rumor has it the Chrisleys paid a pretty penny for their little piece of paradise. The exact figure? Todd and Julie reportedly plopped down $3.4 million to buy their new digs off of former National Hockey League player, Mike Ribeiro.  
We've just got one question: When can we move in?
The Chrisleys live in 'one of the most desirable suburban locations in Tennessee'
If the Chrisleys aren't willing to rent you a room in their massive home, then maybe you can find your own fabulous adobe in their neighborhood. But what does Brentwood have to offer? Well, quite a bit, which is probably why the famous family decided to put down roots in the affluent area.
"Brentwood, located in scenic Williamson County, is considered one of the most desirable suburban locations in Tennessee," according to Livability. Indeed, Money included it among the "Best Places to Live in 2017," noting that the area is "[r]ecognized for its greenery and rolling hills." While the outlet notes that "home prices are relatively high," apparently the Nashville suburb "delivers plenty of bang for your buck," which is likely why it "has been home to country music stars and athletes" alike (not to mention reality TV stars).
Livability definitely backs up Brentwood's appeal. Not only is it where you can find one of the website's "Top 10 Libraries for Children," but "the city is also known for its strong business community and high standard of living." Brentwood also boasts "quality schools" for when the kids need to hit the books and "abundant recreational amenities" for when it's time to play. And when those in Brentwood are looking for a little more action, the city features "easy access to all the sights and sounds of next-door Nashville."
What more could a family like the Chrisleys ask for?