Inside Sharna Burgess' Struggle After Birth Of Her Son With Brian Austin Green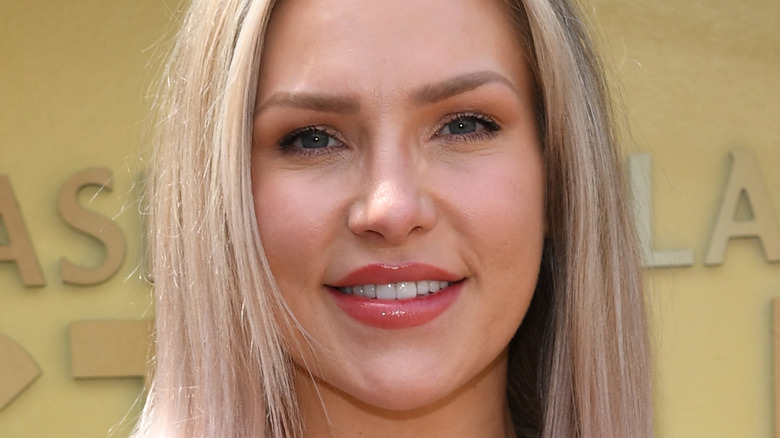 Jon Kopaloff/Getty Images
Back in March, Sharna Burgess looked back on how she found out she was pregnant. She told Us Weekly, "I was like, 'What am I gonna do?'" She reminisced on how her boyfriend, Brian Austin Green, was watching the Los Angeles Lakers game, and she didn't want to announce her pregnancy while they were losing, admitting she waited 40 minutes to tell him the news. And once the dancer told the actor about the bun in the oven, she was thankful he was happy and supportive about the news.
In August, the "Dancing with the Stars" professional dancer opened up about her postpartum depression following her son Zane's birth. "I'm grateful for the way that I've recovered and I'm so grateful for our little boy," she told Good Morning America. "I'm so excited for this new version of me that is a nurturing, caring, dedicated mom."
The "BH90210" actor also opened up on the way his girlfriend handled the postpartum depression. "She's doing amazing, she has from day one," Green told Access Hollywood in September. He mentioned that Burgess had a C-section. "Because she has that professional athlete mentality, she just pushes through whatever is going on," he added, gushing about his girlfriend's parenting skills. "She's so in love with being a parent." And now it seems that the dancer is pushing through some more obstacles when it comes to parenting.
Sharna Burgess opens up about her intrusive mom thoughts
Earlier in December, Sharna Burgess gave an inside look on what parenting for her son Zane has been like, stating that she's been having "intrusive mom thoughts." In her Instagram caption, she explained that she's had "super dark thoughts" about her baby, specifically about things that could potentially hurt him. "5 months in and I still get them but I have learned to tame them and understand them and most of all ... realized I am not alone," she said.
The professional ballroom dancer opened up more about these intrusive thoughts while she was on "Good Morning America" on December 20. "I felt myself having this panic attack," she said. "I've never had a panic attack before." She then explained that the scary scenarios include falling down the stairs and getting into a car accident while she is with her son.
Burgess knows she's not alone, which has helped her tremendously with raising Zane. She also mentioned that her mom has given her a lot of support. "I have depended on my mum a lot these last few months," she captioned her Instagram post on December 2. She said that her mom has taken care of Zane and has given her "unsolicited" advice. "Mums just know things and I totally get that now," she added.