How Tom Brady Feels About Spending Christmas Without His Kids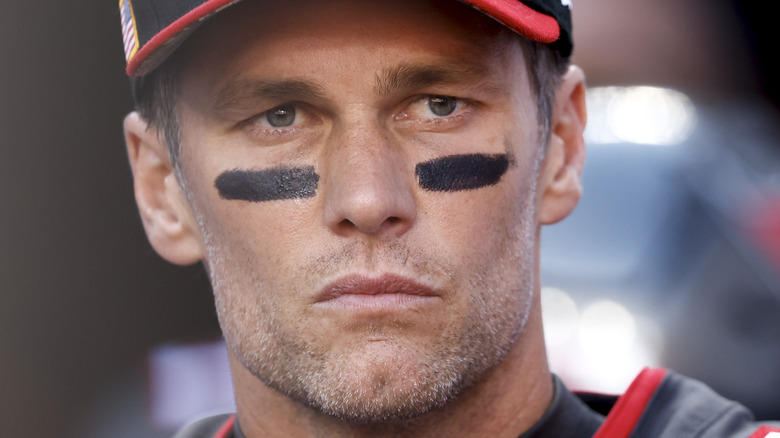 Douglas P. Defelice/Getty Images
Despite their October divorce, one thing clear about Tom Brady and Gisele Bündchen was that they still prioritize their children. A source told People in late October that having her children around has been instrumental in helping Bündchen move past her divorce. According to the insider, the supermodel "radiates happiness when either one or both are around."
As for Brady, he stressed the importance of spending the then-upcoming Thanksgiving holiday with his kids, per a November 21 episode of his "Let's Go! with Tom Brady, Larry Fitzgerald, and Jim Gray" podcast. Given that his Tampa Bay Buccaneers didn't have a game that day, Brady vowed, "Thanksgiving, it's always time for family." The quarterback also reflected on the topic of thankfulness and how it relates to his parenting philosophy. "When you think about this holiday and the commitment that parents make and that my parents made to me... I have a lot of gratitude for the people that have made such a huge impact in my life," Brady said, proclaiming that he wants his children to have the same level of support. "I just wanna be the best dad I could be," he said.
Sometimes, though, life just gets in the way ... Brady is now speaking out on his first post-divorce Christmas without his children.
Tom Brady will miss his kids while playing on Christmas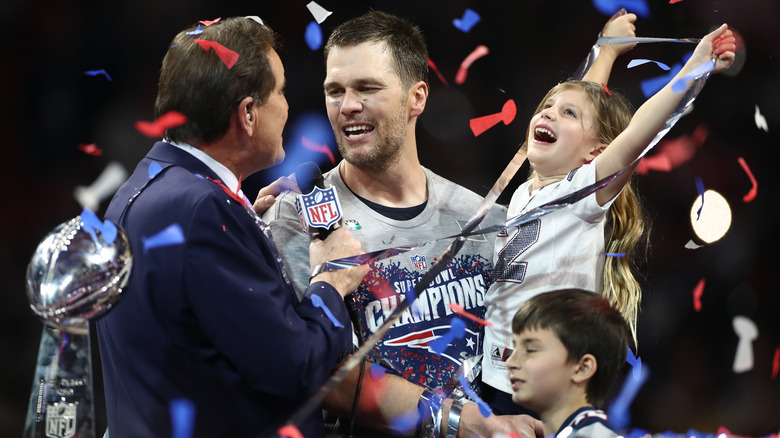 Jamie Squire/Getty Images
On a December 20 episode of their "Let's Go!" podcast, Tom Brady discussed the downside to playing the first Christmas game of his NFL career. The father of two told cohost Jim Gray that the hardest part is having to "look forward to celebrating Christmas with my kids the day after." As the seven-time Super Bowl champ conceded, however, that's part and parcel of the NFL package. "I'm gonna learn how to deal with Christmas Eve in a hotel and ... and still go out there and be a professional," Brady declared, noting that life is about navigating and growing through new experiences. "It's just emotional aspects that allow us to thrive, there's physical, mental, and emotional," Brady concluded to Gray.
Meanwhile, Brady's daughter, Vivian Lake, and son, Benjamin Rein, had some pre-Christmas fun in Brazil with mom Gisele Bündchen. With their children pictured frolicking in pools and jungle gyms in her Instagram post, Bündchen summarized the trip as "recharging with my little ones in the country of my [heart]."