Erika Jayne Remains Unbothered By Her Latest Earring Drama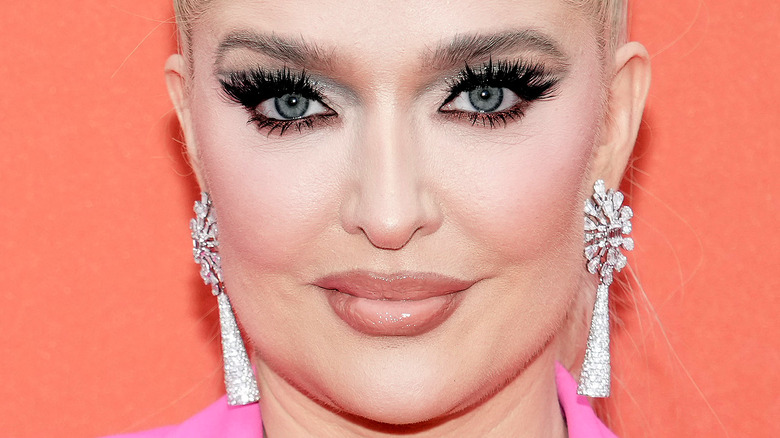 Jeff Kravitz/Getty Images
In 2020, "Real Housewives of Beverly Hills" star Erika Jayne and her husband Tom Girardi, a former attorney, were accused of stealing from the 2018 Lion Air plane crash victims, per Reuters. According to the lawsuit, Jayne and Girardi knowingly used settlement money intended for victims to fund their upscale lifestyles. Since the news broke, Jayne has maintained her innocence and denied having knowledge of any of Girardi's alleged crimes, despite a judge ruling that the victims had a right to go after her for their settlements, per Page Six.
A few months later, Jayne was named in a suit that alleged that Girardi — who's since been diagnosed with Alzheimer's (per People) — funded her entertainment company with $20 million from his law firm, per Insider. Naturally, Jayne's legal woes have played out on the "RHOBH." And while various cast members have questioned Jayne's proclaimed innocence, her fight to keep a $750,000 pair of diamond earrings, which could have been used to pay off the victims, has become a focal point of the backlash. 
Despite her reluctance to part ways with the prized possession, a judge ruled in June that Jayne must turn over the diamonds for auction. In an interesting turn of events, Lauren Boyette-Richards, the wife of attorney Ronald Richards (who regularly covers Jayne's alleged misdeeds online), bought the earrings for $250,000, only to taunt Jayne about the purchase (via All About The Tea). Now, Jayne is sharing her thoughts. 
Erika Jayne thinks the couple who bought her earrings are 'obsessed' with her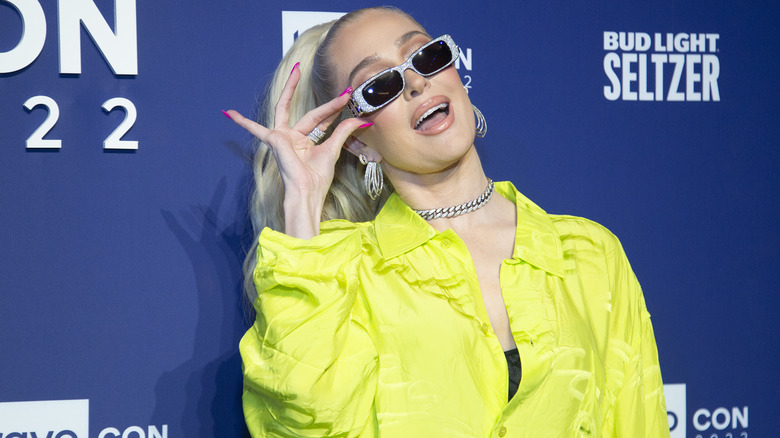 Santiago Felipe/Getty Images
Erika Jayne is not here for Lauren Boyette-Richards or her husband, Ronald Richards. During a recent appearance on Teddi Mellencamp and Tamra Judge's "Two Ts in a Pod" podcast, Jayne spoke candidly about the latest drama surrounding her infamous bling. 
"I would love to say I'm shocked, but at this point in my life, I'm just not," Jayne said. "It's also frightening because he's someone that leaked my address, that has been ruthlessly doing everything that he can to basically push himself into my life and into everything that has fallen apart." She continued, "If [the earrings] had such negative energy, if they were 'blood diamonds' ...  Why would you have them?" She added, "They're so obsessed. It's a trophy and you can feel it, you can see it."
Jayne also stated that she was reluctant to speak about Richards' purchase because it gives them undue attention. "If [Lauren] wanted a pair of diamonds, the world is littered with beautiful diamond earrings, believe me," Jayne noted. "But this was a personal thing, and they are obsessed. One thousand percent obsessed." At the time of this writing, Boyette-Richard's celebratory Instagram post about obtaining Jayne's earrings is still up. However, the comments section is full of criticism from Jayne's supporters.