Summer House: Why Lindsay Hubbard And Danielle Olivera Aren't Close Anymore
Theo Wargo/Getty Images
It seemed as if nothing would get between the friendship of "Summer House" stars Lindsay Hubbard and Danielle Olivera. The two had a genuine relationship outside of the show and often hung out together in New York City. Hubbard had been on "Summer House" since Season 1, and when Olivera joined her in Season 2, their close bond was apparent. Although Hubbard's strong personality often got her into arguments with the other cast members, Olivera's more even temperament balanced out her friend. However, the fintech manager's protective side came out in Season 6 when she defended Hubbard against an argument with Ciara Miller, which resulted in wine being thrown in her face (via Us Weekly).
Olivera pulled back from her friendship with Hubbard when she found out the PR guru was dating her ex-boyfriend and fellow "Summer House" star, Carl Radke. "When she told me about it, I was surprised, shocked, and it was such a big adjustment and dynamic shift that I didn't know how to handle it, so I probably didn't handle it very well. I just took a step back because I'm so used to being fully ingrained in Lindsay's relationships, but this one, I can't," she explained on the "We Should Talk" podcast. Now, word on the street is that she and Hubbard are at odds and it all unfolded during the filming of "Summer House" Season 7.
Lindsay Hubbard and Danielle Olivera confirm their falling-out
Santiago Felipe/Getty Images
During BravoCon 2022, Lindsay Hubbard teased fans about the upcoming "Summer House" season and her feud with Danielle Olivera. "So much happened this summer. It's just unfortunate. You're going to have to watch it. I hate being the person that has to say that," she told the audience, per People. She went on to say that she and Olivera have a "very complicated friendship at times," and that they were in the "middle of a complicated situation."
As for what caused their feud? Hubbard told Us Weekly, "I can't really get into too many of the details, but she betrayed me a lot, a lot. [There were] things that a best friend shouldn't do to your best friend, and I'll leave it at that." Olivera shared that it wasn't easy to see her former BFF at the event. "Normally, we'd be doing these [interviews] together [and] getting ready together, and obviously I'm gonna miss a lot of that. I can't say too much, but all of it goes down this summer [on the show]. ... I think that friendships can always just take on different forms, and there's something that — there's a reason why I felt like a sister to Lindsay, but time will tell." Unfortunately, it seems the two have still not made up.
Lindsay Hubbard updates fans on her feud with Danielle Olivera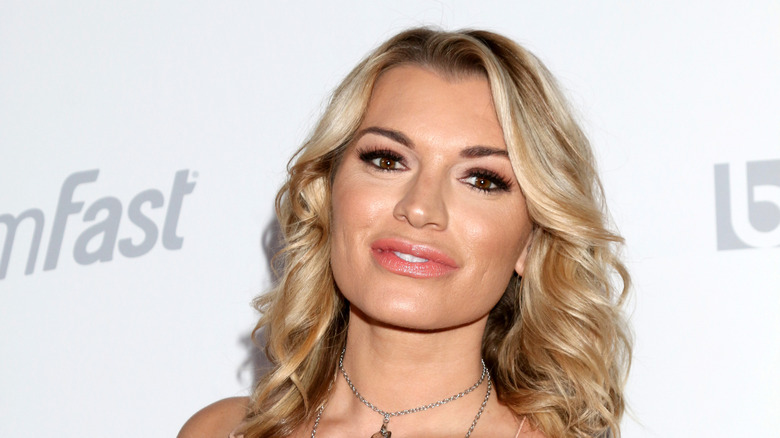 Kathy Hutchins/Shutterstock
Early in December, Lindsay Hubbard sat down with Us Weekly to discuss the upcoming season of "Summer House" and her relationship with her cast members. When asked if her friendship with Danielle Olivera was repaired, she replied, "I mean I can't really give any updates at this point because nothing's really changed." Hubbard went on to say that she's been focused on her upcoming wedding with Carl Radke and has been busy with the holidays and traveling. The "Summer House" star admitted that she still feels "sad" over her falling out with Olivera. "You talk to anyone who is ever beefing with a best friend, and it's sad," she pointed out. However, she seemed hopeful for her friendship with her bestie and was optimistic that they could repair their beef before her wedding. "A million things can happen between now and then," she shared.
However, "Summer House" stars Paige DeSorbo and Amanda Batula don't see the friends mending fences anytime soon. When Andy Cohen asked the duo if they think Hubbard and Olivera "will ever be able to get over whatever they're fighting about," they both gave a firm "no," per Bravo. Cohen looked surprised and DeSorbo told fans, "Yeah, 'Summer House' was wild this year." Fans can't wait to get their popcorn and watch Season 7 to find out what caused this deep rift between Hubbard and Olivera.