Lionel Messi Breaks Massive Instagram Record After His World Cup Victory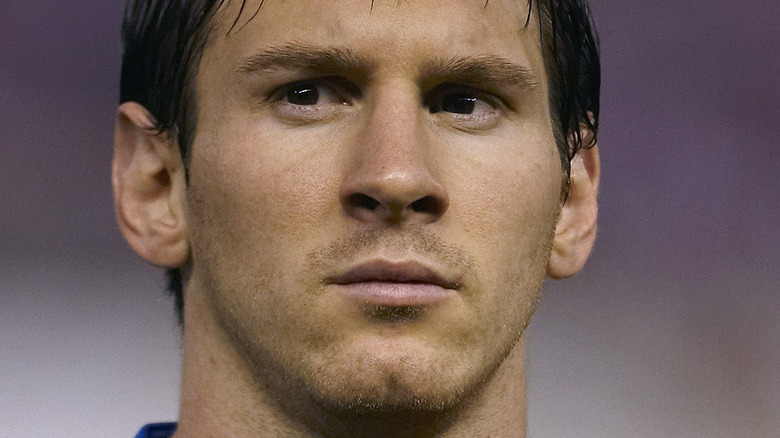 Manuel Queimadelos Alonso/Getty Images
Lionel Messi — who has a respectful relationship with fellow star Cristiano Ronaldo — has broken a massive Instagram record with his celebratory World Cup post. If you're a soccer fan, chances are you tuned in to the 2022 FIFA World Cup. The quadrennial event, which commenced on November 20 and ended on December 18, saw teams from around the world congregate in the gulf region of Qatar to play for the coveted solid gold trophy, per Sporting News. After 63 exhilarating matches, Argentina and France ended up as the final two teams fighting for the title. Throughout the epic match, both countries delivered aggressive and show-stopping plays that left fans holding their breath.
However, after a tense second half that resulted in extra time, Messi and Gonzalo Montiel led Argentina to victory with a goal and penalty kick, respectively. "It's just crazy that it became a reality this way. I craved for this so much," Messi said in a statement to the Associated Press. "I knew God would bring this gift to me. I had the feeling that this (World Cup) was the one." While Messi has reached a massive career milestone in the soccer world, his World Cup win has also earned him another feat in the social media sphere.
Lionel Messi World Cup photo is the most liked post on Instagram
After bringing home the 2022 FIFA World Cup for Argentina, Lionel Messi took to Instagram to celebrate his massive win with a photo, which photographer Shaun Botterill captured. In the picture, the soccer legend is shown holding the Golden Ball trophy and smiling from ear to ear. "Champions of the world! So many times I dreamed it, so much I wanted it that I still don't fall," Messi wrote. "Thank you so much to my family, to all who support me ... we prove once again that Argentinians when we fight together and united, we are able to achieve what we aim." Unsurprisingly, the talented athlete's heartfelt post was met with unanimous praise from fans and industry professionals, resulting in the photo earning over 70 million likes and over one million comments.
Due to the post's popularity, Messi broke Instagram's record for the most-liked photo on the platform — which was previously held by the @world_record_egg account, per BBC. In a statement on December 21, Botterill opened up about his photo reaching such a landmark feat in a statement to CNN. "That's the funny thing for me because I'm not on Instagram, I wouldn't even know how to crop an Instagram picture," he said. The title for the most liked photo on Instagram has been shared by a handful of individuals on the platform. Before Messi and the Egg, Kylie Jenner's photo announcing the birth of Stormi held the title, according to CBS.