Are Hallmark Stars Chris McNally And Julie Gonzalo Together In Real Life?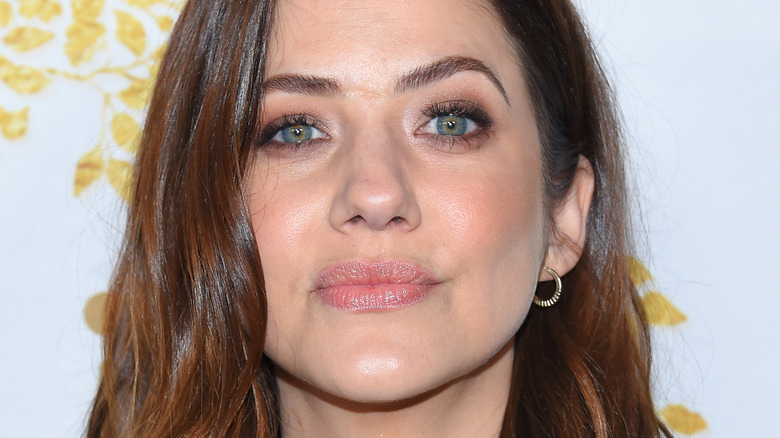 DFree/Shutterstock
Actors Chris McNally and Julie Gonzalo have portrayed a couple on screen in the past. The two acted opposite each other in the 2018 Hallmark Channel romance film "The Sweetest Heart." Gonzalo played a cupcake business owner named Maddie who has to choose between a possible new love interest or her former boyfriend, Nate, who was portrayed by McNally. In a Hallmark Channel behind-the-scenes interview, McNally discussed the themes of the film. "It's about fresh starts and seeing if there is a future," McNally said. He also complimented Gonzalo as he mentioned what it's like to collaborate with the "A Cinderella Story" star. "Julie's fantastic," he said. 'She's super kind. She's very present. She's hilarious to be around. It makes my job easier."
Gonzalo additionally spoke highly of her cast mates and praised McNally. "I think the whole cast has been amazing. I think we got along really great right off the bat," Gonzalo said. "Chris has been great. And he has to put up with me all day long, so that's nice." Just like their "The Sweetest Heart" characters, the two have formed a close relationship in real life.
Chris McNally and Julie Gonzalo are an item
Hallmark Channel stars Chris McNally and Julie Gonzalo have continued a real-life romance since acting alongside each other in "The Sweetest Heart." As reported by Us Weekly, the duo met in 2017 on the set of the flick and began dating. The next year, McNally and Gonzalo took in two dogs named Charlie and Bowie. The performers have mainly kept their love story private from the world, but on occasion McNally has alluded to their relationship in interviews. In a 2019 chat with My Devotional Thoughts, he talked about adopting the dogs with a love interest, though he didn't call Gonzalo by name. "I am mostly focusing on the puppies," McNally said. "My girlfriend and I each adopted a puppy, so I'm looking forward to being home with them when I can."
In a 2020 interview for Entertainment Tonight, McNally and his "When Calls the Heart" costars discussed their wardrobes while quarantining amid the pandemic. McNally again spoke of his partner as he described his attire during the lockdown. "My girlfriend makes fun of me for wearing jeans all the time," McNally said. "She's like, 'Why aren't you just in sweatpants?' I'm like, "Cause these are my cozy pants.'" More recently, the lovebirds have made a big announcement about the next stage of their relationship.
Chris McNally and Julie Gonzalo are proud parents
Chris McNally and Julie Gonzalo eventually welcomed their first child together. The actors, who rarely publicly divulge information regarding their relationship, announced this with a post on Gonzalo's Instagram account in June 2022. "Our hearts are full ... Welcome baby M," Gonzalo wrote alongside an image of hers and McNally's fingers being held by the hand of their newborn. She additionally tagged McNally in the sweet post.
Numerous celebs shared congratulatory remarks as the news of this birth was made public. "Whaaaaaat??? Julie!!! You had a REAL baby! (I hope our movie baby doesn't get jealous) Congratulations," Gonzalo's "Dodgeball" costar Justin Long commented. Actor Rachael Leigh Cook added, "Eeeeeeeee!!! Congratulations!!!" At a September 2022 "When Calls the Heart" fan gathering, McNally revealed that he and Gonzalo's baby is a girl while stating that he reads his daughter the J.R.R. Tolkien children's novel "The Hobbit." Of purchasing the book, he said, "I thought I was getting myself a wonderful adult novel. I was not. That's OK, because now it's on our daughter's shelf, and I'll read it to her." Aside from parenting together, McNally and Gonzalo have also maintained their work with the Hallmark Channel. Gonzalo has starred in the Hallmark crime-mystery "Cut, Color, Murder," while McNally has continued playing Lucas in "When Calls the Heart" and also appeared in the 2022 Hallmark movie "Christmas Class Reunion."