Hilary Duff Reacts To That Infamous Plot Hole In A Cinderella Story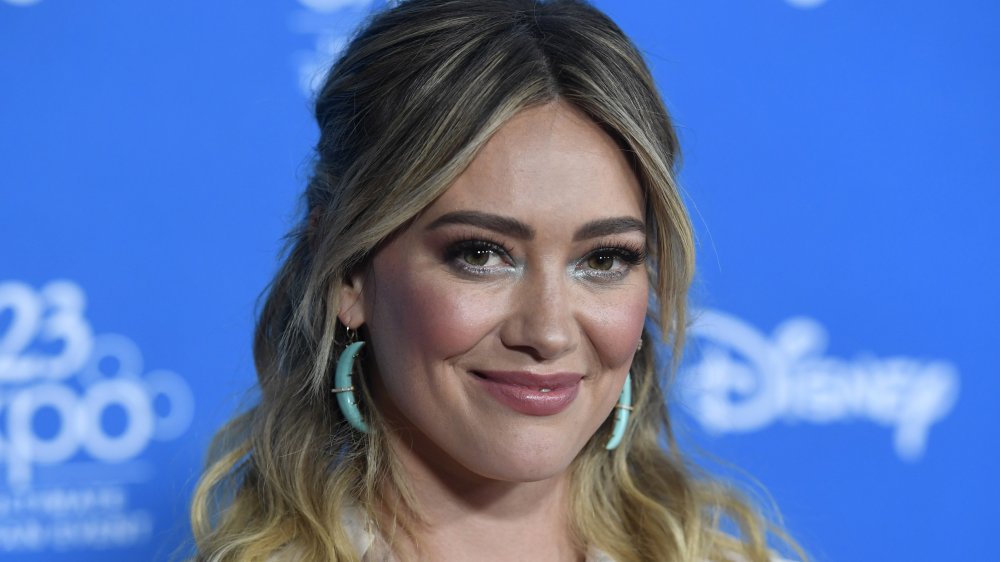 Frazer Harrison/Getty Images
The plot hole in 2004's A Cinderella Story has baffled fans for more than 15 years. If you somehow missed it, or weren't a kid in the early 2000s, let us explain the mind-boggling scenario.
Sam Montgomery (Hilary Duff) and star high school quarterback Austin Ames (Chad Michael Murray) meet in an online chat room with usernames that do not reveal their true identities. After some innocent flirting, they plan to meet in person at the high school Halloween dance. Austin is dressed as Prince Charming, and Sam as Cinderella, garbed in a gorgeous white dress and matching eye mask. The issue? Austin somehow cannot figure out Sam's true identity, despite the two of them previously interacting in the film. In fact, on the same day as the dance, Sam waits on Austin and his high-maintenance friends at her father's diner.
Those cinematic circumstances have irked some people for years, but now, Duff has finally opened up about the iconic scene.
Hilary Duff airs her grievances about A Cinderella Story
Hilary Duff is just as perplexed as many fans about her character's identity remaining a mystery in A Cinderella Story because of a simple mask. 
"That is so funny," Duff remarked to Cosmopolitan. "Maybe he got hit in the head too many times during football?" Does the former Disney star have any other theories to explain the infamous plot hole? "It was pretty recognizably me, right?" she continued. "I don't even know if that was even a question [that came up] on set! That is so good. I don't know what to say about that. There was definitely a problem with the script there." 
Granted, there would be no movie if Prince Charming recognized Cinderella at the ball, so we'll let it slide.
The mother of two (and soon to be three) also admitted that she didn't care for her character's very matrimonial-looking white gown at the ball. "Cinderella did not wear a wedding dress," Duff said. "That was fully a wedding dress. Where did she get that thing?!" 
While we may never find closure when it comes to this remarkable plot hole, at least we know the star at the center of it all is just as confused as the rest of us.