What Happened To RHOC Star Vicki Gunvalson's Ex-Husband Donn?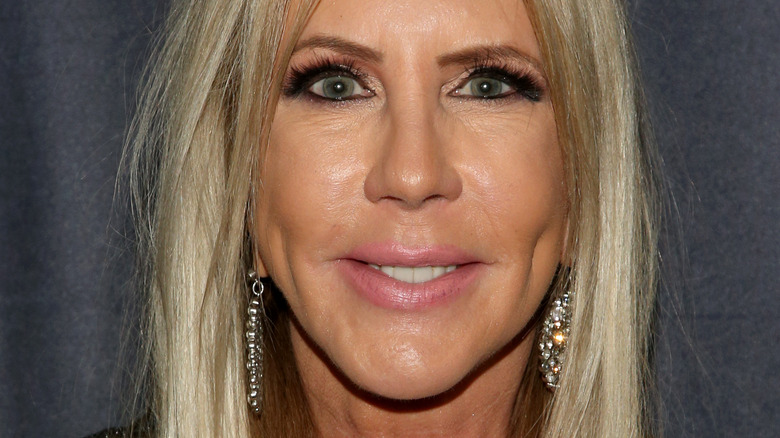 Gabe Ginsberg/Getty Images
When it comes to the "Real Housewives," there's no one like Vicki Gunvalson. The self-proclaimed OG of the OC was technically the first housewife to ever join the franchise, and for nearly 15 years, her wild antics accounted for most of the drama on "The Real Housewives of Orange County." So, it came as a bitter blow to many fans when Vicki was let go from the series in 2020, after unceremoniously being demoted to the dreaded "friend of" position the year before, per the Daily Mail.
It was hard to say goodbye to Vicki because it made for such good TV — especially when it came to her love life. When fans were first introduced to the insurance broker-turned-reality star, she was in her second marriage to Donn Gunvalson, and things went downhill fast. Things grew steadily worse as the years dragged on until their public flights turned into a series of cheating allegations, leading to a bitter divorce. But that's not even the worst of Vicki's problems. Vicki left Donn for a man named Brooks Ayers, who lied about having cancer. (Vicki claims she didn't know.) When Vicki and Ayers finally broke up, she started dating Steve Lodge. They got engaged, but he left her before the wedding ever happened.
Suffice to say Vicki doesn't have a history of choosing great men. Through it all, though, she's maintained that her divorce from Donn is her greatest regret. So, where do they stand today?
Vicki and Donn had a rough split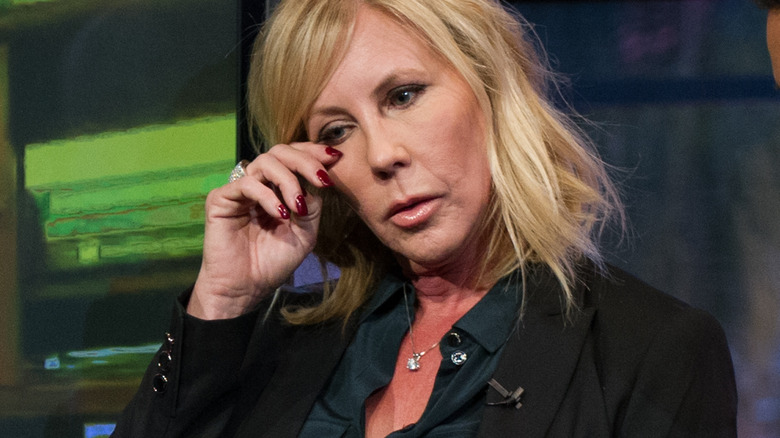 Noel Vasquez/Getty Images
Fans saw the last of Donn Gunvalson in Season 7 of "RHOC" when he and Vicki divorced. That wasn't the last we heard of him, though. While Donn never appeared on-screen again, Vicki spent the next few seasons giving constant updates about her very contentious divorce.
Vicki's children from a previous marriage, whom Donn raised, were adults by the time their mom and stepdad divorced, so custody wasn't an issue. What was a problem, though, was the division of assets. Vicki was the primary breadwinner during the relationship and Donn sued her for alimony. After a lot of back and forth, Donn and Vicki agreed no one would receive alimony, but Vicki was ordered to pay a substantial sum, though the exact amount remains unknown, according to Radar. "The oddity is Vicki's husband hated the show and made remarks about how stupid the show was, but he received a financial reward that she earned for all the years working on a show he thought was stupid," a source told the outlet.
Vicki has publicly agreed with some of Donn's feelings about "RHOC." "There's some really great things that have come from the show, but one of the downsides was that it broke up my family, and that's tough to take," she told Digital Spy in 2013. The good news is after such a nasty split and a few failed relationships, Vicki and Donn might actually be on the mend.
Vicki and Donn are on good terms
It took a while, but Vicki and Donn Gunvalson are reportedly getting along swimmingly these days. During a recent Instagram Q&A with fans, Vicki confirmed that she and Donn are on good terms. "We have a very nice relationship," Vicki informed her followers (via Reality Blurb). "He's a great man." Since their divorce, Donn has laid low. He has no social media presence, so all we know about him comes from snippets we get from Vicki. 
In 2015, she and Donn reportedly spent Thanksgiving together,  as he's still close to Vicki's children (above), but he wasn't interested in taking things further than that. "Donn would never consider a reconciliation because he is happily living a very quiet life on the Colorado River and wants nothing to do with Orange County or the show," a source told OK! "Donn rode happily off into the sunset and has even been dating."
Flash forward a few years, and Vicki's no longer on the show. Does that mean there could be a chance for Vicki and Donn? Of course, anything is possible, but it doesn't seem like either has any immediate plans to get back together. In February 2022, Vicki informed People that she was seeing someone new after her most recent split but they are taking it slow. As for Donn, we don't know what he's doing, but we know Vicki still regrets their breakup, so maybe there's hope after all.