The Truth About Vicki Gunvalson And Brooks Ayers' Relationship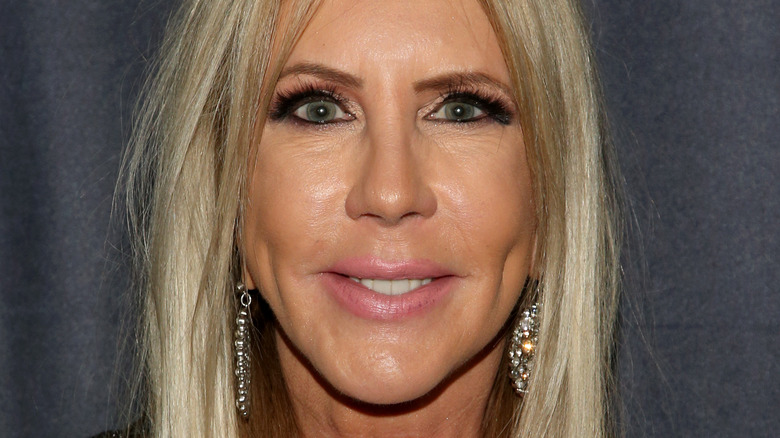 Gabe Ginsberg/Getty Images
As Vicki Gunvalson (aka the OG of the OC) once famously dished during "Real Housewives of Orange County" Season 12 premiere, "I married my first husband because he had a really nice a** and a great car." Sadly, a nice derriere and hot set of wheels isn't exactly a stellar recipe for marriage. 
During a candid interview with Star magazine, Gunvalson alleged that her first ex-husband, Michael J. Wolfsmith, was verbally abusive, unfaithful, and an alcoholic. "It was a very hard life," she confessed. "I can't fix his abusive nature and his screaming and his lies...it really gave me the initiative to go out and make a better life for myself, for my children." And that she did! Unfortunately, however, her love life didn't follow suit. Following her first failed marriage, there was ex-husband Donn Gunvalson who she claimed perpetually kept her love take empty. And in September 2021 even fiancé Steve Lodge landed among Gunvalson's ex-files. (Fun fact: he's married now... for the fourth time.) Perhaps, however, it's Gunvalson's ex-boyfriend Brooks Ayers who will go down as the most unsavory out of all of Gunvalson's past love interests. So what really went down between the ill-fated couple? Here's everything we know... 
Vicki Gunvalson's friends and loved ones weren't a fan of Brooks Ayers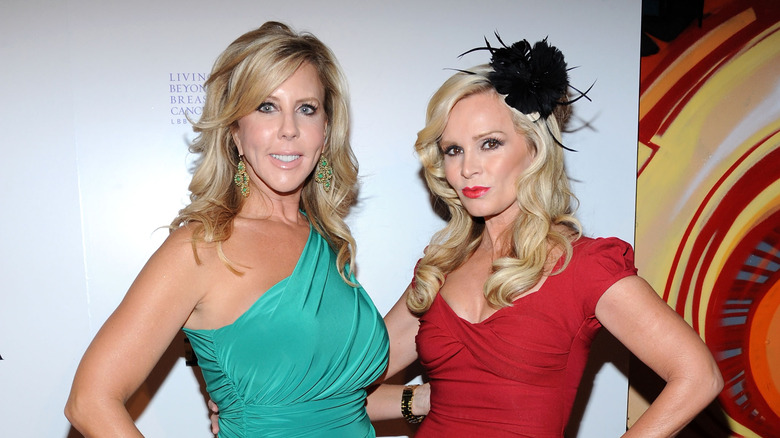 Amanda Edwards/Getty Images
Viewers were first introduced to Brooks Ayers in Season 7 of Bravo's "Real Housewives of Orange County." Although things seemed hunky-dory at first, cracks in the relationship quickly started appearing and by the end of the season, it was obvious that Ayers didn't have too many fans in his corner — including Gunvalson's nearest and dearest.
At the Season 7 finale, things came to a head when Ayers accused Gunvalson's long-time pal and co-star Tamra Judge of giving Gunvalson the "evil eye." Immediately after, a screaming match ensued between Gunvalson and Judge. "You're supposed to be my friend, no matter what. You don't talk that way to me or him. Ever," Gunvalson shrieked at Judge. "You're supposed to be my friend, my friend, my soulmate, my sister. Then act that way. That means you have respect for the man I love. I would never speak that way to Eddie," she continued. Later, during an interview with Hollywood Life (via Bravo TV), Judge was adamant that she had no intentions of confronting Ayers at the party but one thing led to the next. "I think the viewers know it's been a buildup the entire season," she continued.
Alas, that incident would prove to be only the tip of the iceberg...
Brooks Ayers forged medical documents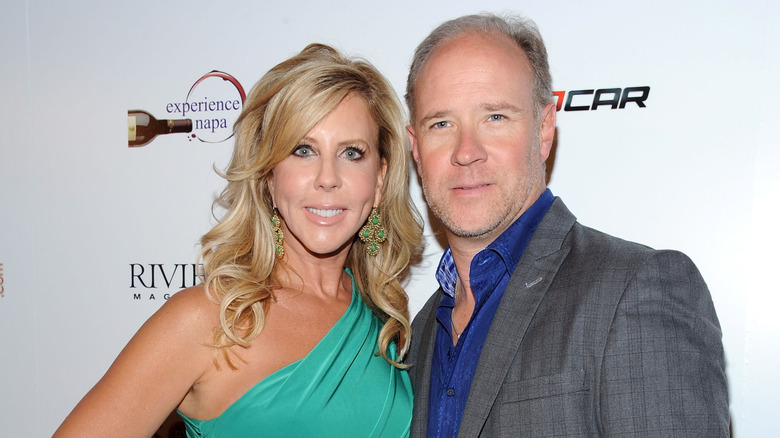 Amanda Edwards/Getty Images
Things went from bad to worse for Vicki Gunvalson and Brooks Ayers during Season 10 of "Real Housewives of Orange County."
The story goes that Ayers and Gunvalson told everyone on the cast that he had been diagnosed with cancer. At first, everyone was sympathetic to Ayers' plight but eventually, some of the women started having suspicions. "I started saying to myself, 'If he doesn't have cancer, this is a disservice to all of the viewers who are watching because he's going to say he got cured from the juice he's pushing with Vicki,' which is what they were doing," former OC Housewife Meghan King Edmonds revealed on an episode of Heather McDonald's "Juicy Scoop" podcast. "They were pushing some juice. So then I started getting real deep into it." 
In August of 2015, the couple called it quits and a few months later Ayers admitted to forging medical records but still insisted that he had cancer. "Words cannot express the deep regret that I have in fabricating documents to 'prove' to the world that I, in fact, have cancer. What I did was wrong and inexcusable. I acted alone, without Vicki [Gunvalson]'s knowledge, to produce documents for a reality TV show in hopes of putting doubts about my cancer to rest," Ayers said in a statement to E! News in November 2015. In yet another statement to People, Ayers explained that "the antics of Vicki's friends" put "enormous pressure" on their relationship. Anddd there ya have it, folks.