Vicki Gunvalson Reveals Whether She'll Return For RHOC Season 16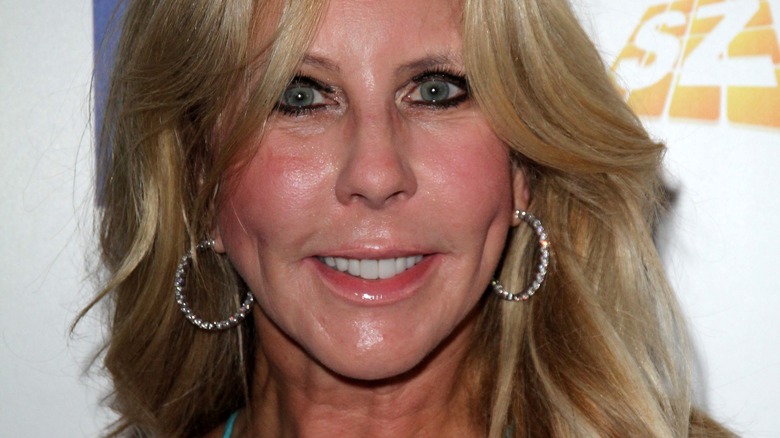 Shutterstock
Long known as "The OG of the OC," former "Real Housewives of Orange County" star Vicki Gunvalson has some thoughts on being let go from the series and whether or not she'll be back to reclaim her Queen Bee throne. Because of course she does. On "Housewives Nightcap," hosted by Lauren Herbert and Emily Orozco, Vicki gave some of her signature unvarnished opinions on the show's current cast.
Vicki started the interview with a quick update on her personal life, saying she's still happily engaged and that Brianna is doing well. She added that while her love tank is full, it could always be fuller. "I need a lot of attention, I just do," Vicki said, which is probably the truest statement any Housewife has ever made. And while another star might have put a happy spin on how they're doing out of the spotlight, when asked how she's doing without the cameras, Vicki responded, "I don't like it." Fair enough!
So, will the original Housewife get her chance to come back? Keep reading to find out!
Vicki Gunvalson makes her pitch to Bravo
It turns out Vicki Gunvalson, like the "Housewives Nightcap" hosts, thought that the show was going to bring her and Tamra Judge back on. "Because I had been talking to Andy and I really thought that it was going to happen," Vicki said. Oh, word?
Perhaps in a bid to prove that she's still got her Housewives pot-stirring skills, Vicki was happy to throw some casual shade toward Shannon Beador, agreeing that she doesn't understand why Shannon is still on the show. "She was difficult to work with," she said, adding, "She's got a long way to go. I don't think she'll get to 14." The OG also added that as soon as Shannon got asked back on the show, she stopped returning Vicki's calls. "She discards her friends very easily." Never change, Vicki.
While she hasn't given up hope that she and Tamra might be asked to return at some point, as of right now, it's a no-go. "I mean, you never know mid-way through the season they may need us to save the day. But as of right now, we have no contract. There is nothing going on."