What Chanel West Coast Says Filming Ridiculousness Is Really Like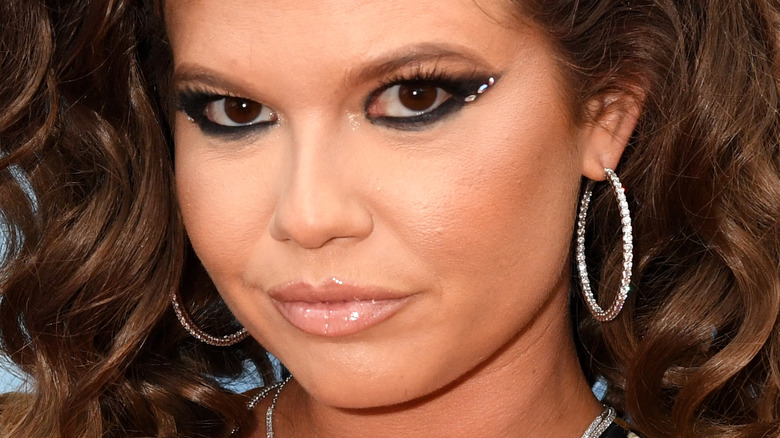 Dia Dipasupil/Getty Images
Musician and TV personality Chanel West Coast has revealed behind-the-scenes info about being on "Ridiculousness." Before this gig, one of Chanel's earliest TV spots was appearing on the MTV series "Rob Dyrdek's Fantasy Factory." The hit show ran from 2009 to 2015 and captured the entertaining moments experienced at ex-skateboarder and entrepreneur Rob Dyrdek's Fantasy Factory warehouse location. Other stars who appeared on the series alongside Dyrdek and Chanel were Ralph Saenz, Chris Pfaff, Scott Pfaff, and Jeremy Larner. Chanel chatted about her day-to-day experiences of filming "Fantasy Factory" in a 2011 Wzra Tv interview. "It's really crazy. I'll show up, and I have no idea what we're gonna do," Chanel said before adding, "I never know what we're getting into. It's like every day Rob has the craziest ideas, so I just come, and I'm ready to have a good time." 
In 2011, while she was still starring on "Fantasy Factory," Chanel began co-hosting "Ridiculousness." This series is still airing today and is another MTV project alongside Dyrdek. On the show, Chanel, Dyrdek, and Steelo Brim explore wild and hilarious popular online videos for the long-running reality show. In recent years, Chanel has shared what it's really like for her to co-host "Ridiculousness." 
Chanel West Coast says filming on Ridiculousness is fast-paced
"Ridiculousness" co-host Chanel West Coast has opened up about the fast-paced schedule of the show. During a 2021 InTouch Weekly interview, Chanel detailed how she has to quickly change outfits during filming. "I think [viewers would] be shocked to know how fast I change in between episodes and how fast we filmed them. We filmed six episodes in a day," Chanel said. "Like, if you ever see me looking a little extra tired, it's probably either the last episode of the day where I was just like, 'Forget the touch-up, let's get out of here.' Or it's the first episode of the day where I was still really tired."
Although shooting the show can be hectic, Chanel has stated that entertaining is what she has always dreamed of.  "Since I was little, I would watch TV and say I want to do that," Chanel said to CBS Boston in 2020. She added, "Entertaining, in general, is what I'm good at ... I grew up watching 'Rob & Big,' and I was a fan of Rob. And it's kind of surreal, and I guess you can say I can really live out my dream." Since its debut, "Ridiculousness" has continued to capture the attention of audiences.
After more than 1,000 episodes, Ridiculousness is still going strong
Almost 30 seasons in, "Ridiculousness" is showing no signs of slowing down. As of 2022, the series has wrapped 29 seasons and over 1,000 episodes. In an Instagram post, Chanel West Coast celebrated the show's cast and crew in honor of the 1,000th episode. "The most watched cable television show with 55 billion minutes watched last year alone! 1 of only a few shows in television history to reach this milestone," Chanel wrote. "Thank you @robdyrdek @steelobrim @mtv and all of our amazing crew who have helped make this show the magic that it is."
In a 2022 Village Voice chat, Chanel discussed how she, Rob Dyrdek, and Steelo Brim contribute to "Ridiculousness." She acknowledged that the three of them aren't really hosts, but really entertaining personalities. The three get along well in real life which has also led to the success of the show.  "We're all friends," Chanel said. "We kind of have the same sense of humor and like the same types of things. I think that's why the banter we have together is just always there because there's just such natural chemistry." 
Fans of "Ridiculousness" can look forward to more episodes, as Dyrdek recently signed a five-year deal to continue the show as he revealed on the "Impaulsive" podcast in November 2022.