Chris Rock's Daughters Have Grown Up And Look Just Like Him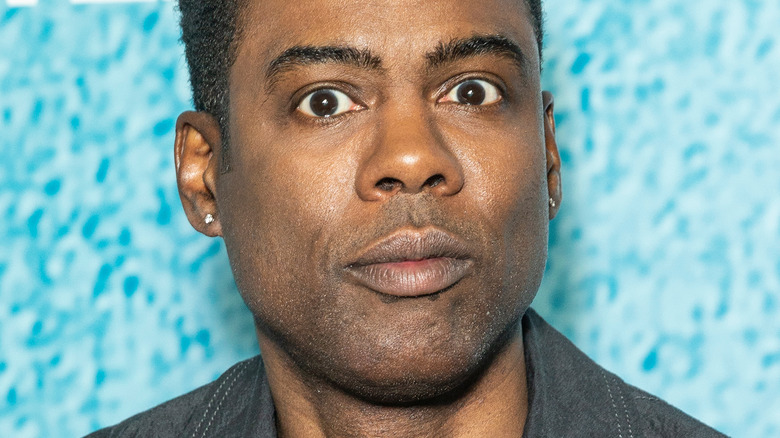 lev radin/Shutterstock
Chris Rock has had a lot of achievements in his life so far. He's a well-decorated actor with a laundry list of accolades. As of this writing, he's been nominated for 11 Primetime Emmys and won three, per IMDb. He also took home the American Comedy Award for Funniest Male Performer for his comedy special in 1999. The fan-favorite has graced our televisions and the big screen many times. From onstage comedy specials to sitcoms such as "The Chris Rock Show" and "The Hughleys," Chris has done it all. With a career that spans decades, Chris shows no sign of slowing down.
Throughout all of the highs and lows in his career, if you ask the funny man what he is most proud of, we're sure he would mention fatherhood. Chris Rock co-parents his two daughters, Lola and Zahra Rock, with his ex-wife Malaak Compton-Rock. Chris and Malaak met in 1994 at the Essence Awards show and the two tied the knot two years later. Chris often referred to Malaak as the "rock" in his life, and even revealed to Ebony one year after marriage (via People), "She's changed me ... She's really calmed me down and centered my life." Despite their happiness, Chris and Malaak divorced after 18 years. 
Although his marriage didn't pan out, that doesn't change his love and admiration for his two daughters, who are pretty much clones of the comic.
Lola shares her dad's looks, but had a different upbringing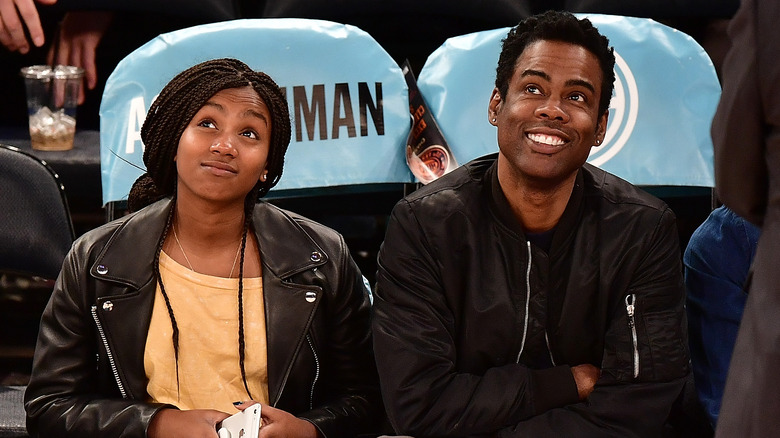 James Devaney/Getty Images
Chris Rock and his daughters Lola and Zahra Rock are closer than ever. His oldest, Lola, was born in June 2002, per AP News. Although the comedian has had a life in the limelight, he prefers to keep his children's lives offline and acknowledged that they have a different upbringing than he did specifically in terms of racial representation. "My kids grew up not only with a Black president but with a Black secretary of State, a Black joint chief of staff, a Black attorney general," Chris shared with Vulture in November 2014. "My children are going to be the first Black children in the history of America to actually have the benefit of the doubt of just being moral, intelligent people."
Malaak and Chris may no longer be an item, but they've managed to co-parent to the best of their abilities. It's clear that they only want the absolute best for their children and aren't afraid to boast about their accomplishments on social media from time to time.
"Lola Simone graduated from the Bergen Passaic chapter of Jack & Jill of America this past weekend!" Malaak wrote in June 2020. The humanitarian shared her approval for the program that nurtures and provides development opportunities and mentorship to future African-American leaders. Malaak later continued, "During these trying times, having Jack and Jill as an anchor in our children's lives is an immense blessing." Just like her father, the list of accomplishments has just begun.
Zahra looks like her dad and has his 'exuberant' personality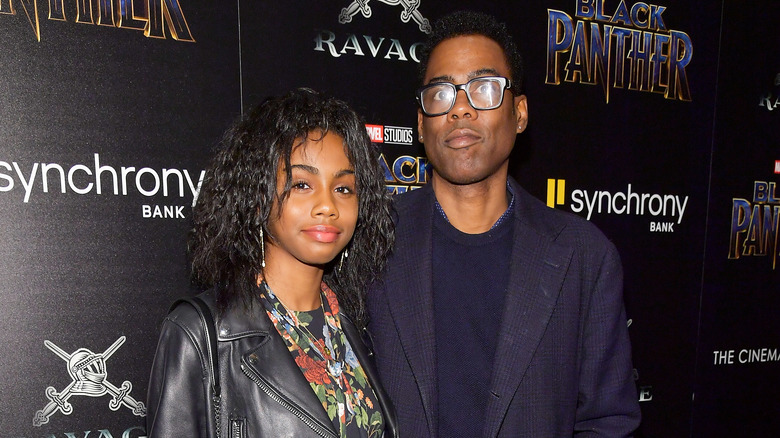 Roy Rochlin/Getty Images
Lola and Zahra Rock have lived relatively private lives, which was a goal set by Malaak's attorney during their divorce (via People). Like her sister, not much is public about Zahra and many of her accomplishments stay offline; however, there are times when her mother Malaak can't help but celebrate — such as her 18th birthday.
"My sweet baby girl Zahra Savannah turned 18 yesterday! We had a beautiful celebration with family and friends who all adore her kind, fun-loving, exuberant, and empathetic personality," Malaak wrote on Instagram in May 2022 in a series of photos. "I'm so proud of my Zaza, and while I'm heartsick that she is leaving the nest, I'm beyond excited to witness and support her next phase."
In addition to being a spitting image of Chris, both Lola and Zahra remain true to themselves in doing what they love and are pros at rolling with the punches — all traits carried from their comedic dad, who has made an impact on their lives in numerous ways. The sentiment goes both ways as the doting father gives credit to his daughters for impacting his outlook on life. "I smile every day, and I definitely didn't smile every day before. Kids calm you down, and it's all about her ... Kids don't care about your agenda," Chris once said (via HuffPost). Together or apart, the bond Chris has with his two daughters appears to be unbreakable.