The Dean McDermott Cheating Scandal Explained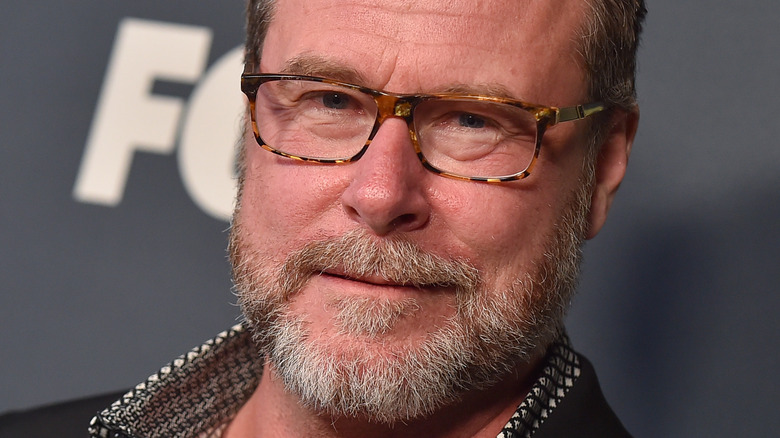 DFree/Shutterstock
Tori Spelling's relationship with Dean McDermott has been riddled with scandal since the first day they met. The two got together while filming "Mind Over Murder" in 2005. At the time, McDermott was married to Mary Jo Eustace, while Spelling was married to Charlie Shanian, per Us Weekly. Spelling later shared that it was "love at first sight," in her memoir, "sTORI Telling." She revealed that she and McDermott slept with each other that night, and despite being married, the "Beverly Hills, 90120" actor thought it felt right. "The following day when I woke up next to Dean, I had no regrets. Something was really wrong with my marriage. Not only because I slept with this guy — though that certainly wasn't a positive sign — but because I didn't regret it," Spelling recalled.
Spelling and McDermott went on to divorce their respective partners and got married less than a year later. However, their marriage was anything but drama-free. Seven years into their marriage, McDermott cheated on Spelling with a woman named Emily Goodhand, Us Weekly reported. The woman claimed that the "Chopped Canada" host told her he and Spelling had a "sexless marriage."
Following the cheating scandal, Spelling told People, "We're doing okay. We're working through it. It's something that's going to take time to get through." Despite their best efforts to get over the infidelity, it eventually spilled over to their children.
Dean McDermott's cheating scandal affected his children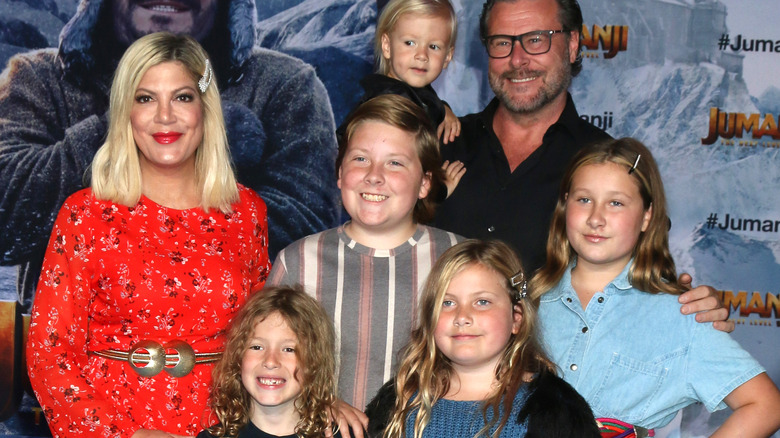 Kathy Hutchins/Shutterstock
Six years after Dean McDermott admitted to cheating on Tori Spelling, the "Love at First Lie" host revealed that it was still affecting their family. As reported by People, Spelling opened up about the infidelity on the "Women on Top" podcast and shared that her children have access to the information online. "My kids have not seen clips, but they've seen something out there online and my daughter saw something. It really upset her," she shared.
Spelling went on to reveal that early in their relationship, her biggest fear with McDermott was that he was going to cheat on her. She admitted that she used to tell him, "I'm so scared you are going to cheat on me," but he would question her concerns. "Then when it happened, I was like, 'Oh my God, see, you cheated on me,' so it was a hard thing to navigate," Spelling stated. Although she said at the time that she decided to forgive her husband and move on, the couple faced still faced hurdles over the years.
Dean McDermott assures fans he and Tori Spelling are doing great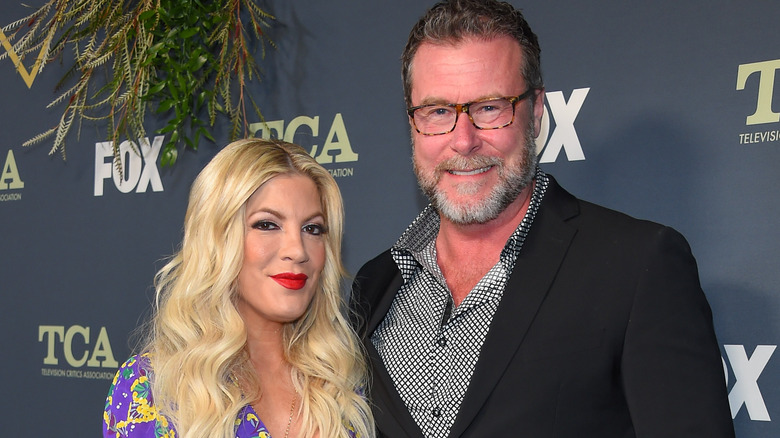 DFree/Shutterstock
Since Dean McDermott's cheating scandal with Emily Goodhand, he and Tori Spelling have raised concerns about their relationship. In 2021, Spelling admitted on "Jeff Lewis Live" that she and her husband sleep in separate beds (via People). While she remained coy on if she and McDermott are having problems, Spelling merely told Jeff Lewis that her husband was gone for six months filming for a job and that four of their five children have been sleeping with her.
Spelling also raised eyebrows when she shared a holiday photo of her and her children, sans McDermott, via her Instagram. Many fans asked why he was missing and wondered if the two had finally split. McDermott was again noticeably absent from Spelling's New Year's Eve photo with her kids. Fans again asked why the Toronto native was left out.
In November 2022, McDermott finally addressed rumors that he and Spelling were headed toward a divorce. "Everything is amazing. Everything's great. We're having a lot of fun. We're loving the cold weather and then getting ready for the craziness of Thanksgiving and Christmas ... I'm excited," he told The U.S. Sun. He and his ex-wife Mary Jo Eustace also apparently appear to be on good terms as they were set to launch a podcast together. The actor told the publication, "I'm sorry I'm off the market, ladies. I'm so sorry."