How Tori Spelling And Dean McDermott Really Got Together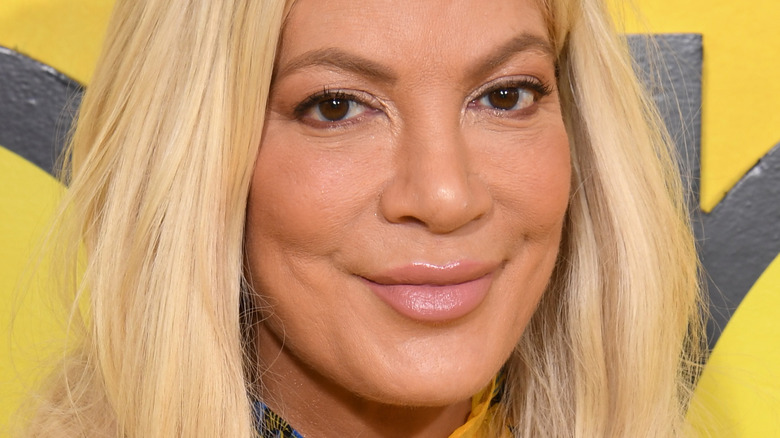 Jon Kopaloff/Getty Images
A lot has been said and written about Tori Spelling's marriage to Dean McDermott. And while the details surrounding their current status aren't very clear, they have definitely seen a lot of good times and bad throughout the course of their relationship together. Back in 2021, Spelling subtly addressed all the rumors about her marital woes during an interview with Sirius XM's "Jeff Lewis Live." She said (via Today), "You know what. Right now, my kids and dogs sleep in my bed." What's more, Spelling also continued to fuel split rumors when she left out McDermott in an Instagram post on Father's Day. If that weren't enough, McDermott has been spending time out and about in Los Angeles without his wedding ring, suggesting that he and Spelling might be spending more time apart than together, according to Page Six.
And while everyone can't help but wonder what is really going on behind closed doors for Spelling and McDermott, their fans would also be surprised to know that the way they began their relationship in 2005 had a lot of people raising an eyebrow back then, too.
Tori Spelling and Dean McDermott moved fast in their romance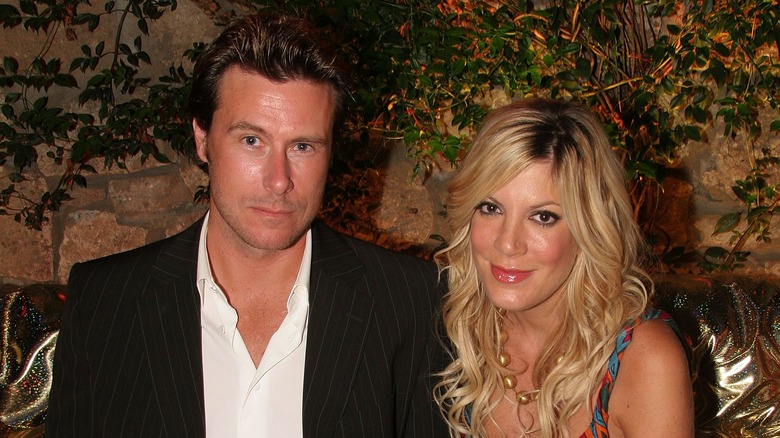 Marsaili Mcgrath/Getty Images
It's almost safe to say that when Tori Spelling and Dean McDermott first met, they skipped the line and moved to the romance department as fast as they could. During a 2014 episode of "True Tori," Spelling admitted that McDermott was still married to his first wife Mary Jane Eustace when they were supposedly getting frisky under the sheets. She said (via Entertainment Tonight), "I mean, he was married. We had sex the first time we met." Spelling went on to say that it happened back in July 2005, while they were both working on the Lifetime movie "Mind Over Murder." 
Spelling was also married to her first husband, Charlie Shanian, at the time. For Shanian, their split wasn't an easy one. In 2007, he told GQ every little detail of what had happened. Shanian wrote (via People), "[Tori] was not happy when she was alone with me; she didn't want to have children with me; she'd only married me because I loved her and took care of her; she had purposefully shown me only 10 percent of her true personality; and, oh yeah, while in Canada, she'd cheated on me with her latest Lifetime-movie costar." Yikes. But that wasn't the only time that Spelling and McDermott's relationship was riddled with scandal.
Tori Spelling and Dean McDermott were hit with yet another cheating scandal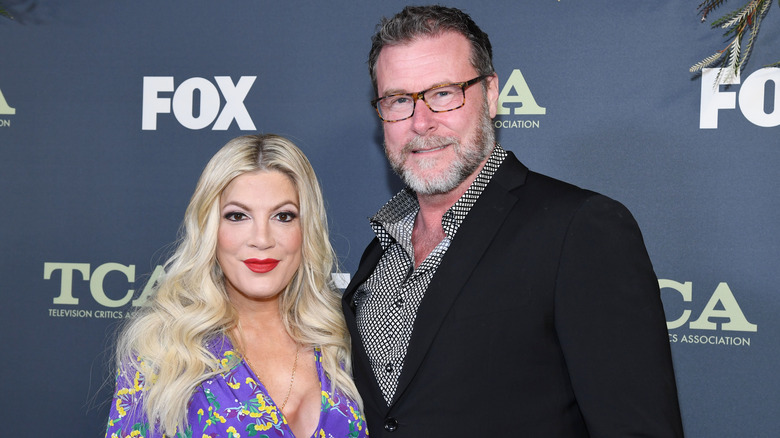 Amy Sussman/Getty Images
In 2013, Dean McDermott admitted to having an extramarital affair with a Canadian woman by the name of Emily Goodhand, per Us Weekly. Goodhand told the publication that she met McDermott through friends and they had a sexual encounter at the Fairmont Royal York Hotel. She said, "He told me he and Tori had a sexless marriage. I believed him."
However, and as even the Daily Mail pointed out, some people believe that Emily Goodhand doesn't actually exist. However, Spelling supposedly did see the woman that her husband slept with in 2014, as detailed by E! News. She said during an episode of "True Tori" at the time, "I was completely blown away by what Emily looked like. I found her unattractive." 
While Spelling and McDermott have managed to move on from that scandal, no one knows what's really next for the couple. But then again, it's safe to say that all of the headlines they've made over the years definitely tell a story of what their relationship has looked like from the outside in.