How Did Ciara And Russell Wilson First Meet?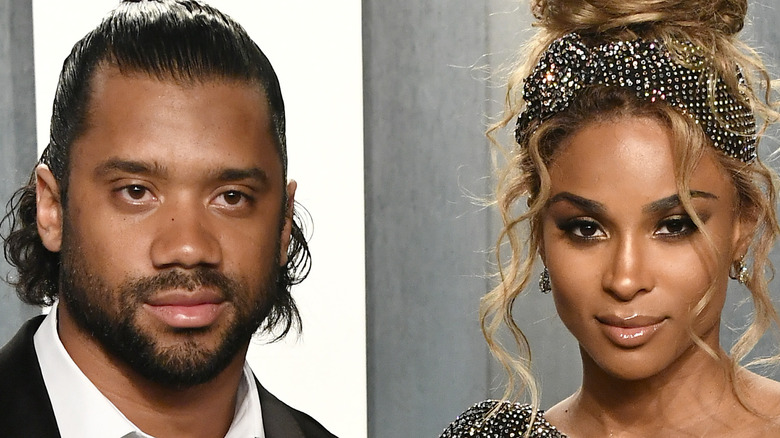 Frazer Harrison/Getty Images
When it comes to living music legends, R&B superstar Ciara has definitely earned a spot on the list. Since her debut in 2004, the beloved talent has captivated music listeners with her airy vocals and popular singles, including "Goodies," "1, 2 Step," and "Promise." Because of her addictive singles and indisputable talent, Ciara has earned an array of awards, including a Grammy, MTV Video Music Awards, and more. In addition to her career, her love life has also been a focal point for pop culture enthusiasts.
Over the last two decades, Ciara has been connected to an array of high-profile men, like 50 Cent, Bow Wow and Reggie Bush, per Atlanta Black Star. However, one of her most notable relationships was with rapper Future. After confirming their relationship in 2013, the former lovebirds went on to get engaged and have a baby, Future Zahir Wilburn. However in 2014, Ciara and Future officially called it quits after rumors began to swirl that the latter was unfaithful, per XXL. "She's very embarrassed and keeping to herself right now ... She's usually so outgoing but most of her friends haven't heard from her since the news broke," a source told E! News at the time.
Despite going through a very public breakup with the "WAIT FOR U" rapper, Ciara found love again with football star Russell Wilson. Since starting their relationship, the pair have been coined as "relationship goals" due to their healthy connection. Here's where it all began.
Ciara and Russell Wilson met shortly after their relationships ended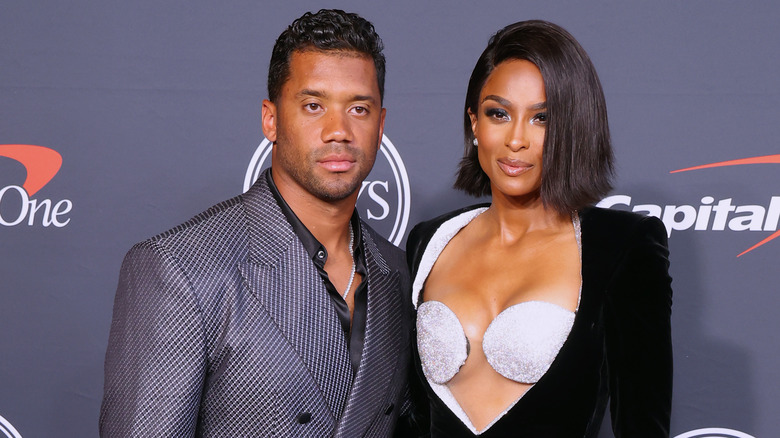 Leon Bennett/Getty Images
Back in 2015, Ciara found herself in the news cycle when rumors began to swirl that she was dating Seattle Seahawks player Russell Wilson. Speculation about the nature of their relationship first started after the "Ride" singer was spotted with the famous quarterback at a Seattle Mariners game. "It's still at the beginning stages, and it's very fresh. She thinks he is a complete gentleman and has really enjoyed hanging out with him," a source told E! News in April 2015. At the time of their rumored romance, Ciara and Russell were fresh off their respective high-profile breakups.
Fan speculation continued to grow after The Washington Post reported that Wilson listed Ciara as his date to the White House Correspondents' Dinner. Despite juicy news, the two lovebirds didn't make their public debut as a couple until the White House's Japanese state dinner, per People.
Since making their relationship official, the two have gotten married, had two beautiful children and remained an open book regarding their relationship beginnings. During a 2020 Instagram Live, the Wilsons gave further insight into their romantic and hilarious first encounter. "I had this wallet. She says it was janky, I said it was necessary," the talented athlete said (via BET)."So, I was single and I lost all my stuff back then. So I had this Bible–looking wallet." Wilson then recalled telling Ciara that she needed a man that was going to be "consistent," like his wallet.
Ciara and Russell Wilson are still very much in love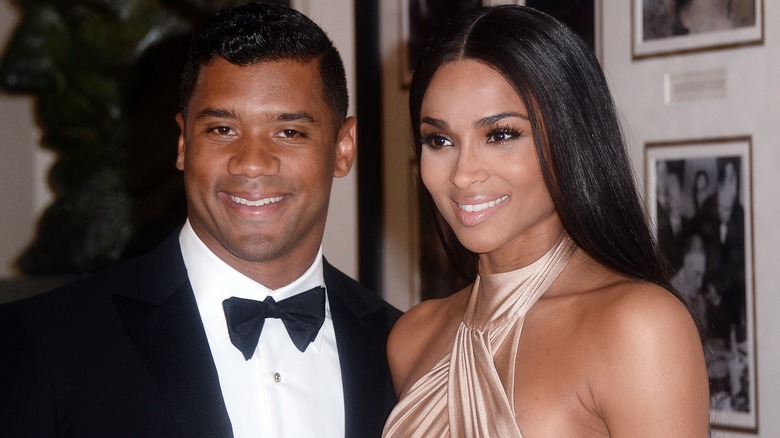 Olivier Douliery/Getty Images
Since tying the knot back in 2016, Ciara and Russell Wilson have been the epitome of relationship goals. From their adorable family photos to their various heartfelt interviews, the pair have consistently showcased their love and admiration for each other. During a May 2022 interview with Sports Illustrated, Ciara gushed about the Seattle Seahawks player and his never-ending devotion to their marriage and children. "I'll never forget the day that he and I met ... What I love is my husband's heart and how he thinks of us," she told the publication. "He loves serving at heart ... He will go from football practice to taking Future to baseball practice or taking Sienna to ballet. He doesn't want to miss a moment."
Wilson echoed similar sentiments for his wife in a 2021 interview with ET. "We're always talking, we're always loving on each other, making sure we're constantly asking how we're doing, this and that," he told the news outlet. "We always want to make sure our souls are well ... We're always focused on that." Due to their chance meeting in 2015, the couple has seemingly found their happily ever after, and we can't help but swoon.