Cher Initially Refused To Record One Of Her Biggest Songs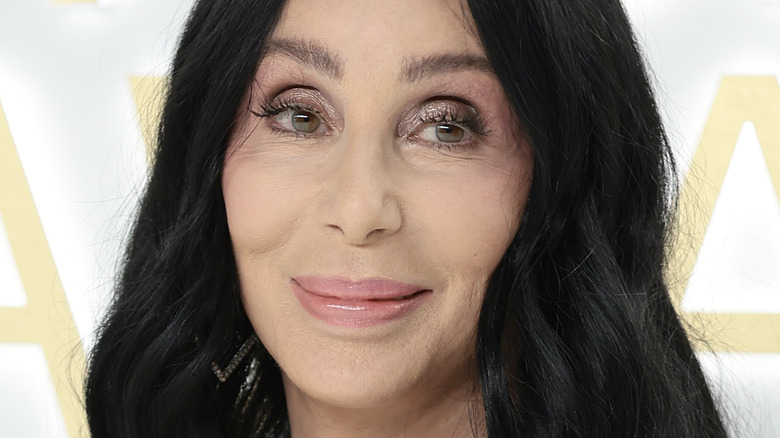 Dimitrios Kambouris/Getty Images
Music icon Cher is well-known for many songs she's recorded over the years, one of which she almost never sang. The performer spoke to the New York Times in 2018 about her career and explained that singing was "not what I started out to do," although she had "always sung" growing up and came from a musical background. "My mother, my uncle, my grandfather — there was always singing and guitars," Cher said. 
The pop star also shared that rehearsing is her "favorite thing in the world" before stating why she enjoys singing. "I love the way singing feels in my body — because it's so big, and I'm not," Cher said. "But the music comes out in the biggest way." The artist's career took off as she teamed up with her then-partner, Sonny Bono, in the '60s, and the two formed the group Sonny & Cher, per Biography. The pair had a smash hit with "I Got You Babe," and Cher went on to become a successful solo artist through hits like "Believe," her cover of "The Shoop Shoop Song (It's in His Kiss)," and another original recording of hers, "If I Could Turn Back Time." The lattermost song is one that Cher nearly passed on.
Diane Warren convinced Cher to sing If I Could Turn Back Time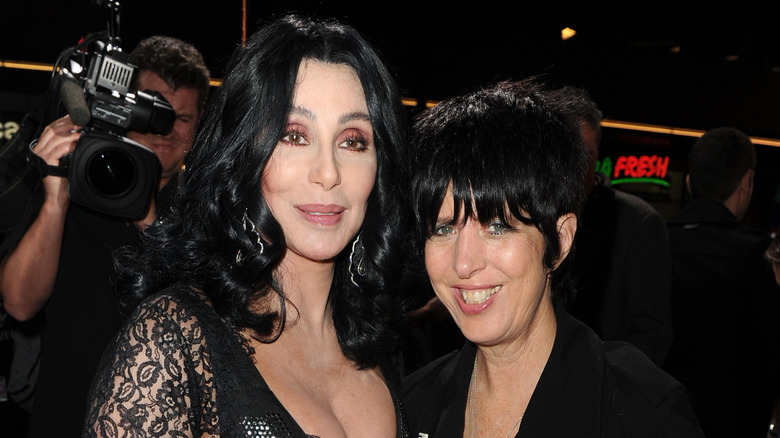 Kevin Winter/Getty Images
Cher had to be heavily persuaded before she said yes to recording "If I Could Turn Back Time." The writer of the song, iconic songwriter Diane Warren, revealed this during a 2021 People interview. "She hated it," Warren said when discussing Cher's reaction to hearing the demo of "If I Could Turn Back Time." Warren then had to beg the musician to sing the track, which ultimately did the trick.
 "I went to the studio and literally got on my knees and said, 'I'll pay for it. If you don't like it, don't use it.' She agreed," Warren said. Right away, Cher realized that Warren had been right about the song being one worth recording. "I remember looking at her in the booth and the look on her face when she sang the opening line, like, 'You b****, you were right,'" Warren said. Furthermore, in an archival interview, Cher spoke about her initial reaction to "If I Could Turn Back Time." She said of Warren, "She kept saying, 'You've got to do this song. You've got to do this song.' I said, 'Let me go back to sleep. This is terrible.'" Cher then complimented Warren's top-notch songwriting skills. "I don't know if she loves writing, but she's a great writer. I mean, there's nobody better than her."
If I Could Turn Back Time became a huge hit
Although she wasn't originally eager to sing it, "If I Could Turn Back Time" turned out to be a chart-topper for Cher. After she released the track in 1989, it reached the No. 1 spot on the Billboard Adult Contemporary Chart. It additionally made it to the top 10 of the Billboard Hot 100 chart, where it reached a peak position of No. 3. The song's music video also generated a great amount of buzz, as Cher was seen wearing a sheer paneled bodystocking on a naval ship while she performed for sailors. 
In 2022, Cher clarified that she wasn't attempting to push the envelope in the video, but rather follow her artistic inclinations. "It's never been a statement of how far I can push something," Cher said on "The Kelly Clarkson Show," continuing, "It's always been a statement of, 'This is what I want to do.'" In 2022, Cher bestowed the songwriter of the hit track, Diane Warren, with an Honorary Oscar at the Governors Awards. Per Variety, Cher said of Warren, "I have been lucky enough to know her. She's written a million songs for me." Cher added, "I am so thrilled to present this to you" and hugged her. Cher has continued to perform the fan-favorite song live, such as when she sang "If I Could Turn Back Time" for her Do You Believe? Tour, and again in Amsterdam during her 2019 Here We Go Again Tour.