Why Richard Gere And Sylvester Stallone Feuded Over Princess Diana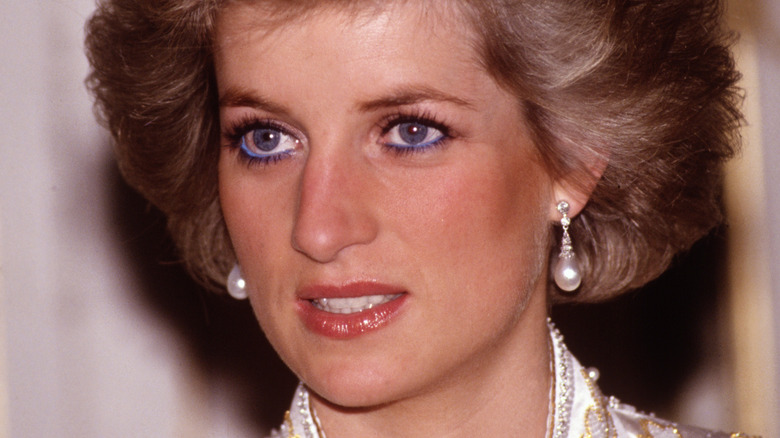 David Levenson/Getty Images
The romantic relationships of Princess Diana have long been headline fodder, and have continued to be topics of conversation decades after her death. During her marriage to Prince Charles, Diana had an affair with British Army Captain James Hewitt. Unlike other reported trysts, this romance was confirmed by the People's Princess herself, per the Mirror. There was even speculation that Hewitt was Prince Harry's actual father — although those rumors were disproven, as the army captain had not even met Di until after Harry was born. The pair met in 1986, and according to Hewitt, the relationship was a direct response to Di's husband's actions. "If Charles hadn't cheated, Diana wouldn't have," Hewitt told ET in 2011.
Besides the well-publicized affair, Diana was linked to several high profile men. Among them were Canadian singer Bryan Adams, and even John Kennedy Jr., per the Mirror. A few years after separating from her husband, Diana fell in love with heart surgeon Hasnat Khan. The two started dating in 1995, and stayed together until 1997, only months before her tragic death.
Around the same time that Diana fell for Khan in the mid-'90s, Richard Gere split from his wife Cindy Crawford in 1994. Not long after, the "Pretty Woman" star was spotted with Uma Thurman, per Entertainment Weekly. That same year, Gere and Diana met at a star-studded party and sparks apparently flew.
Why Sylvester Stallone was jealous of Richard Gere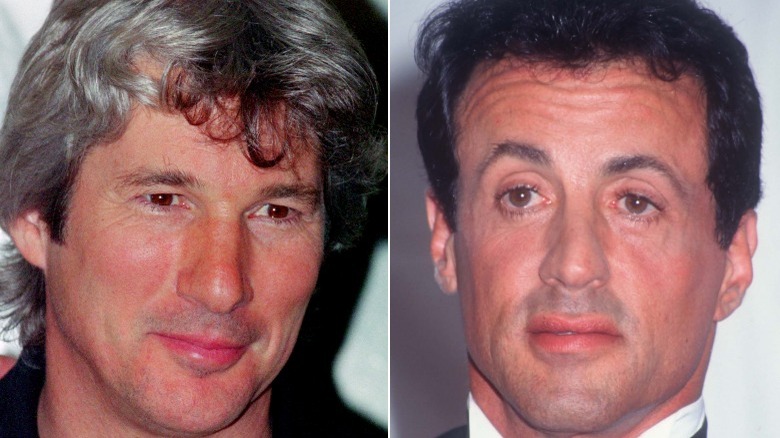 Barry King/Getty & Dave Hogan/Getty Images
In 1994, Elton John threw a dinner party at his home in England, peppering the guest list with celebrity pals that included Princess Diana, George Michael, Richard Gere, Sylvester Stallone, and more. During the gathering, the "American Gigolo" star had an immediate connection with Diana. "They ended up sitting in front of the fireplace together, locked in rapt conversation," John wrote in his 2019 book "Me" (via the Daily Mail). One guest who was not enjoying the party was Stallone, who according to John, stared jealously at Gere and Diana. Apparently, the "Rocky" actor had his eyes on the Princess of Wales himself.
Later in the night, Stallone confronted Gere and tempers were high. John's partner, David Furnish, found the two A-listers. "[They were] apparently about to settle their differences over Diana by having a fistfight," John wrote, according to the Daily Mail. The two were separated before exchanging blows, and Stallone eventually stormed out of the party. Reportedly, Stallone had a crush on Diana, and was excited when the "Circle of Life" singer invited him to the gathering. "Will she have an escort, or should I come alone?" Stallone asked, per a 1996 article in the British magazine The People.
However, Stallone denied John's claims, calling his story "Total BS" while replying to a fan on Instagram in 2019, per Us Weekly. That was not the first time Stallone and Gere allegedly fought over a woman.
Sylvester Stallone and Richard Gere's longstanding feud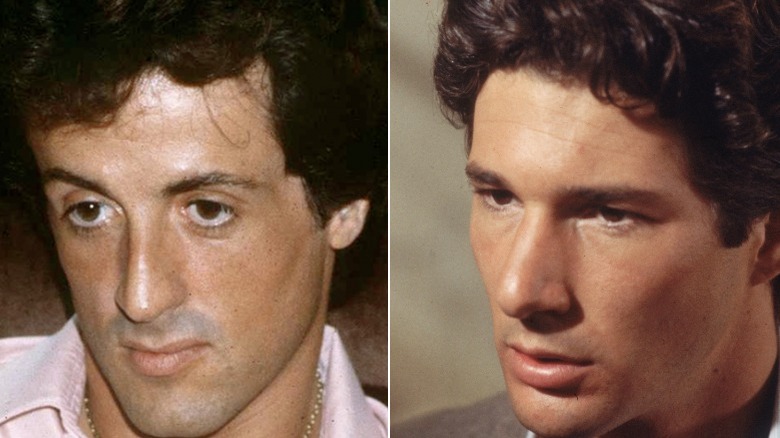 Keystone & Kypros/Getty
On several occasions, Richard Gere and Sylvester Stallone nearly exchanged blows. There was tension between Gere and Stallone after the "Runaway Bride" star split from Cindy Crawford in 1994. This time it was Gere who acted in jealousy, as he believed the "Demolition Man" actor was trying to hook up with his ex. Stallone responded by saying that Gere was completely out of line. "It was the most bizarre thing I've ever experienced," he said (via Entertainment Weekly). Tension between the two Hollywood stars was nothing new, and dated back two decades earlier.
Both Gere and Stallone were cast in 1974's "Lords of Flatbush," but allegedly friction between the duo led to Gere being dismissed from the production. "He would strut around in his oversized motorcycle jacket like he was the baddest knight at the round table," Stallone told Ain't It Cool News in 2006 while discussing working with Gere. At one point during filming, the "Cliffhanger" star was rehearsing a fight scene with Gere who went over the top. "He was completely in character and impossible to deal with," Stallone said.
One day on set, the two had an actual altercation. It happened during a lunch break when, according to Stallone, Gere spilled mustard on the "Copland" actor's pants, which led to Stallone hitting him. "Richard was given his walking papers and to this day seriously dislikes me," Stallone recalled to Ain't It Cool. The bad blood continued throughout their careers.