Did Mark Jansen And Elena Davies Stay Together After Big Brother?
Ah, showmances, how they love to blossom under the high-stress competition and 24/7 surveillance of "Big Brother." Some of these on-screen romances continue to flourish after the end of their season, like Season 12 and 13's Rachel Reilly and Brendon Villegas. But many succumb to the forces of the outside world.
"Big Brother" Season 19 saw the inception of #Marlena, the relationship between houseguests Mark Jansen and Elena Davies. Sparks flew from the very beginning when the two entered the "Big Brother" house in 2017, and it seemed like they were a classic case of opposites attract. Davies, born and raised in Texas, described herself as "funny, abrasive, and charming," and used her gift of the gab to further her game. On the other hand, New York native Jansen was much more soft-spoken and relied on his immense physical strength to pull through during the challenges.
Sadly, the two were eliminated back-to-back during the jury phase of the competition but still continued their relationship after the cameras stopped rolling. So, what ever happened to Marlena?
Marlena simply wasn't meant to last
After "Big Brother," Mark Jansen and Elena Davies decided to extend their on-screen summer fling into a relationship in the real world. With that also came the decision for the fitness trainer to move from his hometown in New York to where Davies lived in Texas, and the couple actually vlogged their cross-country journey in 2018. The two continued to post together until March 2019 when Jansen revealed that the showmance had officially split on his podcast, "Find Your Fortitude."
"I didn't move to Texas to hang out or continue a friendship," Jansen explained. "I came down because I was in love with Elena. I wanted to start a family, start a life with her." In fact, he claimed that he had broken up with Davies "so many times" over the span of their "rocky relationship."
On her own show, "The MiscELENAeous Podcast," Davies shared that her and Jansen were just "polar opposite" from each other. "I was not a perfect girlfriend. I took him for granted a lot of times," she admitted. "There are a million ways I wasn't the partner he deserves, and if I could go back and change so much I would. I'm sad that I saw him as a guarantee and I let him down, but I never did not love him."
Mark and Elena reunited on Ex on the Beach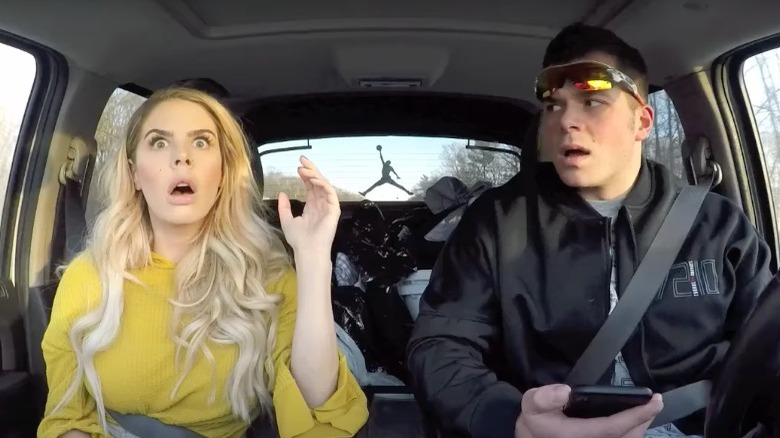 Mark Jansen/YouTube
Although they broke up in 2019, Mark Jansen and Elena Davies would cross paths once again later that year. In a surprising turn of events, the "Big Brother" alumni appeared on Season 3 of MTV's "Ex on the Beach," where Davies attempted to get Jansen back as one of the show's exes. After fighting with and accusing him of cheating, Davies was the first ex to be ousted by the contestants.
Since then, the two have been living completely separate lives. The Texas native is continuing her career as an online influencer and podcast host. "When the haters ask me if I'm ever going to 'get a real job,'" she joked on her Instagram. "But you make six figures at your 'fake job.'"
Since reality TV, Jansen has been continuing his personal training business, Mark Jansen Fitness. He became Instagram official with girlfriend Lauren Blakelock in January 2021. As of this writing, Jansen has mostly unplugged from the social media world — though he did pop back up in December 2022, sharing a post from New York City.