Big Brother: Inside Rachel Reilly And Brendon Villegas' Relationship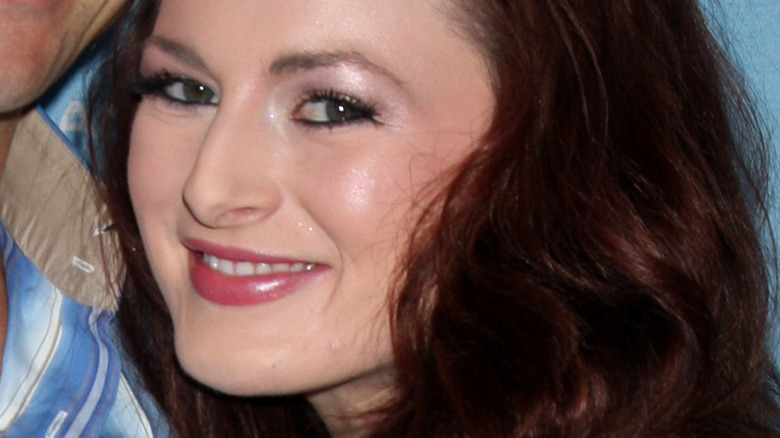 Kathy Hutchins/Shutterstock
Rachel Reilly and Brendon Villegas are a couple who proves that a reality television showmance can survive the test of time. The TV personalities first met more than 11 years ago when they were both contestants on the 12th season of reality competition series "Big Brother," per Us Weekly.
Although neither party anticipated romance would ensue upon first meeting, Rachel and Brendon soon started to develop feelings for each other when they were both put on the block during an episode of the show. This experience of competing together allowed a deeper connection to begin to form between the two, who went on to earn the nickname "Brenchel" from "Big Brother" fans.
"Admittedly, I still remember that first night," Brendon told E! News in July 2021. "Rachel was giggly and school girlish about me, but I was very skeptical. Even though I was liking her and thinking she was cool, I still was very scared to fall for someone inside this game. When we were put on the block, that's what cemented it." So, what's been going on with the couple in the time since the show?
Rachel Reilly and Brendon Villegas tied the knot on-screen
After their romance blossomed while filming Season 12 of "Big Brother" in 2010, Rachel Reilly and Brendon Villegas continued to steadily date one another. In 2011, the couple returned to the reality TV world when they again joined the cast of "Big Brother" for its 13th season. By this time, Rachel and Brendon had reached a new level in their relationship and were engaged to be married.
Rachel was the first-place winner of the series this time around, which came with a $500,000 prize. She expressed her joy in being able to move forward and marry the love of her life after her victory. "[Villegas and I] get to start our future together," Reilly commented to People following receiving the first-place title.
In 2012, Rachel and Brendon were married at a picturesque sunset rooftop ceremony in downtown Los Angeles. Staying true to their roots in reality TV, the pair documented their wedding experience for the WE tv series "My Fair Wedding: Unveiled."
Rachel Reilly and Brendon Villegas have started a family together
Rachel Reilly and Brendon Villegas' union has only continued to flourish since their decision to wed in 2012. A few years into their marriage, the couple had a baby girl named Adora in 2016, making them the first "Big Brother" couple to start a family together, per People. Rachel and Brendon announced in May of 2020 that they were expecting a second child, and Rachel gave birth to a boy named Adler in November of 2020, as Us Weekly reported after their son's birth.
Rachel announced in May 2021 that she and Brendon have plans for a new reality show, called "I Love the Brenchels – Moving On," which will be available via bspoketv. The series will follow the family's journey together as Brendon studies to become a biomedical physicist. In addition to continuing their reality TV pursuits, Rachel said that the priority for her and Brendon is always setting a strong example for their children as their family grows together. "I feel that with being a mom it's so important for us to leave a good impression on our children," Rachel explained.