Here's What Heather Rae Young Really Looks Like Without Makeup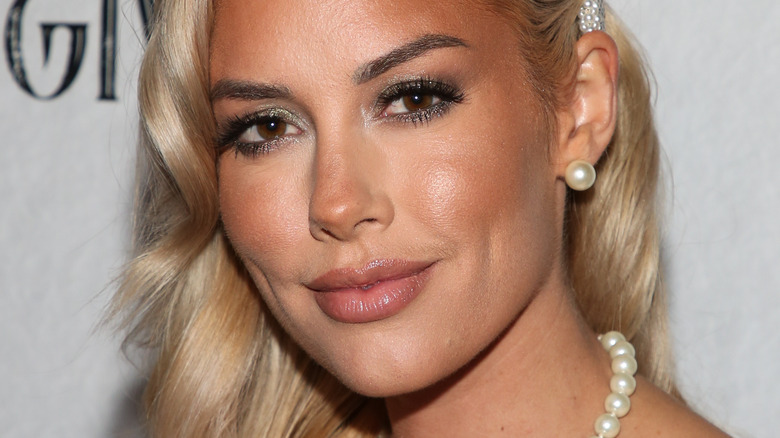 Paul Archuleta/Getty Images
Heather Rae Young has become a familiar and much loved figure in the world of real estate reality TV. We first got to know the blonde beauty through Netflix's "Selling Sunset," where we watched Young sell multi-million dollar homes in southern California. But what makes "Selling Sunset" so exciting is how little it has to do with real estate and how much it has to do with the lives of our favorite agents; there's a lot that goes on behind the scenes of the drama-packed reality show.
Young was initially dating hockey player Nick Ebert when she debuted on the Netflix hit but has gone on to marry another real estate reality TV star, Tarek El Moussa. They took their love to the next level by kicking off their own show, "The Flipping El Moussas." Why not? They both have extensive experience in real estate and reality TV, so it's a match made in heaven! The two announced that they were expecting a baby in July 2022, with baby El Moussa arriving in 2023. While she's a busy mom-to-be, Young still manages to look gorgeous in every video and image we see of her, and this includes her natural look. Young without makeup is as beautiful as we could imagine.
Heather Rae Young never sleeps with makeup on
In a "Beauty Sleep" video for Us Weekly, Heather Rae Young went through her nighttime skincare routine, and took off her makeup before bed, giving us a full shot of the "Selling Sunset" star in her most natural vibe. Young began the video by explaining that taking makeup off is a key part of her routine, since she often has to wear so much of it. "Since I film a few TV shows, I usually have, you know, pretty heavy makeup on," Young said. She was referring to "Selling Sunset" but also to her new venture with husband, Tarek El Moussa. The two have launched a new house flipping show called "The Flipping El Moussas," slated to air in 2023, per her IMDb credits.
To make sure she's makeup free, Young said that she uses makeup wipes followed by two different cleansers. "I usually like to double cleanse because it just gets all the makeup off," Young explained. "I don't like to sleep with any makeup on because it ages me and I do not want to age myself." In the video, Young admitted that she struggles with redness [0:32] and offered a pro-tip to viewers: wash with lukewarm water rather than hot water to avoid getting too rosy. Fans loved Young's candid tutorial. "Finally a video with a beautiful celeb that has red skin," a fan commented. Another person wrote, "I am in awe of her beauty, so graceful and elegant, always."
Heather Rae Young is a licensed esthetician
While Heather Rae Young is a successful real estate agent and house flipper with her hubby, Tarek El Moussa, we learned a new fact about her in her "Beauty Sleep" video for Us Weekly. While telling fans her skincare tips, Young said, "Fun fact, I actually have my esthetician license, so I used to do skin care in the past." But Young explained that she didn't make a full career of it. "I only did it for about a year so I'm definitely not a pro, but I [have been] skincare obsessed since I was like 13 years old," she went on.
Young credits her mom with her knowledge and interest. "I've been cleansing my skin, using sunscreen, using all the things that I should be doing later on in life," Young explained. "I started at a very young age. My mom taught me that. Thanks, Mom!"
While Young loves wearing makeup — and arguably wears it so well — the real estate agent puts more emphasis on her skin and quality skin care products. "Personally, I think if your skin doesn't look good, your make-up won't look good over it," Young told Grazia in February 2022. "Investing in your skincare is way more important than any make-up product," Young went on. Well, she's living proof that this philosophy is a successful way to treat your skin!