How All The Members Of Migos Got Their Stage Names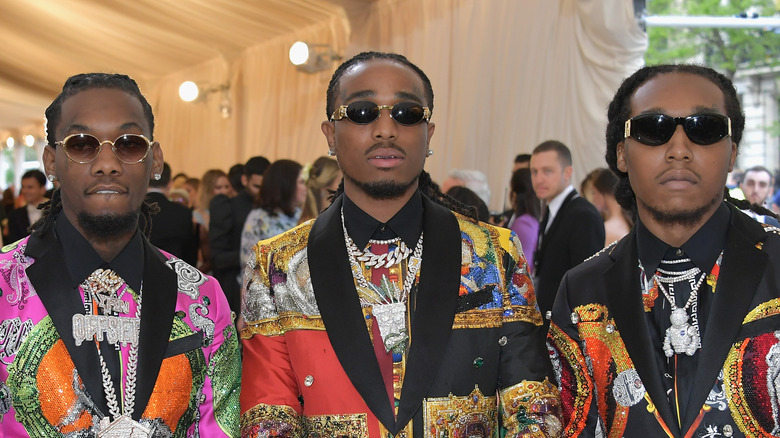 Neilson Barnard/Getty Images
Migos, the trio of Quavo, Takeoff, and Offset, took the rap world by storm with their breakout single "Versace" in 2013. The song introduced novel features like the title repeated over and over, later used in tracks like Charli XCX's song "I Got It." The Migos also showed off their distinctive triplet flow, modernizing a vocal style of rapping first popularized in the '90s, Vox recapped. Drake then made a remix to the song, per Spin, and the three guys became instant stars. By 2017, Migos earned their first No. 1 single on the Billboard Hot 100 with "Bad and Boujee" featuring Lil Uzi Vert. Donald Glover loved the track so much that during an acceptance speech for his series "Atlanta" at the Golden Globes, he said, "I really wanna thank the Migos, not for being in the show, but for making 'Bad and Boujee.' Like, that's the best song ever" (via Billboard).
Even at the start of their rise, Quavo once asked a reporter, "How long you think we gonna last?" (via Pitchfork). Only a few years following their chart-topping single, the future of the group seemed to be in jeopardy. Quavo, Takeoff, and Offset all released solo albums. Offset was making other news with his high-profile relationship to Cardi B and Quavo with his relationship to rapper Saweetie. Then, tragedy struck as Takeoff died in 2022 after being shot in Houston, TMZ reported. Here's a look back at the group and how each picked their stage name.
The real and stage names of Migos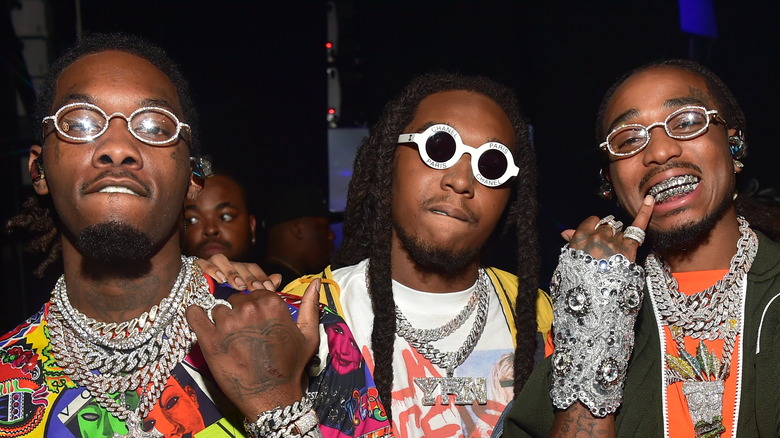 Prince Williams/WireImage/Getty Images
The government name of Cardi B's husband Offset is Kiari Cephus. Quavious Marshall goes by Quavo in the trio while Kirsnick Ball is the real name of Takeoff. "The reason why his name is Takeoff is because he used to do everything in one take," Quavo explained on an episode of "Hot Ones." He explained, "[With Windows] Movie Maker, you had to record in one pass. Anybody who messed up on one ad lib or anything, we had to start it all the way over." With Takeoff, he was usually correct on the first take but when his bandmate messed up, Ball needed to restart his verse.
Originally, Takeoff and Quavo made music together under the group name Polo Club. The group dropped a mixtape with mixed results. "I think we had one person that liked it," Quavo told GQ about his cousin Cephus. In fact, all of the Migos trio are actually related. Offset is the cousin of Quavo, who is the uncle of Takeoff. Quavo's nickname is closest to his real name, but he also goes by the nickname Huncho, a reference to his position as the leader of Migos.
While Offset hasn't revealed the origin of his stage name, Cephus explained that at home, Cardi B normally calls him Offset. He also confessed to GQ that it's "just not a good moment when she calls me by my real name."
Migos reveal the group's name meaning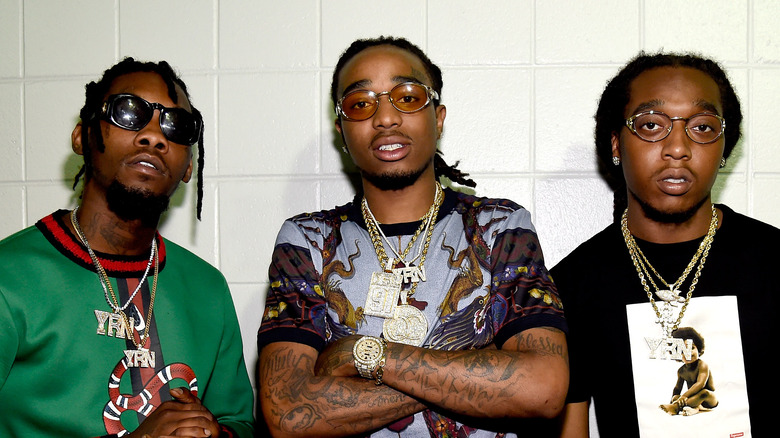 Kevin Mazur/Getty Images
Quavo and Takeoff have known each other since childhood. The two released a joint album in 2022 called "Only Built for Infinity Links" and often referred to themselves as Unc and Phew, recalling their family ties. "We brought all of our pictures together from where we grew up and we wanted to shine a light on how Unc and Phew's relationship is unbreakable," Quavo told Complex about creating a mood board for the album creation. He also talked about the group's rise. "It all started with a dollar and a dream," Quavo explained about being invited by the founders of rap label Quality Control to their recording studio. Quavo and Takeoff grew up in Athens, Georgia and "in about seventh grade, that's when we started playing around with beats, rhymes. Then we moved to Atlanta. Two years ago, that's when we really got serious about music," Takeoff told Interview Magazine in 2013. 
In regards to the name Migos, it appears to be a shortened version of the Spanish word "amigos." Quavo admitted this was part of the group's name and "we always ran together on the North side, as Migos, as boys," he told Hot 97. The rapper also explained the name originated from their experiences growing up. "Actually, it's the hub of drugs out there, so everything that comes to Georgia has to touch Gwinnett at first, so we just call it Migos," Quavo added about the county near Atlanta.