The Untold Truth Of Offset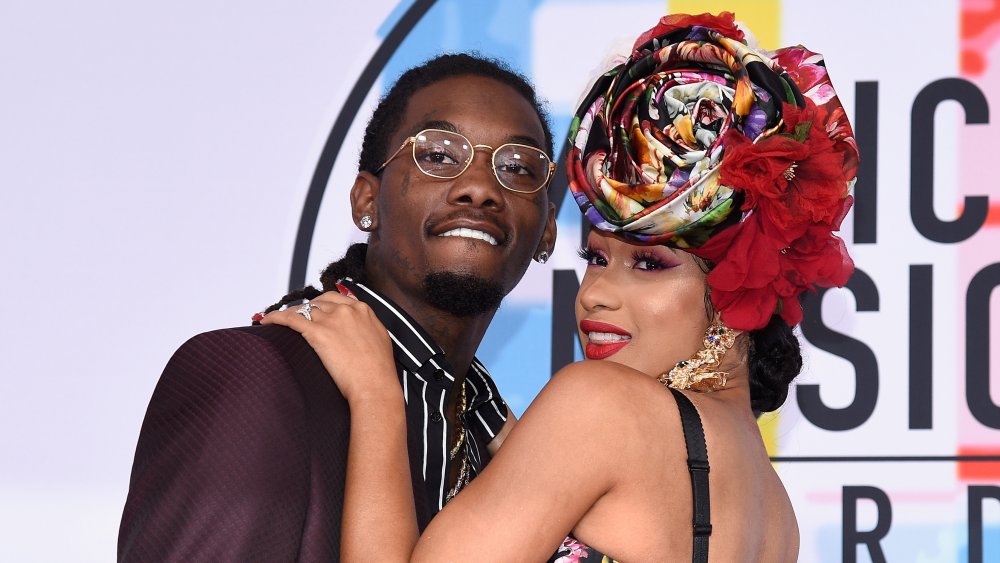 Kevork Djansezian/Getty Images
Offset, whose real name is Kiari Cephus, is one third of the hip-hop group Migos. The group is a family affair, with the other two members — Quavo and Takeoff — being Offset's cousin and cousin once removed, respectively. The group blew up the charts in 2017 with their popular single "Bad and Boujee," and the guys became stars. It wasn't long after that Offset married fellow musician Cardi B, and the two have had a turbulent relationship ever since. But there's more to Offset than just his relationship, so here's everything you need to know.
Offset grew up just outside Atlanta, which is where he and Quavo and Takeoff started their music careers. They originally called themselves Polo Club before changing to Migos, according to AceShowbiz. Their 2013 single, "Versace," is when they first started getting noticed, but it wasn't until "Bad and Boujee," off their album Culture, that they truly made it. "Bad and Boujee" hit No. 1 on the Billboard Hot 100 chart in 2017 and the group released their album Culture II in 2018. They planned to release their next album in 2019, but that got pushed back to 2020 and now is on hold due to COVID-19.
Offset has also released his own solo music as well as other collaborations, showing a large range of musical capabilities. He's collaborated with artists like Drake, Macklemore, and 21 Savage. Offset's debut album, Father of 4, was released in February 2019 and includes a song with Cardi B called "Clout."
Offset has been arrested a handful of times on various charges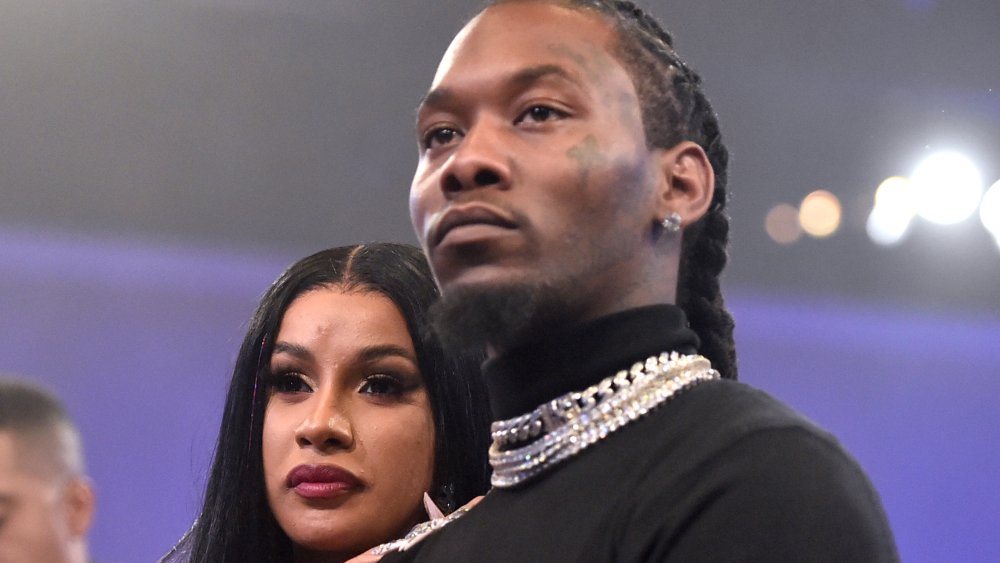 Alberto E. Rodriguez/Getty Images
Offset's life hasn't been without some trouble, though. He's been arrested a few times, including in 2015 when all the members of Migos were arrested at one of their concerts, according to Distractify. They were charged with possession of a schedule II controlled substance, misdemeanor possession of marijuana, possession of a firearm in a school safety zone, and possession of a firearm during the commission of a crime. He was arrested again in 2018, according to TMZ, after being pulled over for an improper lane change. He was slapped with a felony charge for firearms possession by a convicted felon, along with misdemeanor charges for marijuana possession and the lane change. 
Atlanta police issued a warrant for Offset's arrest in 2019 when a fan claimed Offset damaged his phone, according to USA Today. The fan had approached Offset at a Target and attempted to take a selfie when Offset allegedly knocked the phone from the fan's hand, breaking it. As the phone was worth over $800, it was a felony arrest warrant. Offset ended up paying to fix the fan's phone and the arrest warrant was dropped.
In January 2020, Offset was reportedly detained at The Grove in LA when officers thought he had a gun, according to TMZ. Offset and three others were questioned, but police ultimately learned that the other members of that group — not Offset — were the owners of the handguns, and Offset was let go.
Cardi B filed for divorce from Offset in September 2020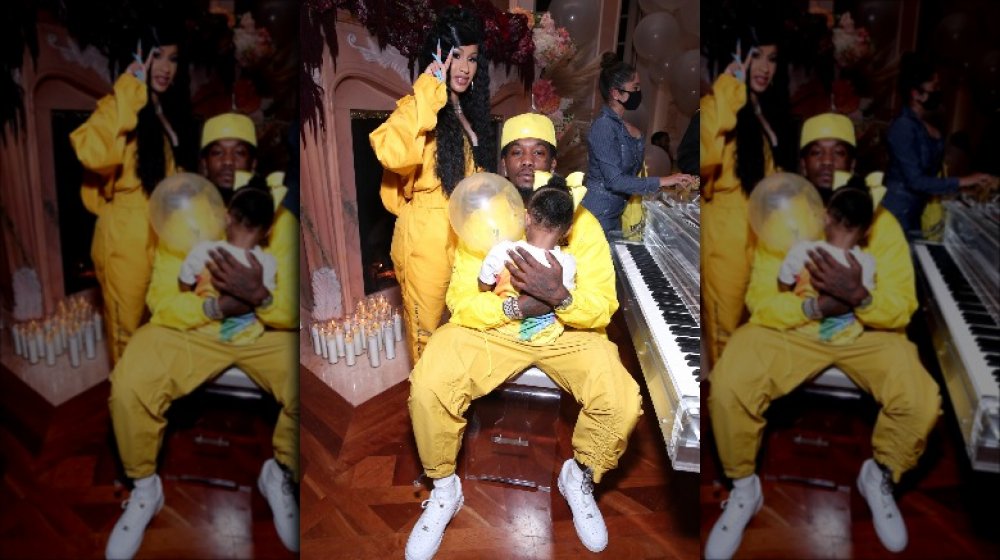 Rich Fury/Getty Images
In September 2020, Cardi B filed for divorce from Offset after just a couple years of marriage, according to People. According to reports from Cardi B's filing, she said the marriage was "irretrievably broken" and "there are no prospects for a reconciliation." People also reported that Offset had allegedly been unfaithful multiple times in the relationship and Cardi B had finally had enough.
Offset was reportedly caught in a sex tape scandal right after he and Cardi B secretly wed, and she told Cosmopolitan in 2018, "I know I look good, I know I'm rich, I know I'm talented. I know I could get any man I want — any basketball player, football player. But I want to work out my s**t with my man, and I don't got to explain why."
The couple welcomed their daughter, Kulture, in July 2018, but they still had plenty of issues in their relationship. Cardi B announced in late 2018 that she and Offset were no longer together, but they were still friends. He was quick to try to win Cardi B back, according to People, making a declaration of his own on Instagram.
The couple reconciled in early 2019, and Cardi B told Vogue in her January 2020 cover story that it was because she believes in forgiveness. In the end, though, it appears that their marriage can't be saved and Cardi B is officially done trying.