Inside Aaron Carter's Relationship With Michael Jackson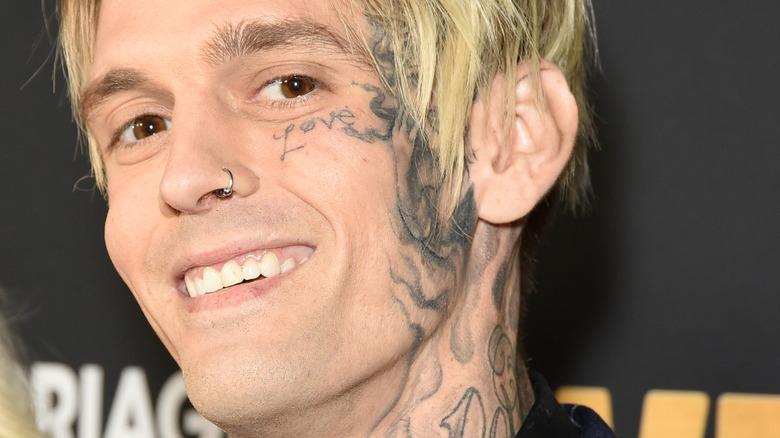 Presley Ann/Getty Images
Aaron Carter and Michael Jackson are two superstars whose lives ended tragically. In 2009, Jackson died from cardiac arrest after taking a fatal combination of drugs, per the Los Angeles Times. Carter died in 2022 after his body was discovered in a bathtub, per TMZ.
Despite their significant age gap, Carter and Jackson had a lot in common. Both famously dealt with the troubling effects of childhood stardom and public scrutiny, as well as various personal struggles, such as substance abuse. As highly successful performers, it makes sense that their paths eventually crossed. In 2001, Jackson asked Carter to sing on his song, "What More Can I Give?" per People. 
After that, the two became closer over the course of the year. Carter even ended up performing his popular hit "I Want Candy" at Jackson's anniversary celebration. Over the years, Carter opened up about his friendship with Jackson, often speaking favorably of the "Thriller" star. However, their relationship, which was sprinkled with controversy, secrecy, and rumors, proved to be somewhat complicated.
Aaron Carter's claim that Michael Jackson was 'inappropriate'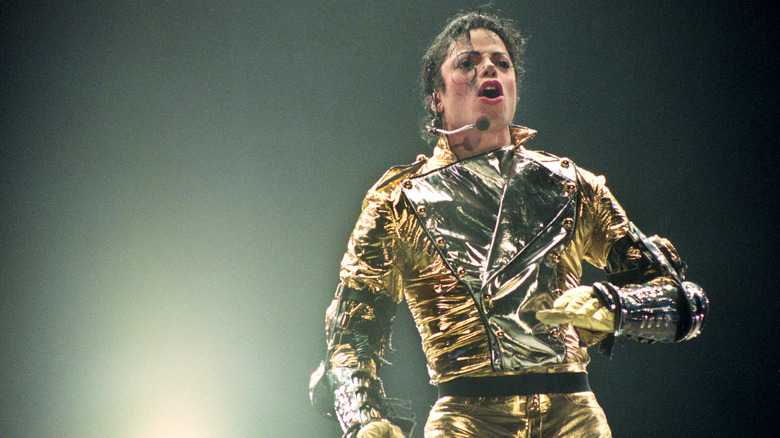 Phil Walter/Getty Images
Aaron Carter once made a confession about Michael Jackson and it caused quite a public stir. In 2019, Carter said, "Michael was a really good guy, as far as I know, a really good guy," in footage from "Marriage Boot Camp: Reality Stars Family Edition" (via People). However, he continued, "He never did anything that was inappropriate. Except for one time. There was one thing that he did that was a little bit inappropriate." As Carter didn't add details, fans had a field day making assumptions with the vague information. Many people believed that Carter was referring to sexual advances made by Jackson, who had a history with alleged sexual abuse.
In a series of posts, Carter took to Twitter to express his frustrations and defend his longtime friend. One of his posts said, in part, "My reasoning for even speaking on this subject is to tell my truth, be real and to also have his back based on my experiences with Michael." He continued to stand up for the King of Pop, adding, "[H]e was an amazing guy, I stand by that. So I ask u not to turn this into something it isn't." In a now-deleted tweet (via People), he emphasized that Jackson's behavior "was a little inappropriate" and that "he didn't f***ing do anything sexual!"
Aaron Carter and Michael Jackson's alleged encounter at Neverland Ranch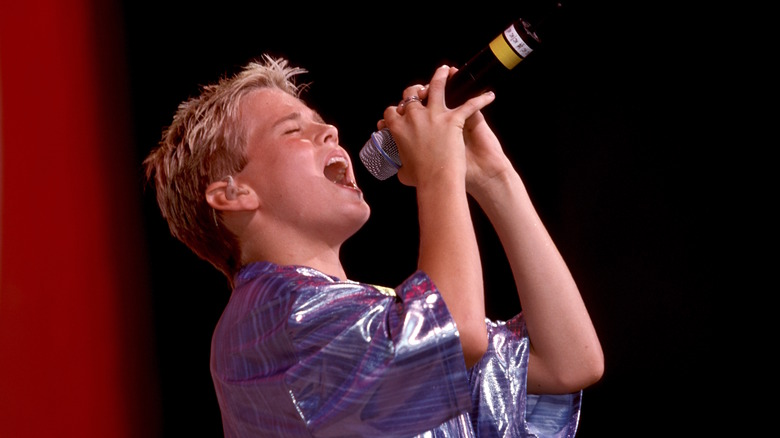 John Atashian/Getty Images
Following Aaron Carter's tragic death, fans gained possible insight into Carter's claim about Michael Jackson being "inappropriate." In Carter's posthumous memoir, "Aaron Carter: An Incomplete Story of an Incomplete Life," alarming details were disclosed about an alleged encounter between him and Jackson, which took place at Neverland Ranch in August 2003, per the New York Post. After celebrating the King of Pop's birthday, the then-15-year-old and Jackson went into his bedroom, where he set Carter up with a cot. Carter wrote, "A couple of hours later, something woke me. I sat up and found Michael at the foot of my cot in his tighty-whitey underwear. I don't know if he was sleepwalking or what, but he seemed to still be asleep." He continued, "'What the f**k!?' I shouted and shook him a little to wake him. 'Go back to your bed!'" Apparently, Jackson obeyed him and they never spoke about the incident again.
However, their relationship wasn't all black and white. Back in 2017, Carter shed a positive light on Jackson in an interview with Us Weekly. Speaking about his death, Carter shared, "I was really good friends with Michael. That one really hurt." In addition, he remarked, "I knew Michael very well, and he told me a lot of things that I can't really repeat just because it would be every where."