Are Angela Rummans And Tyler Crispen From Big Brother Still Together?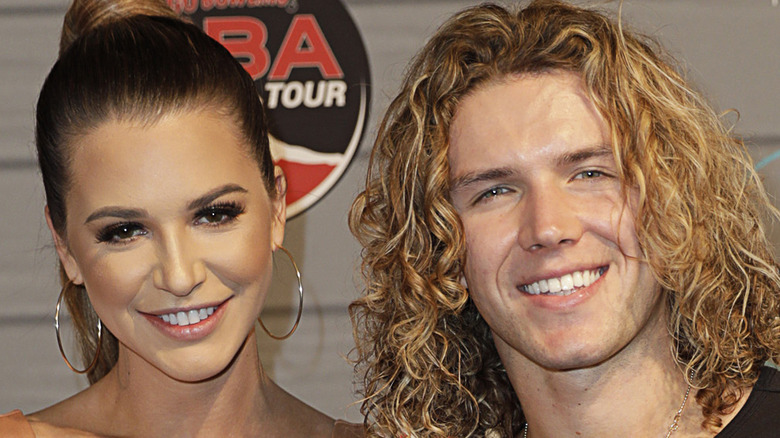 Bob Levey/Getty Images
Love was the furthest thing from Angela Rummans and Tyler Crispen's minds when they entered the "Big Brother" house in 2018 as part of the Season 20 roster. With their eyes on the prize — a whopping $500,000! — both were adamant about not participating in a showmance, seeing love as nothing but a huge distraction. "I think we both said it in our interviews. We were like, hell no, no showmances," recalled Rummans, per Extra TV. "Absolutely not. I think we were the most anti."
But, as reality TV romances go, some things just happen when you least expect it. Somewhere along the way, Rummans and Crispen became close and developed romantic feelings for one another. Fans witnessed as the twosome, who both hail from Hilton Head, South Carolina, finally confessed their feelings in a heartwarming moment on the show. "Promise you won't tell anyone? I'm in love with you," said Rummans, before planting a kiss on Crispen's cheek, to which the lifeguard replied, "I can't believe we have the same secret."
Crispen would eventually out their romance on the season's live finale, where he finished in second place next to pro-football player and Level Six alliance member Kaycee Clark, per Us Weekly. But, are Crispen and Rummans still together today, or have the two gone their separate ways?
Angela Rummans and Tyler Crispen are engaged
Yes, Angela Rummans and Tyler Crispen are indeed still together. In fact, they are getting married! The pair announced their engagement via Instagram and YouTube on February 1, 2019, several weeks after the romantic proposal, which took place in their hometown of Hilton Head Island. "YES to forever and ever and always. You and me babe, for the rest of time," Rummans captioned her Instagram post. "Thank you for giving me the best and most perfect day of my life. I love you more than I can say in words." For his part, Crispen described their engagement as the "greatest day" of his life. "WE'RE ENGAGED!" he wrote. "@angelarummans You make everyday seem like a dream come true and I am now officially the luckiest person on the face of the earth. I'll love you to infinity and beyond."
In a Q&A video released afterward, Rummans and Crispen said that they've been talking about marriage for years prior to their engagement and that it was "only a matter of time" before the two of them got engaged. "Yes, we have been talking about our kids for, like, two years," Rummans said. "We jumped so far ahead that this was inevitable." On whether it will be a short or a long-term engagement, the "Unbothered" author said, "Definitely a long engagement. ... There's really no reason to rush through things because we're gonna be together forever." 
When's the big day?
They certainly are in no rush! Angela Rummans and Tyler Crispen said they will not start planning their wedding until the coronavirus pandemic is "a thing of the past." "Our plan is we have no plan," said Rummans. "But I think that one thing that I don't want is I don't want [the wedding] to be on Hilton Head. Not because the engagement was here, but just because I want it to feel like a vacation." To this, Crispen added that they just might hold their wedding in their "favorite place": Mayakoba in Mexico. "We went [there] a couple years ago. There's a cool wedding venue, so maybe in Mexico," he said. "We'll see."
As to whether the cast of "Big Brother 20" will be there, Rummans said it's another thing that they have yet to figure out, as she and Crispen prefer to have a small wedding — at least, for now. "That makes it a big wedding. 15 plus a plus-one. That's already 30. I don't know," she said. 
Notably, Rummans and Crispen are not the first pair from their season to settle down. Bayleigh Danton and Chris "Swaggy C" Williams have also gotten married and will soon welcome their first child together. Per People, the couple announced Danton's pregnancy last May, or four years after they lost their first baby to a miscarriage.