Steven Tyler's Ex-Wives: How Many Times Has The Rockstar Been Married?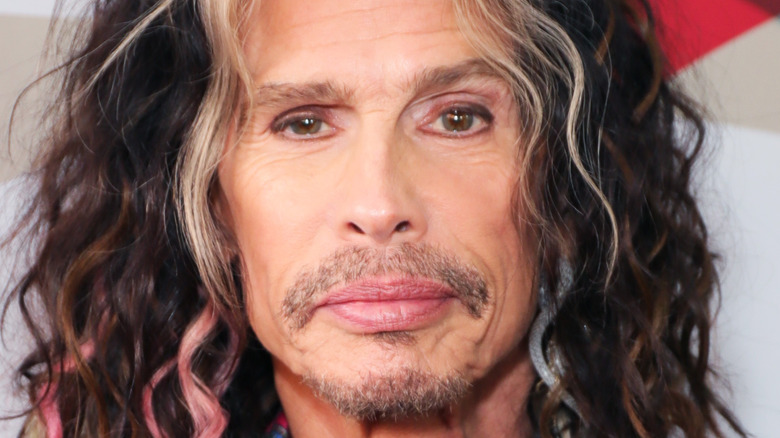 Leon Bennett/Getty Images
Steven Tyler is every bit the definition of a rockstar. For most of his life, the longtime frontman of the world-famous band Aerosmith has long embodied the "sex, drugs, and rock and roll" lifestyle. He's always been open about his scandalous affairs on and off tour, his stints in rehab, and his undying love for music.
In an interview on Fox News' "OBJECTified" in 2018, Tyler confessed to feeling like he had to uphold a particular lifestyle to maintain his reputation. "I think rock stars... I felt like I had an obligation to keep that alive," he said at the time (via Deadline). "I certainly had my way with women and women had their way with me." He also admitted to having an "addictive personality," which contributed to his drug use. "I found certain drugs I loved and didn't stop to the point of hurting my children, hurting my life, hurting my family, hurting my band," he added. "There was a point where I didn't have a band and I didn't care."
When it comes to relationships, the "I Don't Wanna Miss A Thing" singer was honest about not being the best lover, sharing that he had bouts of infidelity. "You cheat. You cheat. You break. You're not true," he said elsewhere in the interview. "And I paid dearly for it." And while the rockstar has admitted to his past infidelities, that hasn't stopped him from walking down the aisle on more than one occasion. 
Steven Tyler has been married twice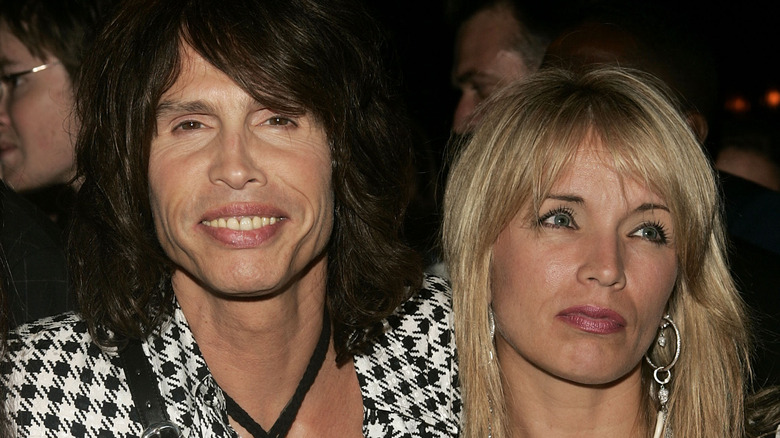 Peter Kramer/Getty Images
Despite romancing many women in his life, Steven Tyler has only been married twice. His first wed Cyrinda Foxe, with whom he shares a daughter, actor and model Mia Tyler. Amomama notes that New York Dolls lead singer David Johansen first introduced the two in 1977, but Foxe married Johansen instead. However, the attraction between Foxe and Tyler was strong, and the following year Foxe left Johansen for the Aerosmith frontman. The two eventually parted ways in 1987, as their marriage was reportedly fraught with issues related to drugs and abuse. They seemed to have buried the hatchet over the years, as Tyler helped her with hospital bills after she experienced a stroke in 2001, per Rock Celebrities. Foxe died a year later.
In 1988, hardly a year after Tyler and Foxe divorced, he tied the knot with fashion designer Teresa Barrick. During their relationship, they welcomed two children, Chelsea Tyler and Taj Tallarico, and remained married for 17 years. Ironically, for a high-profile couple, not much is known about their time together. They split in 2005 following rumors that Barrick had an affair with a contractor the family had been working with. In his statement regarding their separation, Tyler said (via People): "Before the tabloid media makes more of this than it is, I am announcing that my wife Teresa and I are currently separated. We're just a family trying to work through a difficult time. A little privacy and sensitivity would be nice."
Inside Steve Tyler's love life today
Steven Tyler nearly married a third time. The singer began dating accountant Erin Brady in 2008, and the couple ultimately got engaged in 2011. Speaking with Oprah, the rocker admitted Brady made him want to change how he navigated relationships. "For all the divorces I've had, I hurt those girls deeply, and there was some behavior that I'm ashamed of, and I shouldn't have done," he admitted (via Us Weekly). "I don't want to hurt anybody again." Unfortunately, the pair parted ways in 2013, with insiders claiming Tyler called the engagement off. "Steven was just not that nice to her in the end," they told Page Six. "His family and entourage never really accepted her and she can do better."
Today, Tyler is romantically involved with Aimee Preston, who used to work as his personal assistant. The two made their relationship red carpet official in 2016 when they appeared together at an Oscar viewing party, as noted by People. As far as we know, the couple has been together ever since.