Which Real Housewife's Looks Have Changed The Most? Here's What Bravo Fans Say - Nicki Swift Survey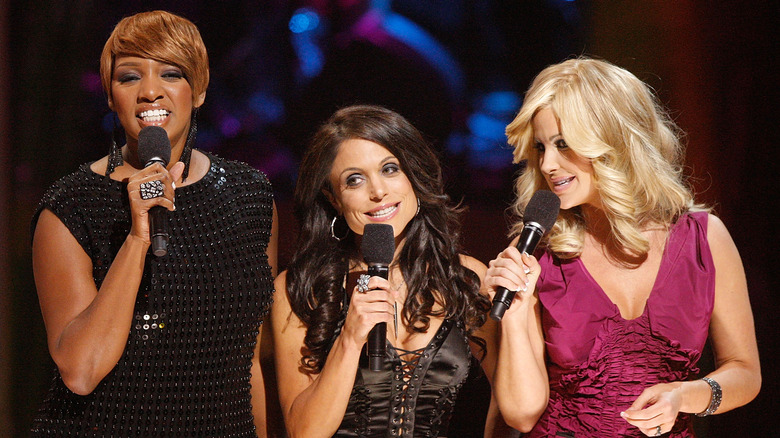 Christopher Polk/Getty Images
The "Real Housewives" world continues to charm and delight us as a staple of pop cultures' most beloved reality TV. We know these women and their families well at this point, and have followed many of them for years. With an ever-present spot in the limelight, it's no wonder that many of our favorite Bravo stars have felt the desire to tweak, tuck, or fill something here and there. In some cases, their looks have hardly changed; in other cases, some Real Housewives look nothing like they used to. Some deny it and some admit to the work they've had done. Kyle Richards is one who's been transparent about her transformation. Jennifer Aydin is another who's been open about her work, even speaking about her regrets.
So, in the spirit of curiosity and fun, Nicki Swift asked Bravo fans which Real Housewife's look has changed the most. The survey included Brandi Glanville, NeNe Leakes, Lisa Hochstein, Kim Zolciak-Biermann, and Teresa Giudice. All of these gorgeous women have sparked rumors about plastic surgery, and some have flat-out admitted to the work they've had done. For instance, Giudice admitted in November 2021 that she had her nose done while she was at the New Jersey Ultimate Women's Expo. "I don't know if anybody knows, but I did get the tip of my nose done and I was so nervous about getting it," Guidice told the crowd, per The U.S. Sun. While she was transparent, was Giudice the most changed according to fans? Not exactly.
NeNe Leakes and Kim Zolciak-Biermann tie for the most changed looks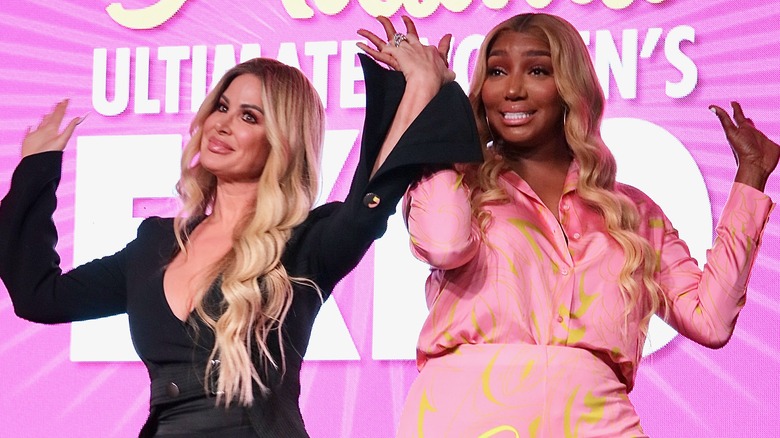 Robin L Marshall/Getty Images
The results are in! Nicki Swift asked fans which Real Housewife's look changed the most and Teresa Giudice scored the lowest, coming in at 12.95% with 76 votes. So clearly her nose job didn't really alter her overall look. Coming in second-to-last was Brandi Glanville, with 17.89%, or 105 of the 587 total votes; clearly, she hasn't changed that much either. Lisa Hochstein earned 124 votes, totaling 21.12%. The win for the most changed look was ultimately a tie. Both NeNe Leakes and Kim Zolciak-Biermann scored 24.02%, each earning 141 votes.
Leakes has been candid about the work she's had done, bringing fans along on her "surgery journey." According to Entertainment Tonight, Leakes has even partnered as an ambassador for the Georgia Plastic Surgery and Reconstructive Surgery. She's opened up about getting a nose job, breast augmentation, and a "professional, mini [Brazilian Butt Lift]." In her Instagram Stories in August, Leakes shared, "I'm only looking to fixing my problem areas. So, we called in a 'professional, mini BBL.' And, I love it."
Zolciak-Biermann has also been candid about the work she's had done. "I've done my lips," she said, per a subsequent publication by Entertainment Tonight. "I've been getting Botox since I was young, for migraines initially and now it's the obvious reason." Zolciak-Biermann said she's also had a breast augmentation and a tummy tuck, among other procedures. "I do like instant gratification," she said. Same, girl.