Why Steph Curry Always Wears A Mouthguard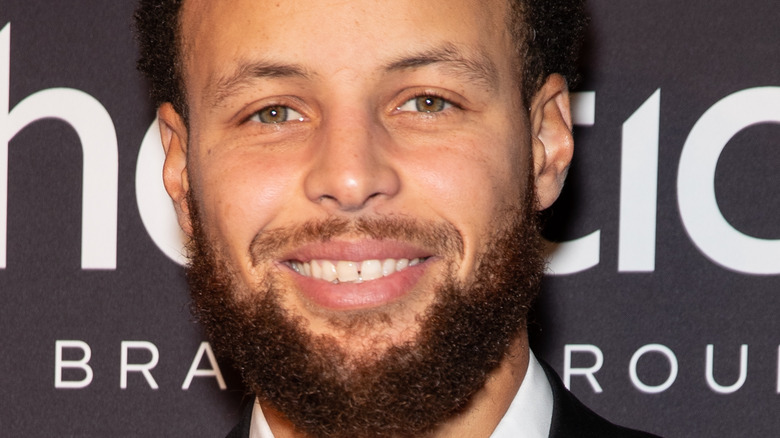 Miikka Skaffari/Getty Images
Stephen Curry of the Golden State Warriors is paving his way as one of the NBA's greatest players. Not only is he a basketball superstar, but he's also entertaining to watch. He and Jordan Poole caught everyone's attention with a unique on-court move that reminded people of a TikTok dance. With a career as large as Curry's, though, there's no shortage of off-the-court scandal as well. He was sued for promoting FTX, the now-bankrupt cryptocurrency exchange that got Tom Brady and Gisele Bündchen in so much trouble (via BuzzFeed News).
While Curry continues to sort out his off-court woes, the basketball star has also gotten attention for years due to his ever-present mouthguard. We wouldn't know so much about this piece of dental equipment if Curry actually wore it on his teeth, as it's designed to be worn. However, the 34-year-old often pops it out and chews it on the court, so it's hanging out of his mouth as frequently as it's in his mouth. It's become such a sensation that Curry's mother discussed it with Sports Illustrated. "I've given up," Sonya Curry told the outlet of her son's mouthguard. "I've made my peace with it. It's never going to change. He still bites his fingernails. He flicks his nose, from all his allergies. And the mouth guard." 
Though it's definitely distracting, there's apparently a reason why Curry wears his mouthguard in such a lax way, and it may have to do with a past injury.
Steph Curry 'busted' his lip in college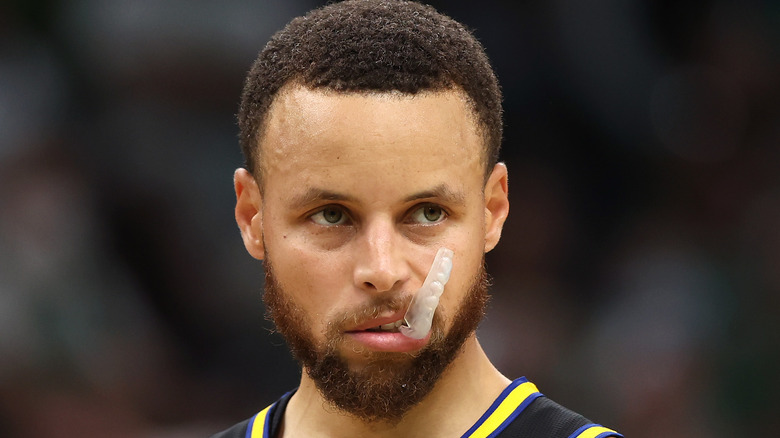 Maddie Meyer/Getty Images
Stephen Curry appeared on "Jimmy Kimmel Live" in 2015 and explained why he picked up the habit of using a mouth guard when he's playing basketball. "I got elbowed in college [during] my junior year and kind of busted my lip open and so I wore a mouthpiece after that every single game," Curry explained. He joked that he doesn't really wear it in an effective way anymore, though. "Every year, it's kind of gotten farther and farther away from my teeth," he said. Kimmel then wanted to know how often Curry washed his mouthguard. "It's a very unsanitary process," Curry joked. "I wear the same one every three or four games," he added. "I just chew on it like crazy. It kind of calms me down, especially when I'm at the free-throw line." 
His mouthguard has been a topic of conversation for years. When speaking with Sports Illustrated in 2016, Curry said that his mouthguard has become a gauge of how well he'll do on the court. "Some fan studied it," the NBA star explained. "He said I shoot 2% better on free throws with it out. And I think he's right. Because when I shoot a free throw with it in, I always go, Whoa, that's weird. It's where it's supposed to be." Like it or not, Curry's mouthguard has become an essential feature of his talent as an athlete!
Steph Curry's mouthguard sold at auction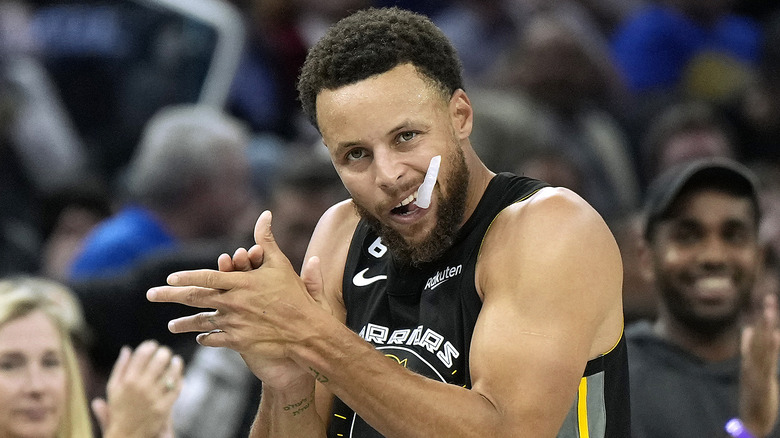 Thearon W. Henderson/Getty Images
The whole point of Stephen Curry's mouthguard is to protect his teeth, lips, and entire mouth from impact, according to HuffPost, so when it's dangling out of his mouth, it's not doing anything to protect the NBA player. Dental hygienist Cindy Hernandez-Sturrock spoke to the outlet and explained why Curry's habit was so detrimental. "When he's chewing it like that, he's destroying the integrity of the mouth guard," she said. "So it's not going to be beneficial for him, it's not going to protect him properly." She also explained that kids look up to Curry and might mimic his habit, destroying very expensive mouthguards that parents — who don't have NBA salaries — might have a hard time replacing.
Speaking of pricey mouthguards, one of Curry's went up for auction in August 2016 by SCP and sold for $3,190, according to USA Today. Whoever sold the star's mouthguard had found it on a chair after a Golden State Warriors game. It was verifiably the Ohio native's mouthguard because it featured his number, name, and a Warrior's logo, plus it was thoroughly chewed. Whoever purchased that is one devoted fan!