Brittney Griner's Wife Recalls The Couple's Emotional Reunion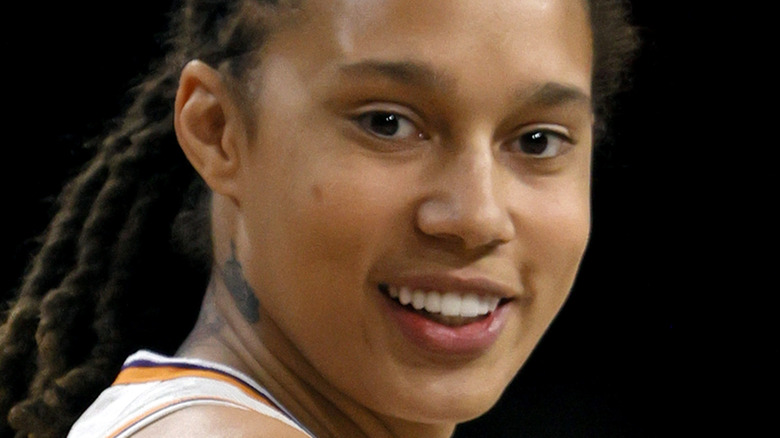 Ethan Miller/Getty Images
When news broke out that Brittney Griner was detained in Russia for smuggling cannabis into the country, her wife Cherelle didn't hesitate to try to bring the star Phoenix Mercury player back to the United States, even urging the U.S. government to prioritize her freedom. "I do have to unfortunately push people to make sure that the things they're telling me is also matching their actions and so it's been the hardest thing to balance because I can't let up," she told CNN.
On July 4, the WNBA player wrote a personal letter to President Joe Biden, obtained by USA Today, detailing her worries and frustrations by being wrongfully detained. "As I sit here in a Russian prison, alone with my thoughts and without the protection of my wife, family, friends, Olympic jersey, or any accomplishments, I'm terrified I might be here forever," she wrote.
And on July 6, Cherelle shared her own thoughts on the letter and what she thought it meant. "B.G. is probably the strongest person that I know, so she doesn't say words like that lightly," she said in an interview with CBS News. "That means she truly is terrified that she may never see us again. You know, I share those same sentiments." And now that the star basketball player is free, Cherelle couldn't be happier to have her wife back.
Brittney and Cherelle Griner had a tearful embrace
Once Brittney Griner was released from Russia in a prison swap deal, her wife Cherelle took to Instagram to express her thoughts on the WNBA player's freedom. "Yesterday my heart was made whole thanks to the collective efforts of MANY!" she said in her Instagram caption on December 10. "I'm humbled by their hearts." She then thanked a lengthy list of people who helped bring Brittney home.
Cherelle talked to People about the moment she and Brittney were reunited. "We were both just instantly crying," she said. She then recalled how she patiently waited for the basketball player to be checked out by medical staff before she got to hugging her wife. "I couldn't stop touching her face," Cherelle added, mentioning that the two stayed up all night talking.
Aside from her efforts to bring her wife back to the United States, Cherelle graduated from North Carolina Central University School of Law on May 7. She took to Instagram to announce that she got her Juris Doctor degree. According to Brittney's agent, Lindsay Kagawa Colas, the two are working together to bring the rest of the U.S. citizens who are detained in Russia — specifically Paul Whelan — home, per ESPN.