Tom Brady Reacts To First Christmas Apart From Family After Gisele Bündchen Divorce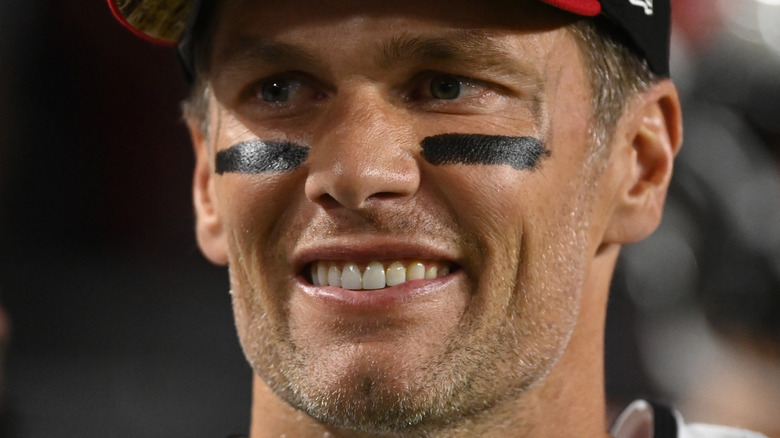 Norm Hall/Getty Images
It's the first Christmas apart for Tom Brady and Gisele Bündchen since their split. The Victoria's Secret model filed for divorce from Brady in October and the pair reached a settlement shortly thereafter, per TMZ. Although the divorce happened quickly, a source close to Brady told People, "This was not Tom's idea. This was never Tom's idea." The insider went on to say that the quarterback was prepared to "do whatever he needed to fix things" and didn't want the divorce to happen. However, Brady's "passion" for his football career got in between him and Bünchen and the source stated, "She gave him a lot of opportunities to fix things, and he didn't."
Bündchen explained in a statement that she and Brady had "grown apart" and her priority was to focus on their children, per Page Six. Brady shared in his own statement, "We will continue to work together as parents to always ensure that they receive the love and attention they deserve." With the first holiday season as a new divorceé, Brady opened up about how he is doing solo.
Tom Brady spent his Christmas with his teammates in a hotel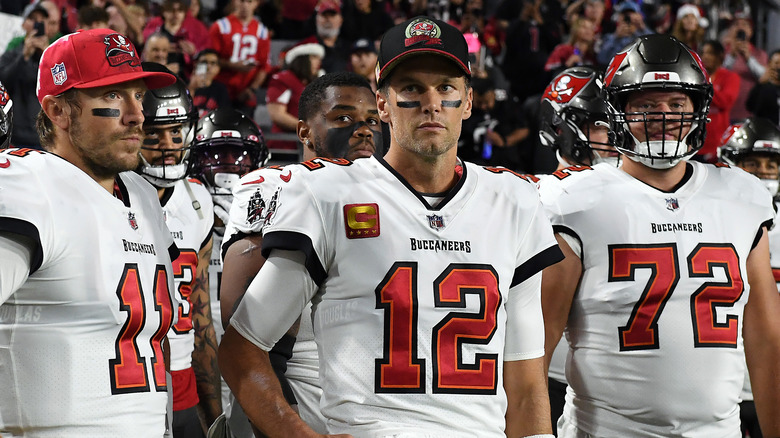 Norm Hall/Getty Images
In his podcast, "Let's Go! with Tom Brady, Larry Fitzgerald and Jim Gray," Tom Brady revealed how he is handling his first Christmas newly divorced from Gisele Bündchen. The Tampa Bay Buccaneers quarterback shared that he spent the holiday in a hotel room with his teammates. "We left on Friday, the 23rd ... yeah we all missed being with our family and our kids. If you can't be that way because they schedule you on Christmas day, the next best place to be is with all your friends and playing a sport you love," Brady said.
On how he handles the negative press, he shared that it was "all about perspective," adding that it was a "blessing" for him to be able to wake up on Christmas and do what he loves. Brady went on to reveal that his oldest son flew home to see him the day after Christmas, which he also considered a "blessing."
Bündchen spent her Christmas with their two children in Brazil and shared a carousel on Instagram of the three enjoying the warm weather and food. Another post showed them exploring the local sights and Bünchen embracing her parents. "Always so good to be back home," she captioned. While divorce can often be messy and contentious, it's heartening to see Bündchen and Brady co-parent amicably, especially during the holidays.