Carrie Fisher's Daughter Posts Heart-Wrenching Tribute On Anniversary Of Her Mom's Death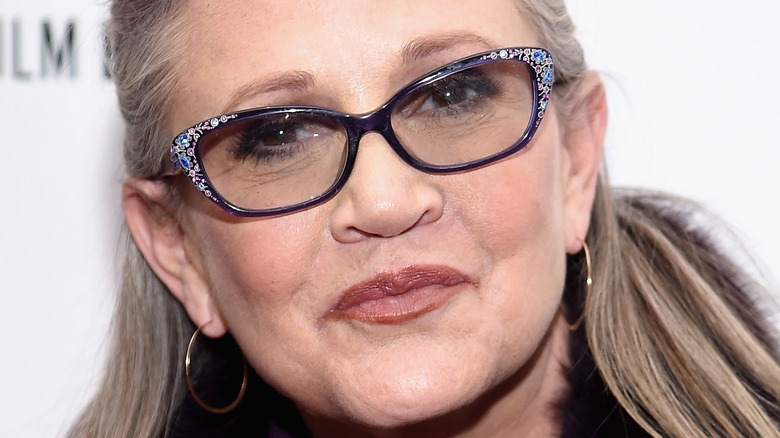 Dimitrios Kambouris/Getty Images
Beloved "Star Wars" actor Carrie Fisher died on December 27, 2016, per Entertainment Weekly. At the time, multiple publications cited a heart attack as the cause of Fisher's death. However, the coroner's report listed her cause of death as "undetermined," although sleep apnea and drug use played a part, per The Associated Press.
Carrie's mother, Debbie Reynolds, tragically died the next day, according to USA Today. And while Reynolds' official cause of death was a stroke, per E! News, her son, Todd Fisher, claimed that Reynolds simply didn't want to live without her daughter. "She went to be with Carrie," shared Todd. "In fact, those were the last words she spoke this morning," he added. Carrie Fisher's death prompted strong reactions from her fellow stars, fans, and friends. Of course, none were as deeply affected as her own family. 
Shortly after her death, Fisher's daughter, Billie Lourd, took to Instagram to thank fans for their support. "Receiving all of your prayers and kind words over the past week has given me strength during a time I thought strength could not exist," wrote Lourd. "There are no words to express how much I will miss my Abadaba and my one and only Momby. Your love and support means the world to me." Now that six years have passed, Lourd has returned to Instagram to commemorate her mother's death with a heart-wrenching post. 
Billie Lourd shares perspective on her mom's death after having her second baby
Billie Lourd recently gave birth to her second child — Jackson Joanne Lourd Rydell — in mid-December (via ET Online). And while expanding her family has been a joyous occasion, Lourd has been dealing with conflicting emotions, given the anniversary of her mother's death. 
"It has been six years since my Momby died (feels like two but also like 705 at the same time?)," wrote Lourd via Instagram. "And unlike most other years since she's died, this year, these past two weeks have been some of the most joyful of my life." While having her daughter and introducing her to her brother — Kingston Fisher Lourd Rydell — has been "two of the most magical moments" she's experienced, it's been dampened by grief. "My mom is not here to meet either of them and isn't here to experience any of the magic. Sometimes the magical moments can also be the hardest. That's the thing about grief. I wish my Momby were here, but she isn't. So all I can do is hold onto the magic harder, hug my kids a little tighter. Tell them a story about her. Share her favorite things with them. Tell them how much she would have loved them."
Lourd ended her post by urging any of her grieving followers to embrace life's ups and downs. "Life can be magical and griefy at the same time," said Lourd.