What Really Happened Between Ivanka Trump And Lance Armstrong?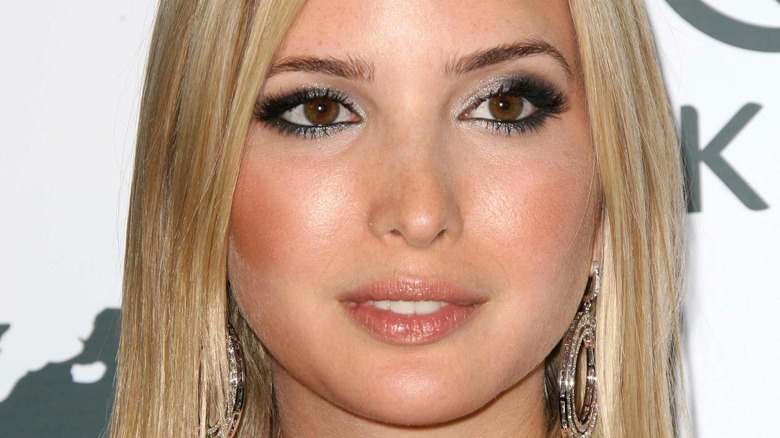 s_bukley/Shutterstock
While Ivanka Trump might now be married to husband Jared Kushner, there was a time when she was just a young gal going on dates. She was an "it girl" in her own right thanks to the fame from her dad, Donald Trump, so she was obviously on a lot of people's radars. Even Quincy Jones claimed he dated her. "She had the most beautiful legs I ever saw in my life," Jones told Vulture. However, Ivanka's sources have denied this claim, per E! News.
She may have ended up with Kushner, but if Donald had his way, Ivanka would have dated NFL legend Tom Brady instead. When the former president spoke with Howard Stern in 2004, he said, "I think he's great. He's 25 years old. He's Mr. All-American." Ivanka was 22 at the time and Donald saw it as a real possibility. "Well, it could happen. I mean, he'd like to, and we'll see." We can't help but wonder what Brady would have thought of a term as a senior advisor to a father-in-law president! While Ivanka and Brady didn't happen, the New York socialite did have a situationship with another famous athlete: Lance Armstrong.
Ivanka was in Los Angeles to film 'The Apprentice' when she met Lance Armstrong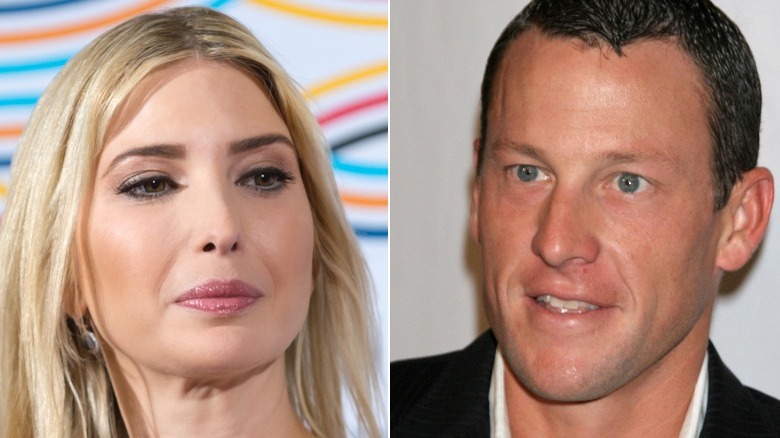 photocosmos1 & s_bukley/Shutterstock
Ivanka Trump and Lance Armstrong had a very short-lived fling back in 2006. As People reports, the duo met when Trump was 24 and Armstrong was 35. The two happened to be in Los Angeles and met at a charity fundraiser. At the time, Trump was, of course, based in New York but the sixth season of "The Apprentice" was based in Los Angeles, per Entertainment Weekly, and this is why she was out west.
According to People, the two went on "several dates" but things never moved further than that. TMZ tried to get in on the gossip in October 2006 but Trump refused to answer any of their questions about Armstrong. As for the cyclist, a representative of Armstrong's confirmed that there was no real relationship there and Trump herself told People, "I have tremendous respect for Lance and all he has accomplished. That said, we are just friends." So that's the name of that tune.
Ivanka and Lance moved on with other people quickly after
Rena Schild/Shutterstock
Shortly after her split from Lance Armstrong, Ivanka Trump briefly dated Topher Grace in 2006. They met in New York City and were seen together at her 25th birthday in Las Vegas at Pure nightclub, per People. While their time together was also short-lived, Grace addressed the relationship years later in an interview with the Daily Beast in August 2018. "Uh... I did," Grace confirmed, when asked whether or not he dated Trump. "Certainly it wasn't a political statement. This was a decade ago. I met her here in New York and we went on a couple of dates."
After moving on from Trump, Armstrong went on to date fashion designer Tory Burch from 2006 to 2007, per a later publication by People. However, the distance proved to be too challenging for the duo. Burch was based in New York while Armstrong lived in Texas. In October 2007, Page Six reported on their breakup. "It's a geographical thing," a source told the outlet. "They're friends. It's amicable. They really like each other. The logistics were too much." After several failed romances, Trump ended up marrying Jared Kushner in 2009, per Us Weekly, and Armstrong married Anna Hansen in France in August 2022. So both have definitely moved on from that brief liaison.