Why Kate Hudson And Matt Bellamy Really Broke Up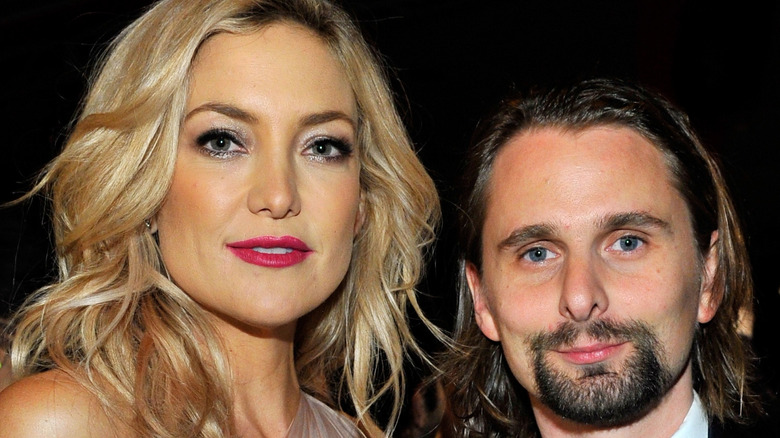 Donato Sardella/Getty Images
As one of Hollywood's perpetual It Girls, Kate Hudson's love life has long been a topic of interest to her fans and the media. Her relationships and flings usually make their way into the headlines, though more often than not, she chooses not to divulge any intimate details to protect her kids.
Speaking with Marie Claire in 2016, the Fabletics founder got candid about why she's so adamant about maintaining her privacy — at least when it comes to her love life. "People ask that question as if, 'Oh yeah, it's really healthy to publicly talk about who I am or am not dating when I've got a tween,'" she said. "[Ryder] can read, and he can hear. I'm not going to indulge in that kind of thing until there's someone in my life who I am introducing to my kids."
What she's open about, however, is discussing her past relationships, especially the long-term ones. In 2009, when asked why she broke things off with ex-husband Chris Robinson after five years of marriage, the "How to Lose A Guy in 10 Days" actor chalked it up to growing apart. "He's a permanent fixture in my life," she told The Times Online. "But I believe our love changed its form, it shifted." She also reflected on her past relationship with Matt Bellamy, with whom she was engaged from 2011 to 2014, including the real reason for their split. 
Kate Hudson said she and Matt Bellamy didn't have a 'great relationship'
Andrea Raffin/Shutterstock
While Kate Hudson and Matt Bellamy were together for years, the actor admitted they eventually drifted apart after they failed to realign with what they wanted out of their union. "Relationships ending are painful, and you can choose to carry that or you can choose to reframe it," Hudson told Allure in 2015, explaining that she chose to view the split in a positive light. "If Matt and I had a great relationship, we would still be together, but we chose to move on because we had different visions of how we wanted to live our lives."
And while she described their years-long romance as her "second failed baby-daddy relationship," she said that initially, she really tried to make it work. In an appearance on the "Reign with Josh Smith" podcast, the actor explained that she learned how to get to the core of their problems and own up to mistakes she had made. "We all have to figure out what's at the core of our own little onion," she shared. "I think that's when things started changing for me — when I started taking far more accountability for my own s***."
Inside Kate Hudson and Matt Bellamy's relationship today
Kate Hudson and Matt Bellamy have since moved on, with the actor getting engaged to musician Danny Fujikawa and the Muse frontman marrying model Elle Evans. Over the years, the two have maintained a cordial relationship and now thrive as co-parents — with their relationship changing for the better along the way. 
"Matt is so wonderful—I couldn't have asked for a better co-parent," she told The Sunday Times in 2022 (via E! News). "For me it's like, you loved this person. That doesn't just go away, but you can re-establish a different kind of love. You can have an amazing time with an ex-partner because you're really only focused on the love of your child."
As it turns out, it was also Bellamy who made it a point for the former couple to remain friendly for the sake of Bingham. "One thing that Matt said to me, which I loved, is, 'I just want to make sure that Bing feels like he's gaining something, not losing something,' " she shared with Women's Health in 2021. "I think it's even bonded us closer—me, Matt, Elle, and Danny—because we have to trust that we're protecting each other."